5 Key Trending Domains in Software Outsourcing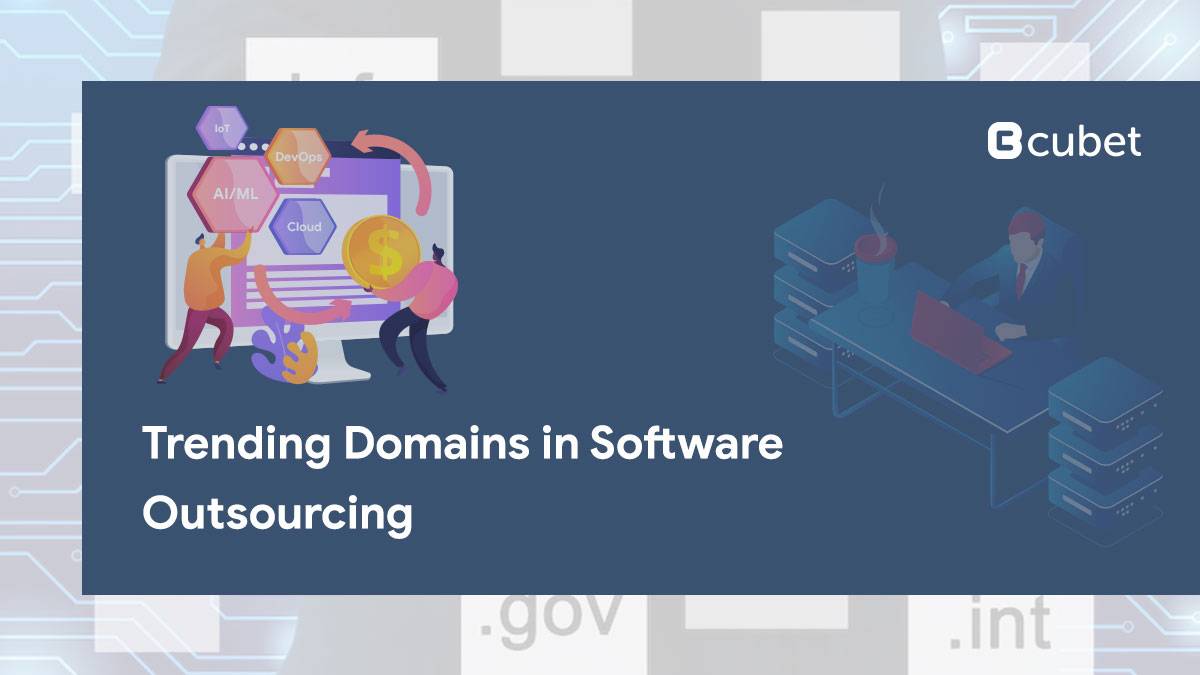 Software outsourcing is one of the fastest-growing sectors across the globe, as it provides various benefits like – focus on core business, increased efficiency, availability of global workforce, and improved quality.
The following facts show the humungous growth of the software outsourcing industry and its expansion over the years:-
By 2027 the outsourcing industry's total value is estimated to be $405.6 billion. (Gartner report)
Across the globe, the total contract value of IT outsourcing is now a whopping USD 62 billion. (Statista report)
About 70% of companies use software outsourcing to save costs, while others use it to focus on their core business. On average, outsourcing helps reduce project costs by 15% to 60%. (Deloitte study in 2020)
About 57% of organizations feel that outsourcing helped them focus on their core business activities. (Deloitte Global Outsourcing Survey)
Robotic Process Automation, Cloud Native Platforms, software security, IoT, Data engineering, and AI and ML are a few sectors that will grow immensely during this time.
The spur to innovate

These technical innovations have inspired IT firms to rethink workflow and bring digital transformation and automation to increase overall revenue. If you keep the momentum going, your employees can focus on creative work, thus enhancing originality and productivity.
While automation creates systems that enable customer service representatives to spend more time solving customer queries, they can save time on manual processes.
From startups to mid-size businesses, software outsourcing can be an ideal fit to meet business requirements and address the target audience's issues. And exactly how software outsourcing manages to achieve this? Let's dive into the significant happenings in 5 key trending domains in software outsourcing.

1. AI/ML & IoT
According to a Gartner prediction, by 2025, more than 10% of enterprises that take advantage of AI will generate three times more value from the technology. Machine learning (ML) is the next step in working with the data.
With the increased demand for AI, not all companies would be able to develop software independently, which is why most companies are looking to outsource their AI work.
Additionally, most companies outsource their machine learning projects because they require in-depth knowledge of the subject that isn't available within a single company.
Gartner highlights two main trends to characterize AI development in the future – decision intelligence and generative AI.
The Internet of things (IoT) has been the primary trend in everyday appliances and consumer electronics.
During the lockdown, people rethought how they interacted with each other.
Growing health concerns and increased insecurity contributed to the massive adoption of IoT to improve privacy. Micro mobility and Smart home concepts are the most innovative applications of IoT.
2. Data Science and BI
Many specialized software companies are focusing on data science and business intelligence. The trend will continue to rise in the coming years.
As more companies start to outsource their development process, they will search for outsourcing companies specializing in data science and BI.
As business intelligence and data science are data-focused, they will require technical skills and technology for analytics.
Data science involves creating different forecasts by analyzing the patterns with raw data available.
And business intelligence helps to convert the data into information that supports business leaders in the decision-making process.
3. Cloud Application Development
Services provided by cloud technology will continue to grow.
Most companies find cloud development a feasible solution to their monthly overhead expenses.
The company does not have to spend additional money on cloud development technology. Besides, cloud technology is scalable and flexible.
Cloud technology allows users to utilize the information and apps available online.
Cloud-based technology simplifies the outsourcing process since collab is a significant aspect. Additionally, it allows the teams to work remotely.
According to experts in the IT field, it is predicted that cloud spending will grow in the coming years.
Cloud app development can cut lengthy downtimes and allow businesses to run smoothly. Moreover, cloud-based technology helps to recover files in disaster as data is the main component in outsourcing.
4. DevOps
Most businesses are adopting DevOps and agile software development.
DevOps involves moving fast with small teams that work together to get the job done.
Additionally, it increases communication and collaboration between the teams.
DevOps allows organizations to be more flexible with their development process.
Also, it minimizes the time taken for software updates and helps companies get smaller projects faster.
The DevOps trends to look forward to in the coming years include serverless computing, microservice architecture, low-code applications, and the adoption of microservices.
The framework of DevOps has seen incredible evolution and shall continue to grow in the future.
5. Application Development
According to a recent report, more than 35% of companies outsource application development.
Most companies are planning to increase the outsourcing workflow for the coming year.
Besides, this accounts for the fact that app downloads have increased at a significant pace.
Companies benefit from outsourcing application development and optimizing staffing options to reduce costs.
Through outsourcing, companies can get their apps designed in the best possible way.
IoT application development and cloud applications trends are on the rise.
Advantages of Software Outsourcing:

Focuses on talent rather than cost
Software outsourcing reduces costs and helps you gain access to skilled workers. Additionally, companies seek a complete package of services that includes technical know-how, security capabilities, a solid social presence, and software development experience.
These factors play a significant part in helping outsourcing companies stand out from the rest of the companies. A software partner cannot be picked based on price, as more is needed to attract new clients. Outsourcing software developers is like expanding direct access to a talent pool with great experience, skillsets, and knowledge, saving money and time by reducing your recruiting budget.

Complete flexibility
With software outsourcing, you can save time on training and recruiting new employees. Instead, it allows your team to focus on more business-critical tasks. Besides, the money can be spent on marketing and business development and enable you to work on a project-by-project basis.

On-time delivery
The time required for the application development is related to the project's scope. For example, an app developed on a native platform can be created in months, but building a platform that uses ML or AI can take many years. Software outsourcing can accelerate the time to develop and market a project that would take a long time.

Creating the success
If these trends are a driving force, why not take a bold leap forward and take the Cubet advantage? These trends show how the IT outsourcing industry is accelerating each year.
Moreover, hopping on the trend of software outsourcing isn't just a mad rush but a wise step for future-proof businesses aiming to take all digital initiatives and integrate them with the latest technologies.
That said, outsourcing engagement will also become more streamlined and organized, as we have it at Cubet here. As trusted partners and consultants, let us help you navigate complex technological requirements with our experience, diverse workforce, and trust.