WordPress plugin for Livedrive reseller API integration 3.0 Released!!!
The 'Livedrive WordPress Plug-in' is a simple, easy to use wordpress plugin for setting up Livedrive cloud storage business using wordpress. The plug-in has been very successful & currently over 300 users are using it. It has been seen that the earlier versions of this plugin has outperformed all other similar competitors and becomes the most widely accepted plugin to run your Livedrive reseller business. For Livedrive resellers, this plug-in is the fastest, simplest, and easiest way to generate more sign ups and thus more income and customers for Livedrive resellers.
Cubet is proud to announce the re-vamped version of Livedrive plugin(version 3.0) for wordpress. After a lot of hard work and dedication from our fantastic team, we are excited to release our new LiveDrive plugin spiced up with more features and functionality.
Let's talk about the new features in this 3.0 release:
Coupon code
We have implemented the Coupon functionality for sales promotion purposes. Using this feature, the Livedrive reseller will be able to offer some discount for sign up. The site owners can create coupon codes and distribute it for their visitors. The entire coupon system is managed within the livedrive plugin.
Category management
Livedrive supports classification of packages into backup, backup and briefcase, and then business accounts as its own. Yet, many of our customers have asked for a customized method of grouping Livedeive packages and storage capacity. To satisfy our customer demand, we have added a category management module within this version of the plugin. By using our plugin, resellers can again divide various Livedrive packages into categories and list selected packages into one category to display in a single page.
Shortcodes
Shortcode is a wordpress feature to embed a piece of information or form easily into a wordpress page or post. We have implemented shortcodes within the plugin which you can easily add into any wordpress page.
[cubet_livedrive] will display all the livedrive packages in a single page.
[cubet_livedrive type="ct" item="category name"] will display all the packages from a category
[cubet_livedrive type="pk" item="1″] will display a single package with a specific id
Upgrade backup account to briefcase
Backup account users have the provision of upgrading their account into a pro suite account. Inorder to do that, users have an option in the website and they can upgrade the account by simply proceed to a paypal checkout and paying the required fees.
Import existing livedrive accounts

Do you already have a reseller account and a set of users in the account? Are you looking for a platform to manage your users and billing? We can help you. This is a major attraction of this plugin. Even if you already have a reseller account with a set of customers, if you wish to use our plugin, you can move to our system!!! Our plugin provides an option to import existing users from Livedrive reseller accounts and you can start managing your customers from a single place…effortlessly!!!
Guidelines for Installation:-
1. Purchase the plugin here
2. Download and extract to your desktop and rename it as livedrive
3. Upload the plugin to wordpress installation at wp-contents/plugins

4. Enable the plugin
5. Go the plugin settings page, which is located under Settings -> Livedrive Settings.
6. Provide the api key, paypal account details and select the subscribe page from a dropdown list and fill the remaining fields too.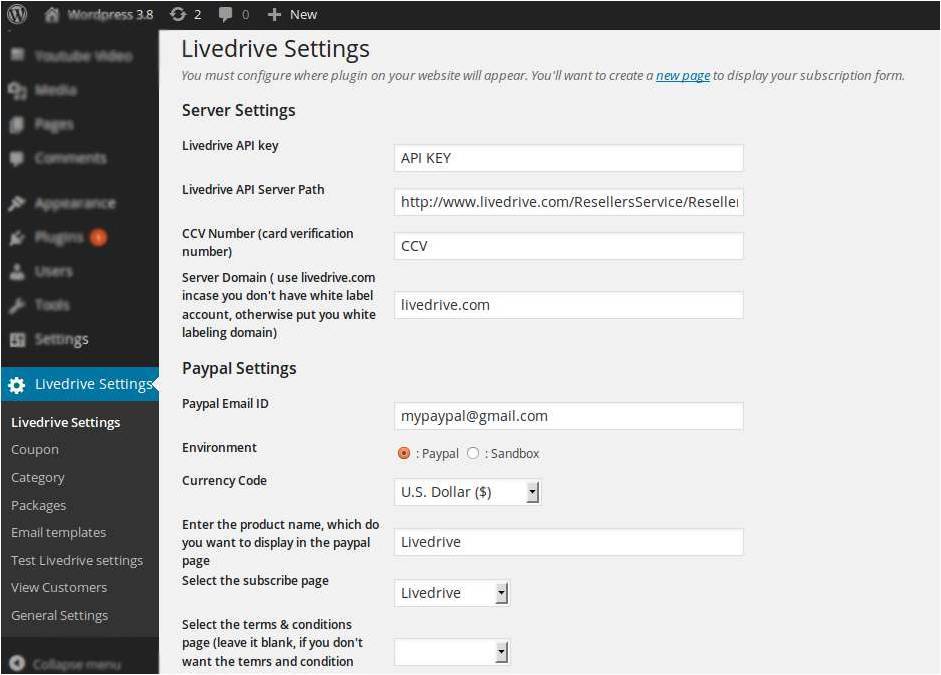 Then you are set to launch.
Instructions to create new packages:
1. From Livedrive settings menu, take coupon and add new coupon code by filling all the fields.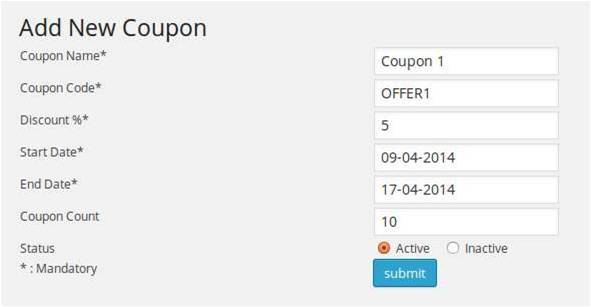 2. Select category menu,add new category and then add the newly created coupon into that category.

3. Select packages ,add new backup package then add new category into the package.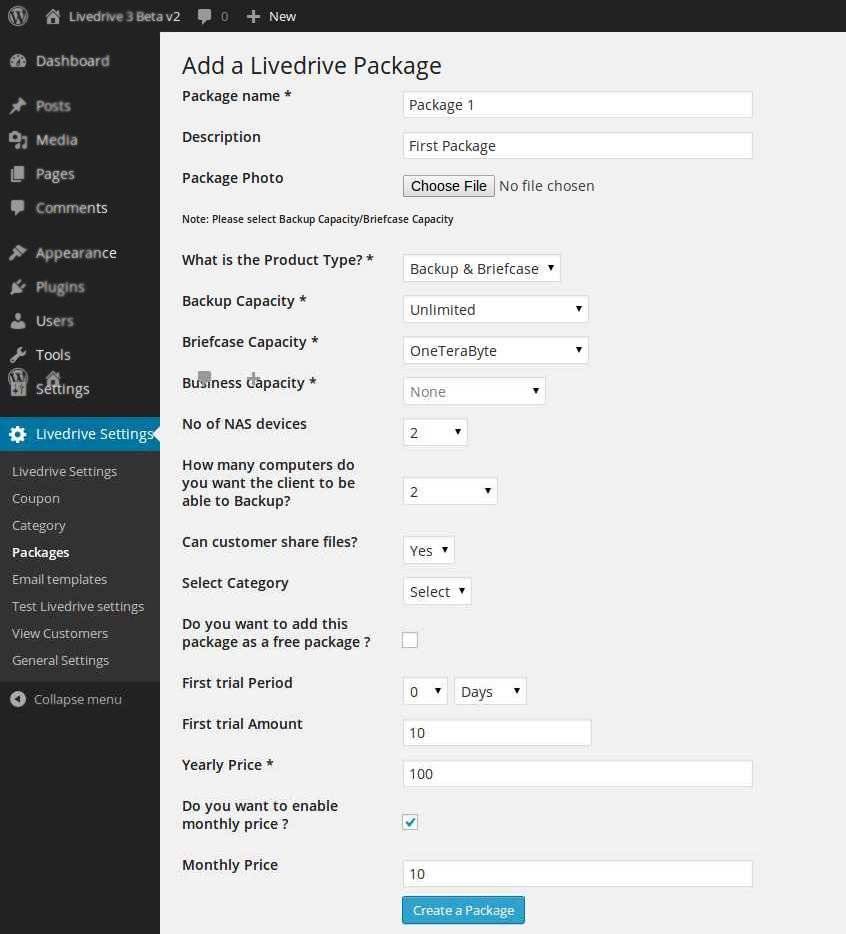 4. Collect the short code from package lists.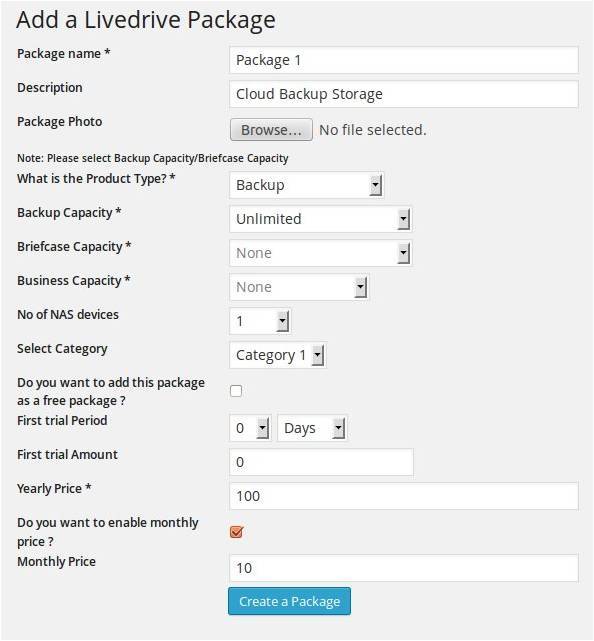 5. Create a new page in WordPress and add shortcode to the content portion of the page. View the new page on a new web browser and proceed with the purchasing. Please note that you need to sign out of the admin section before previewing the new page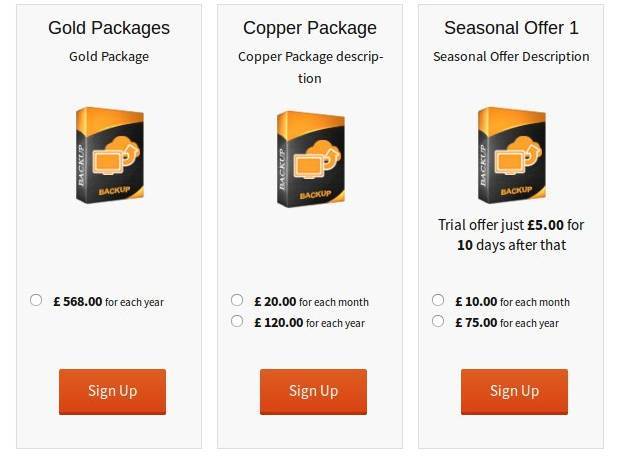 6. Before the payment section there is a portion to insert the coupon code. Put the new coupon code there and click 'apply'. (Coupon code is NOT applicable for packages with trial period)
7. Proceed to checkout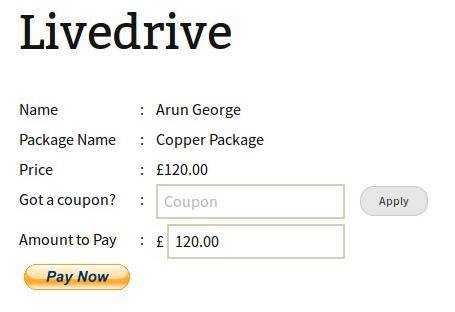 8. You will get a mail to the registered mail account with the account details.
Instructions to Import Users from Livedrive account:-
1. Navigate to General settings page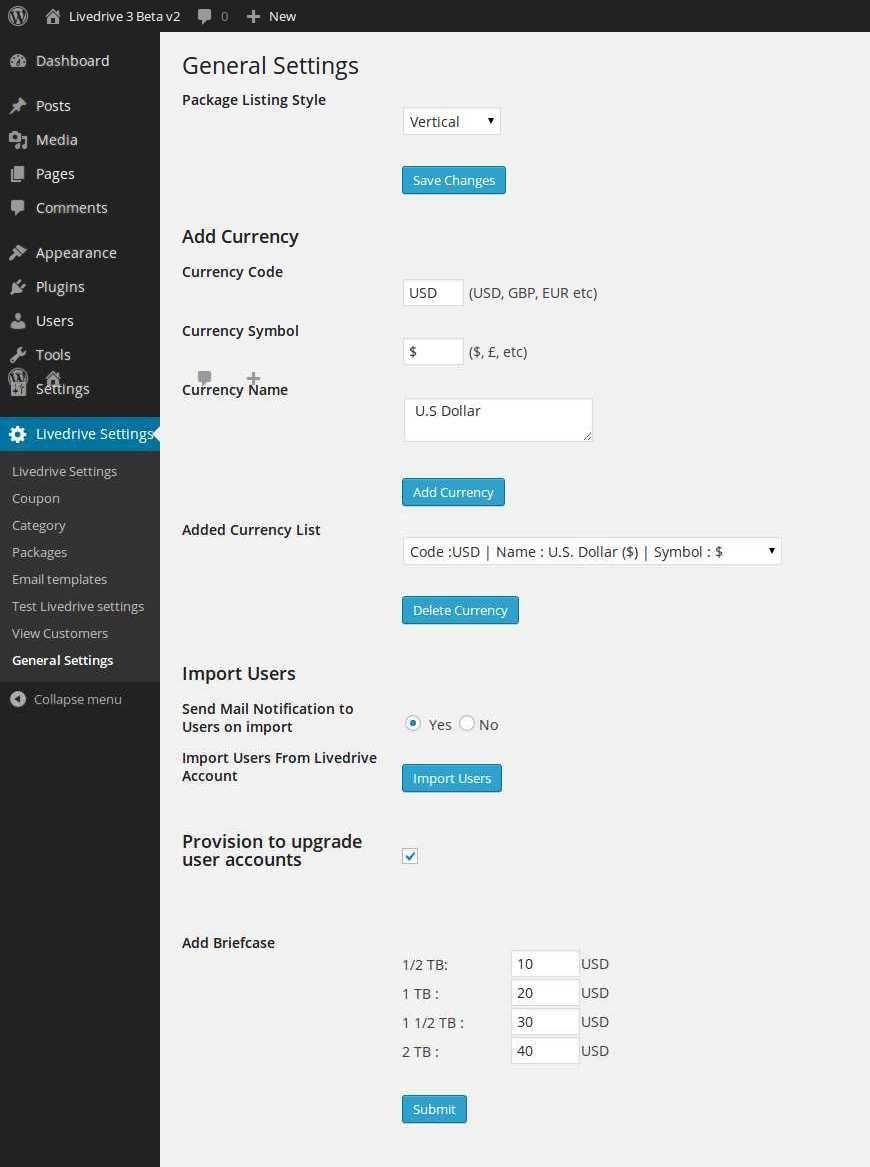 2. Find the Import Button and click on it. Import functionality will take time according to the number of users to get imported
3. System will send an email to the users who were imported to the system with the login details
4. Navigate to View customers menu
5. You can view the list of users who were imported to the system
6. Click on the view link, assign an appropriate package which is already created to the user, also add the Subscription Type and Subscription End Date
7. Add daily cron jobs in your cpane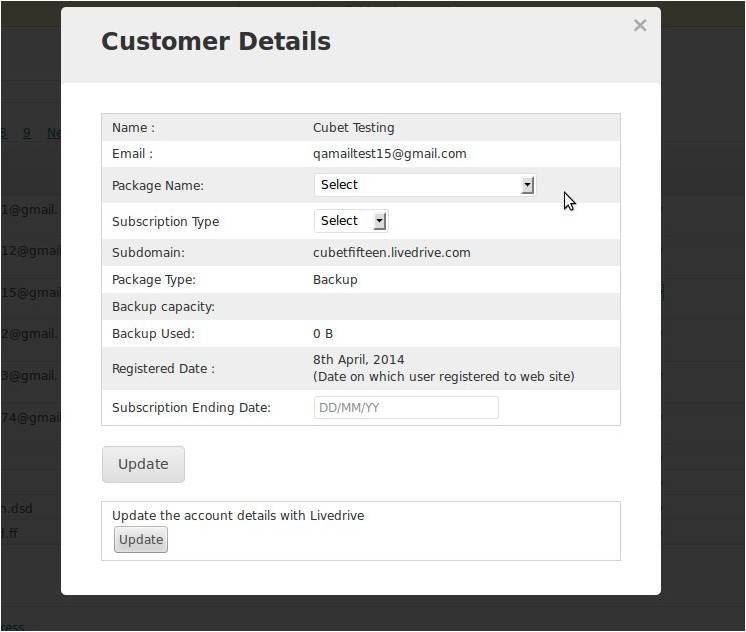 l to run the script in cron.php. This will help to send renewal notification to all the users
Youtube Screencast
Here's a link to a screencast on Youtube showing the product demo.
Check out more details and download your copy here :- http://www.modsbasket.com/products/Livedrive-Plugin-for-Wordpress.html
We hope you enjoy using the plug in. Keep following our Cubet blog and website for more news on these product in the coming months.