Voice Is The Future Of Brand Interaction And Customer Experience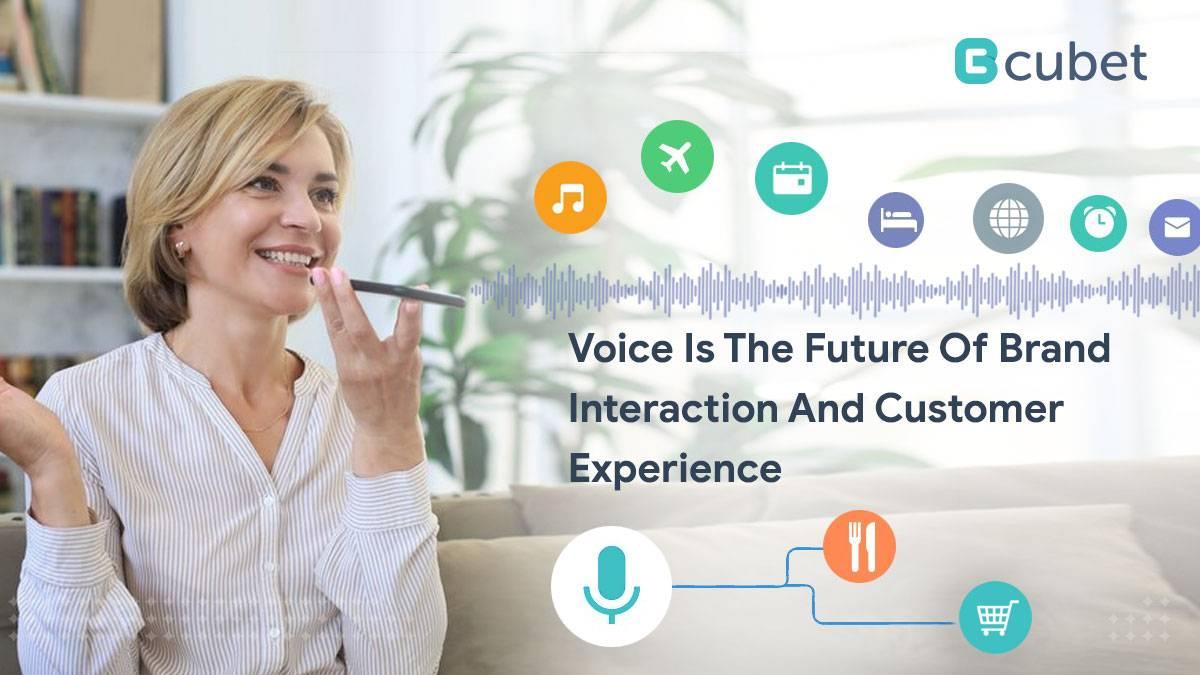 With demand and time, voice-enabled technology has become more affordable. So not only is voice technology growing, but it's also personalizing how customers interact with brands.
As voice is a more user-friendly way of interacting, it makes brands seem more real. And in the coming future, voice will change the customer-brand interaction in a big way.
Why Voice Is The Future Of Brand Interaction And Customer Experience?
Voice-based customer support comes with lots of benefits. The use of voice bots ensures a faster resolution of voice-based queries. In addition, with voice support – the customer is not required to be in the waiting line.
Also, voice bots are best for scheduling the agents available. Voice technology provides customer satisfaction. Using a voice bot as a point of interaction, the brands can solve all the queries in real-time.
Additionally, it helps to meet basic customer needs of time and urgency of connections. Finally, it can help the customers know about products and services seamlessly.
With voice technology, customers can express themselves clearly. Besides, there are options open to sending queries through email, chat, and voice. Therefore, the possibility of getting the queries resolved is high. Utilizing the voice bot technology ensures that customers can express their concerns quickly.
Voice technology can help to customize the experience. For example, a voice bot offers a choice of language in which customers want to interact. Using the technology, customers move towards a more personalized approach, ensuring they are listened to and valued.
Voice support offers a chance to connect with human-like technology. More than 41% of people have committed that using a voice-activated device makes them feel like communicating with a human.
Voice-based Support is a Futuristic Technology
Voice search is 3.7 times faster than typing and is indeed the future of customer service and brands. More than 60% of respondents use voice technology for multi-tasking. Voice support is growing at a rapid pace of its wide application use.
Voice bots are the most credible way to connect customers and companies in the future. Voice technology is perfect for cross-selling, up-selling, and customer support.
Reasons Why Voice is the Future of Brand Interaction and Customer Experience:-
Voice recognition is not a standalone technology and works in diverse ways. You can impact your customers by combining the voice and other interactive forms.
For instance, a voice plus screen is a more intuitive way to connect to your customers in real-time. It enhances the customer experience.
Voice technology depends on how the thoughts are processed behind human interactions. Ideally, if a user converses, it may hold up till the end of the conversation.
And Artificial Intelligence makes this possible. AI uses algorithms that enable the software to self-correct and improve. In short, AI helps adapt to human behavior.
Audio deep learning and voice recognition is essential for brands. The good news is – brands are now experimenting with machine learning techniques in the voice industry. However, the technology should be leveraged to the T to build a voice-friendly brand.

Voice recognition-enabled bots are specially designed for human interactions. For example, a bot can interpret a command or a question and provide a relevant response.
For instance, most websites use automatic chatbots to convert customers to leads. Bots utilize conversational AI and answer product-related questions, help guide customers to web pages and complete the sales process. Again, a web development company can help you know about the concept.
The voice recognition technology provides the customers with complete accessibility to help with what they need. And when the accessibility is enhanced, it makes it convenient for customers to interact with the brand.
Besides, it provides a broad scope of access options that span a range of devices and technologies.
With the rise of social media, brands could not understand different platforms and their uses. But, brands will have to look into voice technology.
Voice interaction opens up new ways to improve the brand's reputation. Also, it is important to be consistent with the branding process regardless of how the users interact with you.
UX and CX are interlinked
User experience is how a user interacts with a product and is measured in terms of adoption rate, abandonment, and completion. All the products that are difficult to use have a poor UX.
On the other hand, customer experience is how the customer interacts with a brand and is measured in CSAT scores. Therefore, CX is critical for different customer journey stages, and UX is important for customer experience. Most importantly, voice has the potential to improve both CX and UX.
The Possibilities are Endless
With a voice, the possibilities are endless as it addresses typical challenges of technological adoption. Implementing it correctly can enhance the customer communication channel with fewer issues. Make a wise choice, implement the voice technology, and change your customer support experience.