Top 5 Digital Transformation Trends that ruled 2017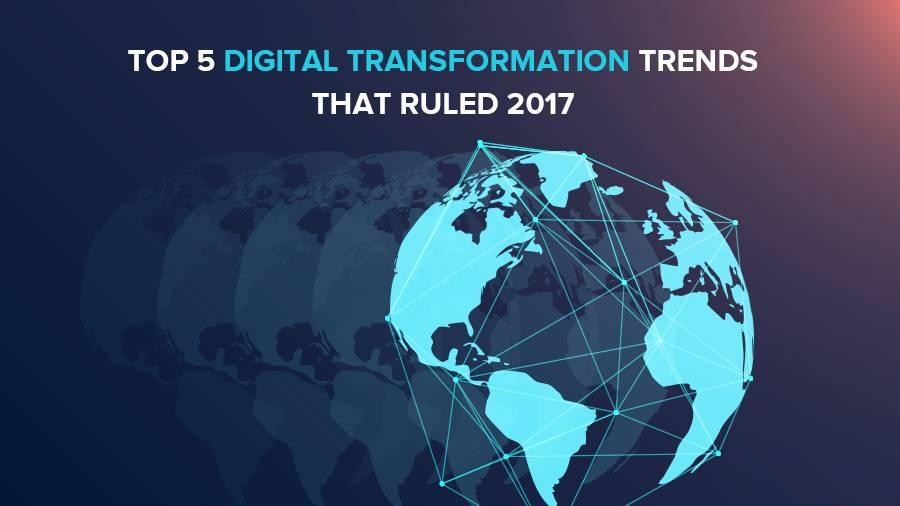 2017 was a year that witnessed major uplifts in technologies like Artificial Intelligence and Cryptocurrencies like Bitcoin transforming both the digital world and the human lives. The world got its first robot citizen 'Sofia', an artificial intelligence based robot. Amazon Go and Uber's self-driving cars bagged the titles for the hot news of the town. Facebook recently purchased the production of VR Oculus Rift headset. What more happened that ruled the digital world in 2017?
Artificial Intelligence (AI) and Machine Learning
As per the McKinsey Global Institute Report 2017 on AI, globally tech giants spent $20 billion to $30 billion on AI in 2017, with 90 percent of this spent on R&D and deployment, and 10 percent on AI acquisitions. Intelligent apps that can understand and predict future behaviour of users are transforming workspaces from prioritizing emails to infusing AI capabilities in marketing systems to understand customer behaviour. By 2018, Gartner expects most of the world's largest 200 companies to exploit intelligent apps and utilize the full toolkit of big data and analytics tools to refine their offers and improve customer experience.
Augmented Reality and Virtual Reality (AR/VR)
The AR/VR platform saw an investment up to $800 million dollars in Q2 2017. Niantic's Pokémon GO proved to be a major catalyst to mobile AR. It was then Facebook's Camera Effects Platform and Apple's ARKit for iOS were introduced. AR/VR has come way ahead from the Virtual Headsets to real-time mobile applications this year. We have seen AR/VR transforming the industries and notable among those were the impacts in the retail and travel sectors. Whether it's a vacation plan with a resort stay or a visit to the nearest shopping mall, AR/VR simplifies it by providing customers with a virtual view of the resort or the directions to your favourite shops in the mall. A recent TechCrunch report suggests that mobile AR could be the primary driver of a $108 billion VR/AR market by 2021.
FinTech or Financial Services Technology is reaching new heights with digital currencies like Bitcoin. Compared to other cryptocurrencies like Ripple, Litecoin, Bitcoin apparently created all the buzz in the market. The technology behind Bitcoin is Blockchain which is defining new rules and definitions in the financial industry. With blockchain, there is high flexibility for managing your investments without any security risk. The World Economic Forum estimates that some 80% of banks are actively working on blockchain projects. Traditional enterprises from around the world have started showing interest in Blockchain recently. If the trend continues, we can definitely say that Bitcoin will rule 2018 too. However, the government bodies may soon regulate or tax such crypto assets.
Internet of Things (IoT) has shown a new dimension to connect a large number of devices and utilise data in the digital world. By 2018, there will be at least 22 billion devices operating within the ecosystem of the Internet of things, leading to a development of more than 200,000 new services; the solutions of the Internet of Things have the potential to be practically applied to all types of economic activities and to substantially change the ways in which people and consumers relate to companies and to their value chains.
Now, IoT is no more about connecting things. Rather, it has become the Internet of Experience (IoX) where every single application or product is connected to each other to improve the user experience. The digital mesh of smart devices is today's answer for enhanced customer experience. Personal home assistants and home controls have transformed the outlook for today's personal spaces.
As more organizations started implementing IoT, there was a high demand to process large chunks of data from these collected 'things' faster. Earlier, the data collected was sent across to the central data center located at a considerable distance away and this consumed much time. That was when new norms of data processing like Edge and Fog Computing came on the way. Data produced by IoT devices could be processed at the edge of the network than sending it across the large network. Edge computing is becoming an important aspect of Industrial Internet of Things (IIoT). According to Gartner, around 10% of enterprise-generated data is created and processed outside a traditional centralized data center or cloud. By 2022, this figure will reach 50%.
With 2017 ending on such a high note, it's not wrong to say that we have high hopes for the coming year. If you are ready to accept the change, Cubet Techno Labs can turn your thoughts into reality!
Other Blogs: