Our predictions for 2021 software development, you don't want to miss these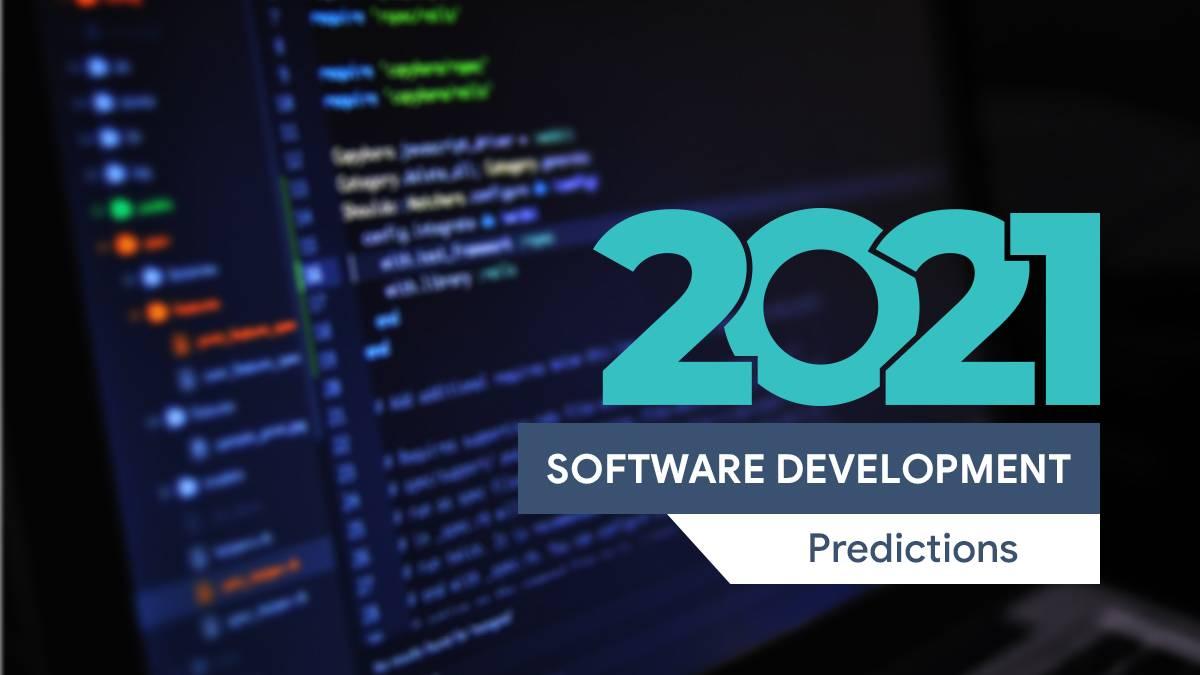 As we wrap up the year 2020, we take away several key learnings that the year has taught to the businesses and enterprises. The new year 2021 is ready to unlock several opportunities for digital technologies and software development companies.
As observed, the pandemic has brought an enormous spurt in global engagement with the digital world. From small businesses to corporate giants, every business owner is driven to revamp their digital strategies and have begun to take up new technical challenges.
Eventually, software developers have gained higher importance due to their technical expertise. Organizations now need resourceful development services that can help their business to reach out to a wide range of customers with innovative solutions.
The article will guide you with some of the most anticipated trends that are set to reign software development services in the new year. The one who possesses an assortment of cutting-edge software technology will remain at the top this year.
Here are those trends that shall be dominating the software and mobile development industry for the year 2021:
The influence of IoT is influential and penetrative into mankind's daily routine. Emboldened with innovative technologies such as AI, ML, Big-Data, and APIs, IoT holds a significant role in all aspects of consumer's life. Presently, the IoT systems are incorporated into big industries such as healthcare, oil & gas, automobiles, manufacturing, fleet management, etc.
In 2021, more industries are preparing their resources to embrace IoT driven technologies for asset safety and security, data integration, 5G developments, and rolling out projects to introduce smart city solutions.
Augmented Reality – Will continue to be a trend?
The significance of digital influence is clearly visible in the changing lifestyle of individuals. Wearable devices are one of the examples that give promising results to its users and make life easy and efficient. Besides, industries like navigation, retail, and manufacturing have already incorporated AR technology into their businesses. Social media marketers get quality engagement in no time, by embracing AR as an ad format. The beauty and fashion industry uses AR filters to give a complete, lucid, and elegant look with virtual makeup. All this and much more is coming up in the year 2021, as AR is set to bring revolutionary transformation into humanity.
Providing Cloud-based solutions
The year 2020 generated almost $40 billion dollar revenue from the cloud service industry taking up its market value from $227.8 billion in 2019 to $266.4 billion this year. A 17% growth in just a year. The technology provides valuable services such as security, flexibility, and scalability to the data storage and protects it from hackers. Organizations would always want to protect and safeguard their critical data information.
The year 2021 is quite promising for big cloud vendors like Google, Microsoft, and Amazon to reap lots of cash via providing cloud technology services. The number of cloud vendors is increasing at a rapid rate from all kinds of industries. Ranging from startups to corporate giants, from health care to intelligence agencies, government setups each of them and many more are moving towards cloud services for data storage.
Cybersecurity – Safeguarding Big Data
As technology is soaring to new heights to make people's lives better, so are the cybercrimes increasing at unbelievable rates. Hence, any organization would need an efficient cybersecurity mechanism to protect its crucial data.
Organized cybercriminals keep themselves upgraded with the technologies to make cyber-attacks in an instant. The upcoming year shows an estimated $6 trillion of damages to various industries. Developers need to follow safe coding practices and remain adhered to IT architecture in order to mitigate application security risks.
Various business processes are well integrated into Artificial Intelligence for the last five years. AI is capable enough to generate an extensive outcome, provide informed decision-making, and deliver meaningful user experiences.
Major tech giants like Google, Facebook, and Amazon have pioneered in developing AI trends by way of introducing AI-based predictive analytics applications. All this together defines the AI prominence as the next best technology adopted by businesses for their projects to gain an edge over their competitors.
Blockchain market – a revolution in the finance sector
The blockchain market is estimated to grow at a rapid rate up to $57.641 billion by 2025 with a CAGR of 69.4%. Businesses from sectors like logistics, supply chain, banking, etc. have begun to explore blockchain. This is because blockchain is stable, transparent, and builds trust. It can help bring smart contracts due to its irreversible feature.
The future of Blockchain is revolutionary, but it would need a lot of time and effort to establish. Since now, even the governments have become large players in earning well through the blockchain market.
Progressive Web applications
PWAs have proved to work wonders for companies whose development budget is minimal. Unlike native apps on Android and iOs, PWA web apps do not need to get downloaded from app stores. It keeps your mobile, laptop, or PC free from unwanted storage as everything can be found on the web. They are cost-effective, engaging, speedy, responsive, and safe. PWAs support push notifications and they can work offline. With all these features to explore, the market for PWAs is set to increase in 2021 due to its growing awareness.
The increasing importance of technologies
Technologies such as Native Apps development, AngularJs, ReactJs, NodeJs, Big Data Computation, Kotlin, Scala, Java will continue to remain in the trend. These technologies are the backbone of the software development industry. Developers would need skill up-gradation and build expertise in dealing with these technologies to give profitable web and mobile app solutions to organizations.

Conclusion
Changing trends in software development is a process that happens every year. However, it has become imperative to the growth of business and organization. Every year new programming languages will get introduced to this industry and older ones may lose the charm.
The competition shall remain aggressive and relentless. The software industry now shall become an inseparable part of any business. To leverage software development services and to help your business grow, develop, and evolve, Cubet is here to help. Get in touch with us today, and we are here to discuss your next innovative project.