My Experience at Laracon IN: A Tech Enthusiast's Journey to Ahmedabad – Nandul Das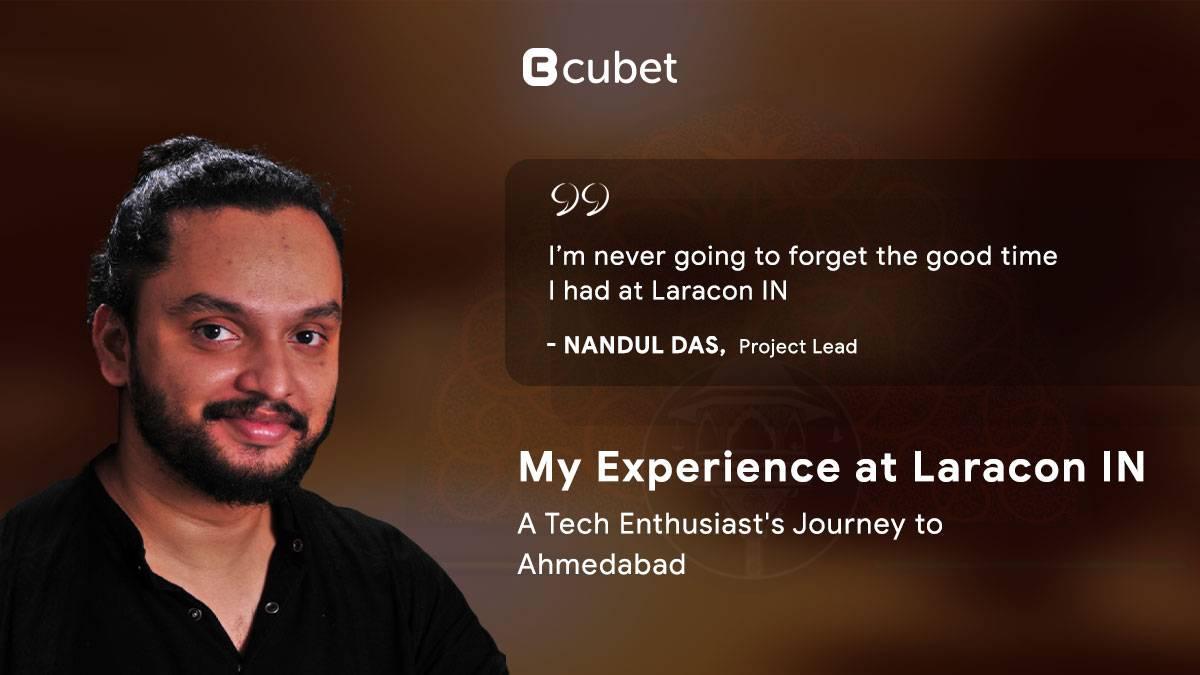 As an avid traveler and technology professional, traveling to new cities to attend technology conferences is pure bliss for me. I'm attempting to jot down my experiences from my recent trip to Ahmedabad to attend the Laracon IN conference (Feb 25-26), as well as my thoughts on the conference itself, including the speakers, sessions, and the Laravel community.
Laracon is a conference series focused on the Laravel PHP framework, which is a popular web application framework. Laracon brings together developers, entrepreneurs, and businesses that use Laravel to share knowledge, learn about new features, and discuss best practices. The Laracon series in 2023 started off with Laracon IN which was hosted in Ahmedabad, which is a city in the state of Gujarat in the North of India. Laracon EU and Laracon US are upcoming conferences in the series.
Cubet being an official Laravel partner and an active contributor in the Laravel community for many years now, it seemed obvious from the official announcement of LaraconIN itself that Cubet would attend the event. There was some curiosity about who would attend the event, and when choosing a team, there were many factors to take into account, such as the timeliness and criticality of the ongoing projects, etc. since there can be no impact on our commitments and deliveries to our clients. After some internal deliberations, a team of seven was chosen for the event, and I was one of them. Myself Nandul (I'm a project lead at Cubet and a Laravel enthusiast), Jithin TC(tech architect and the final commenter at Cubet about anything regarding Laravel), Vishal Vijayan (Project Manager and one of the finest Laravel hands at Cubet), Anurag (Senior Developer and the hacker at Cubet), Siddharth Gaddia (Senior Developer and an organizer at Laracon IN)Vipin Chandran(CTO and our leader) and Lovegin John(CEO who was the first to pack the bag) were part of the team.
We started the journey from Kerala to Ahmedabad as two teams, Anuragh and I set out from Calicut on the 24th of February, while the other four of our colleagues boarded the flight from Cochin. We were all quite eager for the exciting Saturday and Sunday, and for most of us on the team, it was our first visit to North India (Given the size of India, this is normal). To our surprise, when we landed at the Mumbai airport, we ran with a number of other teams traveling to Laracon IN from other Indian states. I could feel a very similar excitement on all the faces and a feeling of belonging to a community. That's exactly when I knew we were in for a fantastic time. And they all know about Cubet without an introduction, as we are an official Larvael partner and a much-followed brand in the community.
Our first evening in Ahmedabad was an experience worth talking about, Ahmedabad is a vibrant and historic city. The city has a rich cultural heritage and is known for its impressive architecture, delicious cuisine, and bustling markets. We took a quick city tour and ended the day with a delicious dinner of the famous Gujarati Thali meals. Everyone was impressed with the sumptuous vegetarian fare (we didn't know vegetarian food would taste this good ever).
The next day (Saturday) was the first day of Laracon IN, and after a delicious breakfast at Vivanta (where we stayed), we left for the event. We knew we were in for something special from the moment we arrived. The welcome was spectacular, and we were greeted with warm smiles everywhere. We thought we were among a couple of hundred attendees, but as we entered the conference room, our eyes widened with amazement. The place was buzzing with the energy of 1300 eager Laravel enthusiasts, all gathered to learn and connect.
The event kicked off around 9:30 a.m. with an opening session by the organizers after the registration process. The first session was on 'Fantastic Functions and Where to Find Them' by Freek Van Der Herten, wherein Freek discussed some advanced functions and packages in Laravel and how they can be used to improve the functionality and performance of Laravel applications. The next session was 'Building a Service Container From Scratch' by Jess Archer, which focused on ArrayMailer and how multiple mailer services can be used based on configuration and how we can use the same function every time, maintaining the state of the object. She also explained how to build a service container from scratch in Laravel.
We had a brief tea break after the two riveting sessions, and we were happy to have the chance to connect with so many other teams. We also met and engaged with the Laravel core team during this time. Since Cubet is an official Laravel partner, we already have a hotline relationship with the Laravel core team. But, we had only previously met Taylor Otwel (the creator of Laravel) in person, so it was an enormous honor to meet the rest of the team: Nuno Maduro, James Brooks, Jess Archer, and Joe Dixon. The enthusiasm of the crowd and the warm welcome they received left the entire Laravel team feeling overjoyed and overwhelmed. I found it incredibly rewarding to hear from them about their experiences and thrills.
The other session of the day covered Laravel upgrades and improvements with a focus on AI and ML, blockchain, and other cutting-edge technologies, which I found to be the most intriguing.
It's not typical for tech conferences to include a lot of entertainment, but the organizers were determined to do so. In my opinion, this strategy succeeded in fostering a more laid-back atmosphere for both the participants and the Laravel team. A beatboxing performance with everyone participating and Taylor Ottwell performing with the firepan amused everyone as the first day came to a close.
We spent the night at Manek Chowk which is a bustling market area known for its street food. You'll find everything from savory snacks like pav bhaji and vada pav to sweet treats like jalebis and kulfi. For all of us, walking through Ahmedabad's streets at night was a completely different experience. We found it a little challenging to communicate with our limited South Indian Hindi abilities, but we were able to do so (India is a country with multiple languages, and Hindi is more commonly used in the north).
Day 2 began, and we were all in our black t-shirts, excitedly anticipating the start of the sessions at 9:00 am. We arrived early in the hopes of snagging the front-row seats, but boy, were we in for a surprise! There were already a lot more participants in the conference room than the day before.
All of the technical sessions that day were about new things, but Nuno Maduro's talk on "The Future of PEST" was really something. In the next session, Taylor Otweel suddenly appeared and unveiled two brand-new Laravel features, Folio and Volt, which took everyone by surprise. This was rather unplanned, and Taylor wrote the code for these features on his 30-hour flight to India. And to top it off, Taylor performed a "Folio" demo that had everyone on the edge of their seats. There isn't a better way to end the two days of Laracon IN and the event was officially announced as closed around 6 PM.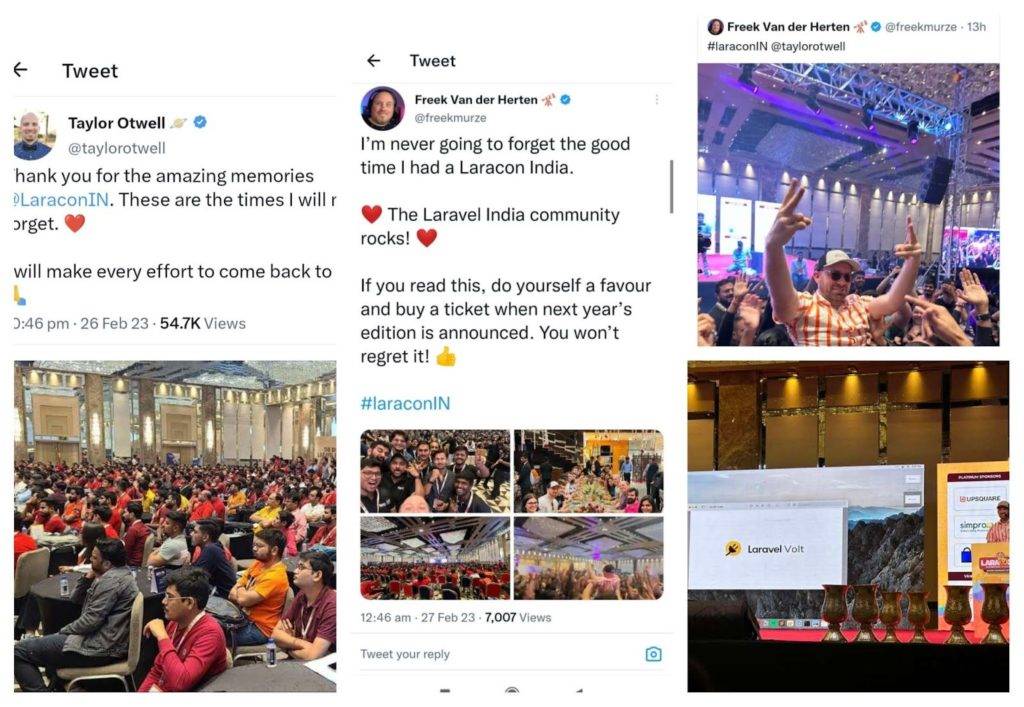 On Day 3, we had some time to explore the major attractions of Ahmedabad and Gujarat before our return flight at night. Our original plan was to visit the Statue of Unity (the world's tallest statue, with a height of 182 meters), but to our unluck, it was closed that day. We visited the Sabarmati Ashram which was originally the residence of Mahatma Gandhi and his spouse Kasturba. There, we met up with Taylor Otwell and his crew once more and spent some quality time together. Sabarmati Ashram is showcasing the life of Mahatma Gandhi and other freedom fighters. Located on the banks of the Sabarmati river, the place gets its scenic beauty despite an urban background. But I felt that something was missing from the imagination I had about the place.
As we bid farewell to the Sabarmati Ashram and later that evening to Ahmedabad, I couldn't help but feel a sense of happiness and motivation from the incredible experience at Laracon IN.
For all of us, the three-day event was a real game-changer, and I myself felt really driven. The event was an incredibly rich experience, from captivating technical presentations to meeting the Laravel core team, experiencing the introduction of new features, observing the charm of the Laravel community, and experiencing Ahmedabad. I will advise every aspiring Laravel enthusiast to attend Laracon at least once because I'm confident that will open up a completely new perspective.
We returned to Kerala early on February 28th and resumed our normal work routine, energized and eager to learn more. Overall, the Laracon IN conference was a great success and a valuable opportunity for us to learn, connect, and be inspired
A trip that highly satisfied me both as a traveler and as a tech professional (enthusiast).
"Conferences are a great way to meet people, learn new things, and grow your network." – Richard Branson