Mitigating Risks During Legacy Migration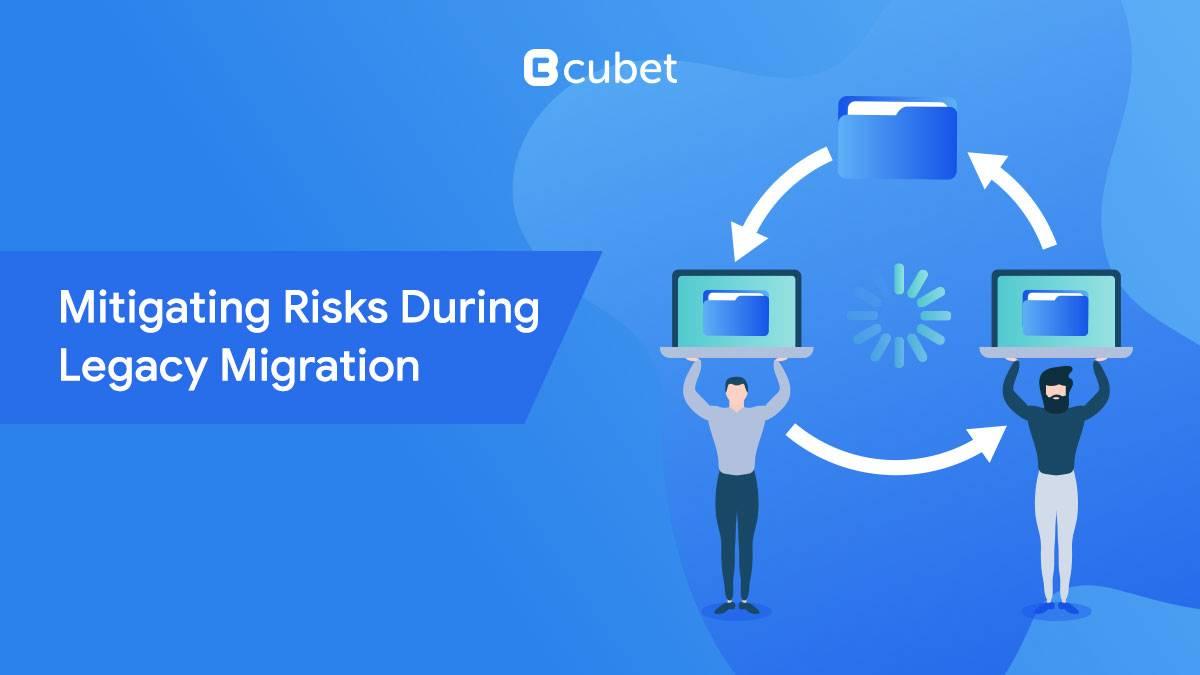 Migrating to a new digital system is not an easy task, and there are many risks associated with the migration process. Upgrading to a new system is transformative, but putting off a replacement system is not an option.
It's vital to think about the end user in the migrating process. Regardless of the sector, data migration is required before moving the old data from the legacy system to the new information system – known as the target.
The process includes a shift in storage location and changes in data format, storage format, backend database, and applications. However, there are many risks and challenges involved in data migration you must know about.
A company dealing with application development services or a mobile app development company should know about the features and ways to mitigate those risks.
Challenges faced during the phase of legacy migration:
Lack of data knowledge
Data is the heart of the IT system and contains important information that needs to be protected. Moreover, it is available in many formats and uses different technologies for storage, as it requires conversion before you use it on a new platform.
Here, the lack of expertise and data knowledge may become a challenge. Additionally, a data migration project requires the team to develop new skills, they may not be aware of.
Data analysis and cleansing
Data analysis and cleansing activities need to be performed across all the source systems. This step ensures that migrated data maintains its integrity and completeness, either for feeding or reporting a new business system. Moreover, the process may require the involvement of an IT migration team with experience in ETL modeling or data modeling.
Source legacy data quality
Many legacy systems have data quality that is far from ready to be migrated. Often this goes unnoticed until a system failure occurs post the migration activity. Also, it requires extensive efforts to remediate data quality before migrating. If ignored, it can lead to a failed data migration project.
Incompatibility of data migration between vendors
A vendor has an enterprise application that comes with a complex database architecture. But, it may not be compatible with the architecture of other vendors.
As a result, the vendor has to experience the problems in the legacy application and other technicalities and map the database scheme correctly.
A large volume of data and data mapping
If there is a lot of data, it will lead to more complexity. Massive data volume makes the data governance process tricky. It makes it hard to have an impact on data quality. Additionally, the data fields in the system may not be in sync with the new system due to the difference in database architecture and application.
Duplicate data and poor documentation
While performing the task of data migration, data may be duplicated in creating datasets. It's vital to identify and handle duplicate data, which requires an understanding of the relationship between different data fields.
Moreover, data duplication may be eliminated by deleting the data that leads to post-migration issues.
There is no single source system
Most organizations have data systems that hold different sources of information about business units or customers. For instance, a company may use a CRM system to store records. But, those won't include shipping and billing information stored in financial or ERP systems.
That's why multiple data systems need to be mapped and consolidated before migration takes place and the new system encompasses the functionality of the existing systems. Moreover, during the migration phase, business decision makers may receive limited information to decide how to transfer the data.
How to overcome challenges:
Invest time to create an upfront strategy
Most businesses will be working with a large set of data, they have a vested interest in getting the process right, so you can get them in front when you shape the project.
Moreover, businesses will be the most effective testers and validators as they will understand different logics and how to get the best from validations and rules that will make complete sense of the data. You can appoint a senior leader for the team stream to prove that you are taking things seriously.
You can ignore finance, which is the key to defining the acceptance criteria, but it holds the key to go or no-go decisions.
Use the latest technology to support the process
You must invest time in creating an efficient migration strategy. Access the data you will need to bring into the system. While migrating, you must use the latest technology that is transparent, controlled, and has greater insight.
Ensure that vendor has the right tools that allow you to monitor the process and access the accuracy of mapping. Check transformation algorithms, and rules of business validations and refine those routines as required.
Moreover, some level of automated testing will be invaluable here as data volumes are large, and you will be running the routines many times.
Address legacy data quality and don't settle for average results
Detailed analysis and profiling are essential to validate the quality to be migrated, changed at source, or augmented. Don't get the substandard data into the new system or technology, as it will reduce the value you can get from the data.
It will reduce the quality of analytics the new system provides. With the 80/20 rule, 80 percent of data will be routine, and 20 percent of data will be complex. Also, ensure that the common structures and records and identified early.
Plan for interim state and create a cross-party team
Plan in a way that minimizes the risk of business disruptions and mitigates the big bang risk, which is logical. As a part, you will need interim state architecture covering the period for lines of business or different legacy systems.
You can minimize the period but ensure that operational processes have been fully worked through with business and there are no cracks to fall through.
Additionally, you will need a vendor to work closely with your team, third party, and SI partner to share the solution. You can build a multi-party team to break down the barriers as soon as you can. The chance of success is better in this stream.
Importance of moving to modern technology:
Moving to modern technology is a must in the migration process, as there are many advantages to moving:
There is no risk of feature losses and data losses.
The process is not time-consuming and is efficient.
It provides better results and end-user satisfaction.
It reduces maintenance expenses and provides enhanced security.
Technology lets you organize the migration process and reduces the chances of errors.