Key software development trends to drive business success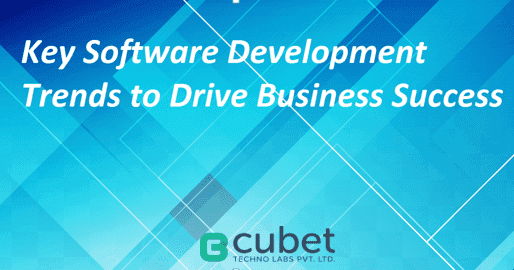 Digital transformation and application modernization from legacy systems have given a major boost to the software development market. The impact of leading software is already visible in the various sectors of the economy. IDC had already predicted that the marketing software market will have a compound annual growth rate (CAGR) of 12.4% for the next five years, resulting in a $32.4 billion market.
Now, if this is the expected level of growth in the software industry, what should enterprises look forward to in order to achieve business success? In this section, we have listed down the top 4 trends in software development which are essential to drive business.
Trend 1: Intelligent/Independent Softwares
Artificial Intelligence (AI) and Machine Learning (ML) have conquered the software world. Enterprises are keenly trying to integrate AI into their IT landscape. The objective is to develop software capable of learning from human interactions and hence, function intelligently. In addition to this, Gartner predicts that in the future nearly every other software or application will have some of AI incorporated into it. Forbes again claims that by 2020, independent software, which does not respond directly to human control, will be involved in 5% of all economic transactions.
Trend 2: Rapid Mobile Application Development (RMAD)
Rapid Mobile Application Development tools are mostly used by enterprises to overcome the shortage of app developers. With these tools, IT professionals with limited knowledge and skills, often termed as the citizen developers, can also develop applications rapidly and hence, save time and cost of hiring developers. Forrester Research predicts that the market for such citizen developer rapid mobile app development tools (a.k.a., mobile no code/low-code platforms) to be some $3 billion by 2020.
Trend 3: Custom/Bespoke Software Development
Custom software are personalised software with unique functionalities to address a customer's specific challenges. Unlike off-the-shelf softwares, a custom software is a unique solution and is solely owned by the customer. Such a software development can be done for small-scale to medium and large enterprises.
Advantages:
It is not 'one-size-fits-for-all' methodology. Every software is uniquely designed.
Increased efficiency and integration
Better support from the development team
It does not have to be expensive
Scalable
Trend 4: Continuous Delivery
Continuous delivery focusses on a software development approach that ensures that the software developed is ready for delivery at any time of the Agile sprint cycle. Most of the organizations are shifting their focus to continuous delivery along with continuous testing and deployment to speed up their application development.
Conclusion
Software empower digital experience and drive competitive advantage for businesses. As customers expect high-quality software from their software development agency, they should emphasize on improving their technical skill-set and hence, deliver top-notch software solutions to their customers.