Implementing machine learning and AI in health and fitness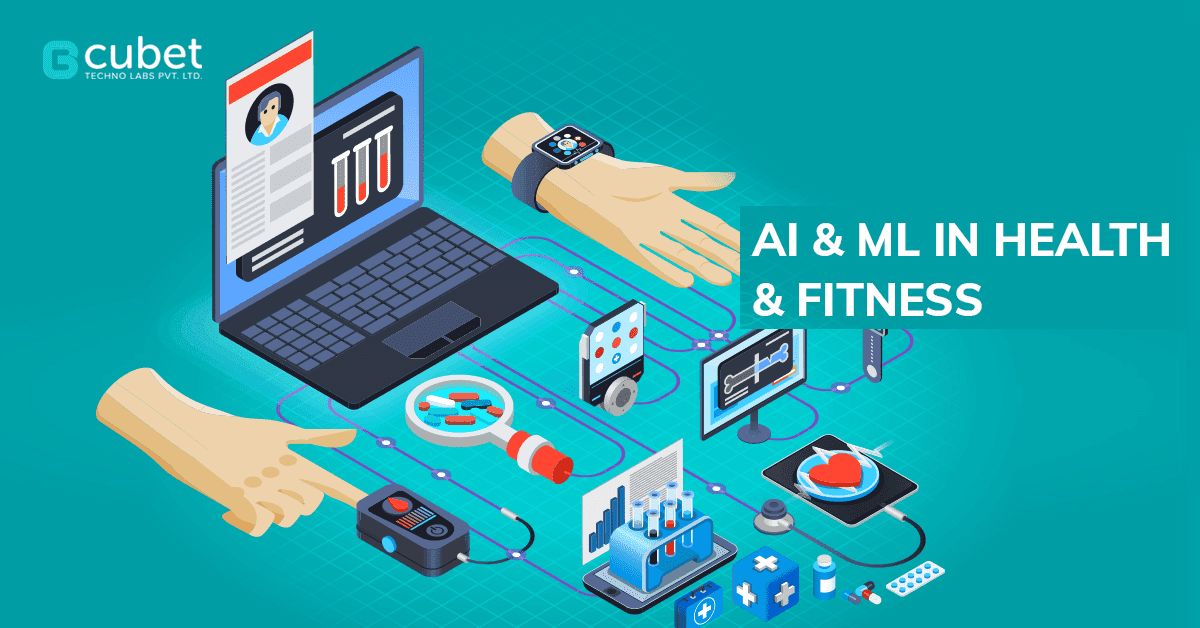 How AI benefits health and fitness
The impact of AI and machine learning is such that it is completely transforming care delivery in the healthcare sector. Clinical data suggests that AI is simplifying the lives of doctors, hospital administrators, and patients.
It helps to perform tasks that are typically done by humans but in less time and cost. The various health machines can be tracked in real-time with the use of AI. A major trend in deep learning technology is the ability to detect early cancer.
AI technology helps to train radiologists and enhance their performance. In consumer health applications, it gathers data and processes information to adjust according to the lifestyle of the patient.
What types of AI applications are used in fitness?
Over the years, Artificial intelligence has become a crucial part of the health and fitness industry. The artificial intelligence solutions used in fitness have been revolutionizing the industry. AI is now focusing on reshaping the individual habits of people.
AI easily helps to track health behaviors and repetitive exercise patterns in gyms. It then helps to use this data to guide you towards your fitness goals. AI and machine learning solutions connect with your smartphones and smartwatches to give you accurate results. AI in fitness aims at making consumers healthier and smarter.
How machine learning and AI benefits health and fitness:
AI-based personal trainer
An AI-based personal trainer is the next big thing in the fitness industry. Apps that are driven by AI help you to achieve your fitness goals. Fitness AI apps are designed in a way they can offer personalized fitness charts and lifestyle plans.
The apps help to tailor plans based on eating habits, fitness level, and your body mass index. The apps check your workout pattern and correct you if you are going wrong. This is just as a trainer would do.
Integrate your Smartphone and use your phone camera to get real-time feedback for your workouts in a one-to-one setting.
Smart fitness wearable is another trending application for AI in fitness. It is a common sight to see people sport a fit bit or smartwatch on their hands. Smart wearable's do much more than just collecting the data. Smartwatch helps to detect irregular heartbeats that might lead to a stroke.
It also alerts on other body functions. It helps to connect with electronic medical reports to give a complete view of your profile. It keeps a record of your improvement by analyzing your stats.
It becomes a virtual assistant by connecting with your gym for guiding you on the number of reps you need to perform. The smart wearable will offer specific and personalized suggestions to improve your health habits.
The long-term impact of AI on the healthcare sector
AI and machine learning solutions will increase efficacy and productivity in care delivery. It'll allow healthcare systems to provide better care to more people. It'll help the health care practitioners to spend more time in patient care thereby reducing burnout.
In fitness, it'll offer updated fitness solutions that'll provide virtual training. Many companies will also adopt chatbots for health and fitness.
Conclusion
Irrespective of location or condition, AI, and machine learning technology will make the healthcare ecosystem progressively impactful. Even in remote locations, it'll provide better access to care. It'll surely transform the health and fitness sector.