Cubet Techno Labs: Now a Verified Partner in Clutch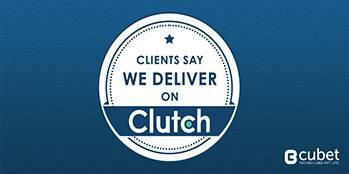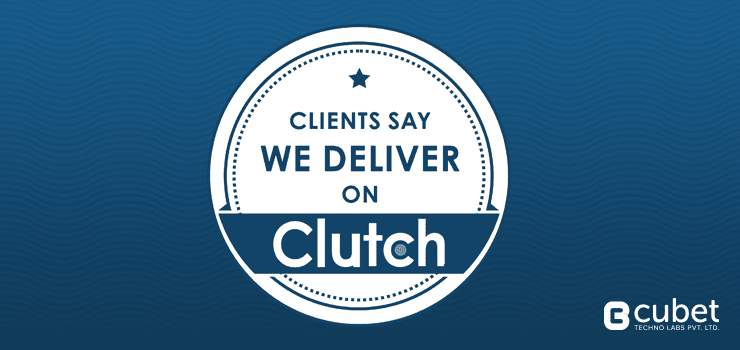 Web developers are everywhere. They're in every country, and they're all trying to show that they're the best at designing a website that will set their clients' brands apart from the competition. At Cubet Techno Labs, the best outsourcing partner for software solutions, we know just how great our services are.
We provide end-to-end solutions, as well as a wide array of services like product development, offshore development, JavaScript development, LAMP, MVC, Ruby on Rails, etc., in order to meet the needs of our clients and their organizations. We treat each client's project as if it's our own, meaning that our clients receive exceptional customer service and websites that we'd be proud to have for ourselves!
While we know that our services set us apart from the competition, it's not enough to keep that knowledge to ourselves. We needed to have a platform to showcase Cubet Techno Labs' projects, and we needed a place where we could share the feedback we receive from clients. That's why we looked to Clutch.
Clutch is a research firm based in Washington, D.C., that's committed to identifying the leaders in a variety of industries, such as advertising and marketing, web and software development, mobile app development and IT consulting. Given the care they show in their research and profiles we knew that, through Clutch, Cubet Techno Labs would receive the visibility we need.
First, Clutch had Cubet Techno Labs create a detailed online profile. There are graphics and charts on our profile that Clutch puts together so that clients can easily see which industries and clients we work with most often. While we could go on and on about the many facets of our profile, we happen to like the reviews section best!
Clutch analysts reach out to our clients and conduct thorough interviews to get unbiased reviews of what it is like working with us. It should be noted that we don't have a hand in these reviews—whatever the clients say goes on our profile. Some organizations might think it's nerve-wracking to not be able to filter these reviews for unflattering opinions. However, we believe that our work will speak for itself; and it does! Our clients' feedback provides us with the opportunity to continually improve our services in order to make Cubet Techno Labs the best web, mobile application development company around! And, as of right now, we have a 4.0-star average rating, which reassures us that we're meeting the needs of our clients!
The client feedback we've received through Clutch has been rewarding and invaluable. One of our valued clients, the founder of Digirec, a digital investigator, said: "Cubet Techno Labs is very willing to help meet all your expectations about the final product that you want. If you are not satisfied, they won't stop."
Another client of ours said: "From a working relationship building standpoint, Cubet Techno Labs really goes the extra mile. They work long hours. They're on budget. All in all, I can't complain at all."
We're excited to read the great things said about Cubet Techno Labs, and we find that previous client testimonials are one of the greatest compliments to our web development expertise. Cubet Techno Labs cannot wait to see where this partnership with Clutch goes in the future!