We have been building Laravel web applications and mobile applications that are stable, scalable, and secure. With our deep understanding of the framework and extensive application development experience using Laravel, we have become experts at product development and can assemble simple to complex applications that are a great strategic fit for our customers.
Cubet is an official Laravel partner that provides top-notch Laravel app development, customization, and consulting. Today, we house some of the best Laravel experts in the world who have developed several web applications for customers using Laravel as a preferred framework. We are capable to develop your product, deploy it, and maintain it throughout the product lifecycle.
Be it delivering lighting fast APIs and microservices using Laravel or keeping your product in top shape with block-of-time support contracts; Cubet has implemented it all across the projects it has executed.
Technologies that we use to propel the application development using Laravel include:

Cubet can enable you to get future-ready enterprise-level Laravel applications by integrating AI and ML solutions. Our association with IBM ensures that your users get a completely new experience through Artificial Intelligence.
We have worked with customers from every industry and size, from startup to enterprise. We are really proud of the work we've done together. Here are a few of our interesting projects in Laravel.
Case study

For this project, a Construction Subcontractor time-work-salary management software was built to digitize the entire operations thereby eradicating the administrative flaws. One app was built on Native iOS, Android for the employees and second, web portals built on Angular- Laravel.

Learn More..

Case study

For this project, a SaaS based web application for photographers and creative designers was built, with high professional UI. A mobile responsive and adaptive web application system, with Angular as frontend and Laravel as Backend.

Learn More..
We have experts who have developed PHP applications using CakePHP, CodeIgniter, Symfony, Zend, and Yii. Having used these PHP frameworks for several projects in the past, we find Laravel to be feature-rich and flexible. Laravel has a powerful command-line interface, several Object-Oriented libraries, an easy way to migrate the database, and a stringent security mechanism in place which makes it suitable for demanding web application requirements.
Laravel web app development services we offer:
As a preferred Laravel development partner for companies, we offer:
Consultation:
We act as a technical partner and a consultant to our customers who have an idea, want to develop applications using Laravel but are unable to find a plan and the best architecture to start with. This process involves budgeting, selecting the right tools, creating the right mix of team and skillsets, choosing the right infrastructure for deployment.
Application development:
We develop from scratch to mature and then fine-tune the best solution for your specific needs. Our preferred stack for web development is — Laravel, Vue.js, Nginx, MySQL.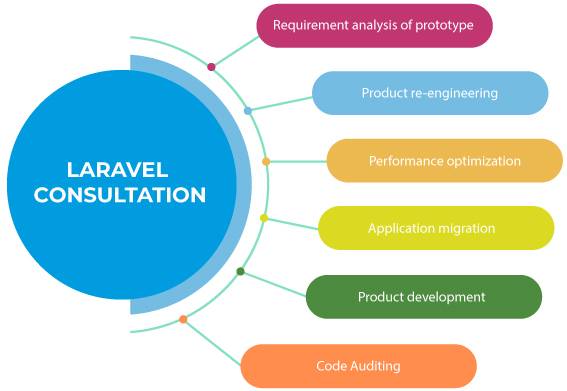 Code Auditing:
With in-depth knowledge in Laravel and its latest releases, we can help you speed up your code release, ensure code maturity and maintainability by discovering bugs, security breaches, or violations of programming conventions.
Performance optimization:
Having delivered more than 200 web applications, we understand what it takes to improve the quality and efficiency of the code. With rigorous analysis, we can optimize your laravel code to become smaller, use less memory and execute rapidly.
Application re-engineering:
We can upgrade the technology of your existing legacy applications through laravel by re-engineering them for improved efficiency. This includes optimizing architectures thereby enhancing/ retaining the features.
Laravel app migration:
Owning the cloud-first approach, Cubet helps companies migrate their existing Laravel solutions to the cloud. We have certified Amazon and Microsoft engineers who help us implement this migration.
Dedicated Laravel developers:
We relieve you from the burden of hiring and managing Laravel developers, we can offer you dedicated developers that can support you from product prototyping through regression testing.
Testing, and maintenance:
From testing as a service to maintenance and support, we have the necessary expertise to make your Laravel application bug free and long-lasting.
Why Choose Laravel Framework for your Business Development?
For a business looking forward to developing a web application, it is important to choose a framework that is efficient and flexible, like Laravel.
Laravel is one of the most optimal PHP based open-sourced frames works when it comes to web development. It combines the Model-View-Controller in a short MVC structure. Its features that add to simplicity and ease of use while the development and deployment of web apps are what make a developer's favourite.
7 Reasons why Businesses Choose Laravel PHP Framework

Flexible, scalable, safe, efficient, and high performance- Laravel offers all these characteristics within one framework with the aid of its toolkit for developing a highly functioning web application that fits the business's requirements. Here we are going to see in detail 7 reasons for businesses to go for the Laravel framework.
1. High Security
Laravel comes with its effective authentication system where unauthorized user access is denied with the aid of "providers" and "safeguards". Also, it limits any SQL injections and cross-site forgery requests. Thus providing adequate security measures to keep your website application function without any security threats.
2. Better Performance
Laravel can offer you improved performance. With the help of faster backend caching, the Laravel framework can assist in running your application smoothly. Laravel commands can abstract even the complex functionalities. It is stable and easy to maintain.
3. Cost and Time Saving
You can build an all-function web application at a low cost as compared to ones that are built-in other frameworks. Plus, the MVC framework with template and designing features can save a lot of time thus improving the efficiency and the productivity of the web app developers.
4. Easy and Simple Interface
The scalable and flexible custom user interface encourages user engagement. Using Laravel you can build a multilingual application that can also be considered as an advantage of this popular framework. In case of any needs, you can easily coordinate with the Laravel migration service provider.
5. Better Traffic Handling
Usually, when the traffic in a web application increases, it should deal with more request numbers. This will result in increased cost, data loss, thus affecting its performance. In order to avoid this Laravel has a message queue system. Thus, handling the traffic efficiently.
6. Extensive Plugins
There are a number of plugins available in Laravel, both free and paid. Most of them are free, so you can make use of them whenever needed.
7. Active Open-Source Community
This open-source PHP framework has a strong community of developers and development organizations. Whenever developers need professional advice or help while facing difficulties in building web applications based in the Laravel framework you can ask for help in this platform.
That's why at Cubet Techno labs we opt for Laravel as the framework. Let's take a look at our Laravel app development process.
Laravel App Development Process at Cubet

1. Collecting Information
Our team will collect info on the purpose, main goals, and of course the targeting audience of the web app. Then we brainstorm and come up with new ideas. At this stage, we will also clarify all doubts too.
2. Wireframing and Planning
In this phase, we will initiate wireframing, prototyping, and feasibility analysis. This will be the first stage of implementation.
3. Graphic and UI Designing
Now the visual components and plans, like design strategy, PSDs, and screens are crafted by our professionals. Now it's ready for presenting to the client.
4. First Draft to Final Delivery
The first draft of the project is presented to the client. After a round of changes, improvements, and approval, we will launch the project.
5. Quality and Extension
Quality assurance and a security audit are done at every stage of project development from the first draft to the project launch.
6. Development and Optimization
Our developers create functional elements, algorithms, and other backend modules while integrating them with UI at this step using the effective tool kit by Laravel adding to the total efficiency of the application.
At Cubet we chose Laravel to ensure that our clients are getting a high-performance web application based on their business requirements.