Why Do Web Development Companies Use Voice Assistants and How Do Businesses Use Them?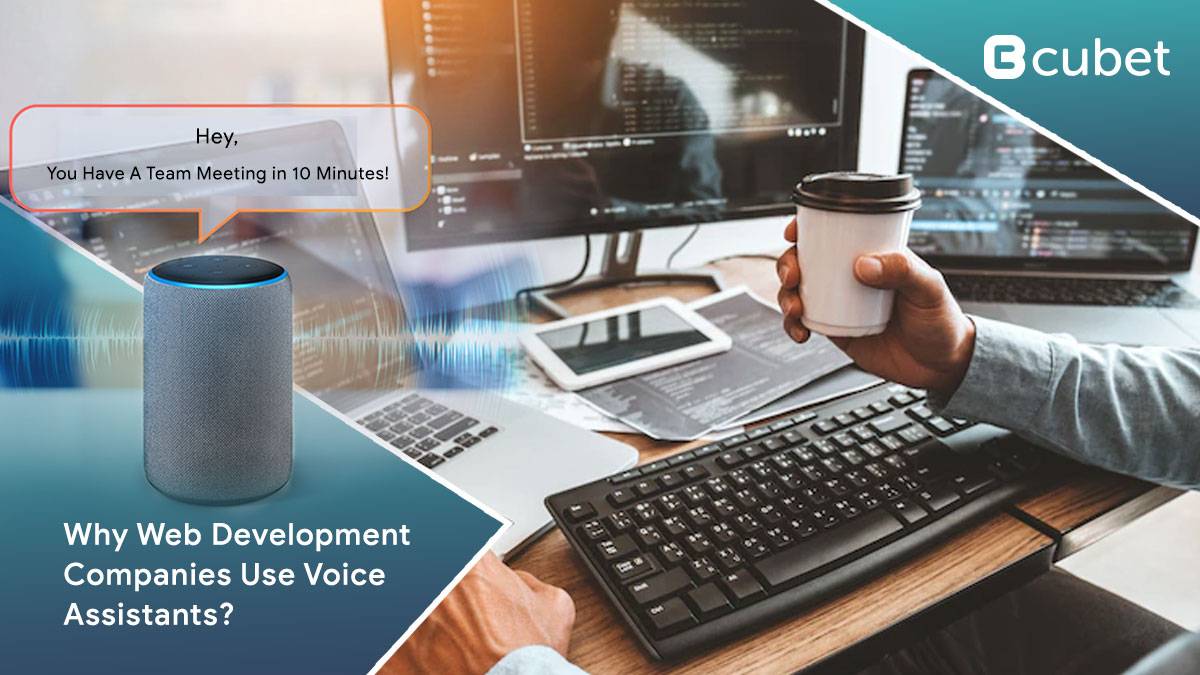 The rise of Big Data resonates with AI (Artificial Intelligence) technologies; especially Machine Learning (ML) is being hatched to match the intensity of giant databases.
Moreover, AI-powered voice assistants are levitating the e-commerce market. Statistics suggest that on average 70% of consumers are likely to use voice assistants for banking and shopping purposes, by 2025
E-commerce receives a plethora of data containing information and insights regarding the users. Growth-focused companies are leveraging AL/ML to sense and respond to dynamic business needs and leapfrog competition.
Moving further,
The global market has a huge appetite for innovation in digital technologies. AI is a vast segment that caters to technology developers as its primary users. Web development companies are too implementing Voice Assistants in their organizations. Let us know WHY.

Why Do Web Development Companies Invest in Voice Assistants?
To maintain a competitive edge in the market, web development companies are investing millions & billions in Voice Assistants. There are many reasons underlying this.
Primarily: some companies want to secure their franchise in their dominant zone (e-commerce in the case of Amazon). Others are trying to break into entirely new zones (Flipkart distributing digital content via Flipkart video). A few are trying to explore both possibilities simultaneously.
Secondly: as compared to other AIs, Voice Assistants represent both the platform and the User Interface (UI). Voice Assistants act as a proprietary intermediate for all digital interactions. This unique feature tends to invoke platform wars between competitors.
However, the tech giants might have different reasons to justify their investment, yet all reasons are tangent to a single fact. Consumers do not mind whether the task is being accomplished manually or automatically, they just want the task to get done successfully.
Some futuristic predictions in web development of Voice Assistants are:
Streamlined Conversations 
Streamlining conversations for making interactions with the audience more natural and convenient. Also, there is an ongoing attempt to eliminate the 'wake up' word (like 'hey Siri' or 'ok Google') to convey commands every time.
Change in Search Behaviors:
Developers are monitoring behavioral changes in the Voice Assistance pattern for a better understanding of the contextual factors that drive the conversations more efficiently.
Personalized Experiences: 
Engineers are sound scaping different voice patterns to offer tailored results customized for individual consumers. This is to enhance personalized consumer experiences.
Highly Compatible and Easily Integrated:
The global market is no longer inviting a monopoly on technologies. For a product to survive competition, it must be highly compatible and easily integrated, regardless of its parent brand. Web development companies are working towards being versatile.
Security-driven Approach:
Organizations are concerned regarding security factors while operating Voice Assistants. Though a security-driven approach to developing a more reliable digital assistant is in incubation. Hopes are still high to witness completely reliable and incredibly secure digital systems taking over the global market by 2025.
Now let us understand the other side of the market. The adoption of AI/ML technologies is highly propagating across sectors like Automotive, Banking & Finance, Healthcare, Manufacturing, Logistics & Transportation, Travel & Tourism, Entertainment & Gaming, Retail & ecommerce, and other industry verticals.

Why are businesses using Voice assistants?
The below representation depicts the percentage of organizations deploying voice assistants out of 100 organizations in their respective sectors.
Let us understand why businesses are using Voice Assistants, and why you should consider implementing VAs for the growth of your business.
1. Supersonic typing speed:
No matter how faster your processor is, when it comes to typing, we all find it an extremely cumbersome process. Voice Assistants are proficient at converting speech to text in no time.
A new study on 'typing speed' conducted by the Stanford University-University of Washington-Baidu, reveals that Voice Assistants type spoken words three times faster than humans typing on a keyboard (the average age of participants was between 19 to 32).

2. Handsfree and hassle-free:
Suppose your employee is working on a crucial task that needs to be completed on an urgent basis. In between, there are minor disturbances like sending/replying to important emails/messages or sending a document to their colleagues, or anything similar in nature. This can break their concentration and affect their output. Voice Assistants empower your employees to work hands-free & hassle-free.
3. Easy to operate:
Voice Assistants are utterly easy to operate. Speech comes naturally to humans. So, no effort is required in operating or conversing with it. Voice Assistants render communications seamlessly.
4. Intonation build trust in the audience:
Often chatbots seem vague and dreary; there are high chances of miscommunications as well. Voice Assistants are sound scaped with their tones, volume, accent, as well as rate & rhythm of speech. This helps in clear communication and conveying of emotions. Thus, intonation helps you build trust in your audience.
5. No language barriers with Voice Assistants:
Voice Assistants are equipped with multi-lingual portfolios. This helps in reaching a large segment of the audience. You can entertain your audience in their native language, making conversations more personalized.
6. Enhanced customer support:
Customer Care is the primary step to brand management. To keep your customers waiting in lengthy calls for getting answers to their queries is bad business etiquette. Not to mention the consequences of inefficient and inappropriate solutions.
AI-powered voice assistants offer 365 days of 24*7 real-time consumer support, without any human intervention. This saves on labor costs as well as reduces dependency on human resources.
According to Statista, by implementing Voice Assistants, businesses are witnessing more than a 20% reduction in the cost of customer services.

7. Insightful user engagement:
With a natural user interface and actionable analytics, Voice Assistants are capable of understanding user behaviors, user moods, and user requirements.
Voice Assistants use gesture-based control, voice recognition technology, and focus tracking to provide insightful user engagement. Hence, it is not wrong to say that Voice Assistants make virtual conversations come to life!
8)Screenless IoTs:
Screenless IoT devices like smart speakers, thermostats, and others are powered by Voice Assistants.

These devices assist in navigation, orchestration, information retrieval, and other routine activities.

How are Businesses using Voice Assistants in 2022:
Improve operational efficiency and productivity within the organization:
Voice commands are used to schedule meetings without overlaps, set reminders, orchestrate client portfolios, manage & sort important documents without messing up, send emails and convey messages, as well as organize the entire workflow. Voice Assistant's implementation across the organization can help organizations in monitoring, tracking, and managing the entire workflow. 
VAs tend to increase productivity, accelerate operational efficiency, and provide a competitive edge.
Voice Assistant embedded technology for Chatbots:
Voice bots with speech recognition technology and NLP (Natural Language Processing), are revamping chatbots.
If improving customer experience is your priority, then you must go for our Voice Assistant embedded technology for your existing chatbots. With this technology, you can electrify your existing applications with new capabilities at lower costs.
Gather feedback and devise business strategies:
Voice Assistants collect user information like feedback, queries, complaints, age, gender, likes, dislikes, interests, and others; for problem-solving. Organizations use this data for understanding their audience better and devise new business strategies accordingly. A consumer-driven solution always positively impacts the productivity of an organization.
Sales & Marketing with Voice Assistants:
The sales & Marketing industry is highly dynamic and demands fast-paced movements for lead generation.
Voice Assistants can prove to be revolutionary, as they can accurately perform tasks like organizing campaigns, orchestrating client documents according to their portfolios, as well as devising & analyzing marketing strategies. Besides, Voice Assistants are helping organizations to naturally employ upselling and cross-selling market strategies.
With Voice Assistants, you can have a grip on your audience.
Voice Payments:
AI-powered cashless payments, especially one-tap payments are highly trending. However, voice payments are the future of Voice Assistants in the Banking & Finance sector. But before voice payments conquer the global market, they must overcome security challenges underlying their usage.
Voice Assistants for ALL!
Almost every organization has employees with motor or linguistic disabilities. Voice Assistants empower them by providing verbal as well as visual aid. They do not require touching the screen or reading texts. Just with the voice commands a Voice Assistant gets the task done.
Besides, if employees are suffering temporary disabilities due to accidental consequences (like hand fractures), Voice Assistants can prove to be game changers.
Voice Assistant Use Cases:
The below representation depicts consumer inclination towards voice assistants, analyzed for various industry verticals
Consumer Products & Retails:
The above representation shows consumer inclination in using voice bots to check products online. With the rise in e-commerce trends, we can see a high elevation in the number of consumers browsing gazillions of products on the internet. 
To meet this trend, enterprises are offering both chatbot & voice bot services. Chatbots are becoming a bit old-fashioned now. However, voice bots being fresh in the market, are enticing to consumer segments. Smart Assistants understand consumer requirements and directly lead them to relevant product lines.
Banking & Finance sector
The Banking & Finance Industry is leveraging two-way communication with Voice Assistants. By integrating Voice Assistants into their banking & finance application, they enable consumers to make online payments, inquire, solve queries, gain consumer support, check account details, as well as carry on all other activities through voice commands. 
On the other hand, the banking & finance companies are sending notifications to their consumers about the latest promotional offers and other banking alerts.
Automotive industry:
Cars are getting smarter too? Automotive industries are integrating Voice Assistants in automobiles to encourage their users to go hands-free. 
With Voice Assistants, users can get accurate climate reports, and traffic updates, track trips, and most importantly navigate through GPS. Users can also make calls, play music, read aloud text messages/emails, reply to messages/emails, schedule appointments, book services, and order takeaways.
Human Resources Management:
The HR industry (staffing industry) is colossal and covers almost all industry verticals. Organizations are using Voice Assistants in HR management to carry out functions like:
• Automated screening of candidates
• Automated response to job applications
• Employee on-boarding/off-boarding
• Manage employee payrolls
• Optimize recruitment procedures
• Evaluate staff performance

According to Gartner, digital assistance can save up to 6.2 billion working hours in an organization. On the organizational front, Voice Assistants can save cost, time, and resources.
Wrapping up
Voice Assistants are a subset of Natural User Interface (NUI). NUI follows the motions of its user. Hence it gives real-time responses to user actions without any restrictions on elements. 
With the increasing expectations for more human-like conversations from digital assistants, key players are attempting to create more potent technologies that can render seamless natural ecosystems for User Interfaces.
The global Voice Assistants market is projected to garner USD 30.74 billion by 2030, growing at an accelerating CAGR (Compound Annual Growth Rate) of 31.2% from 2020 to 2030. These statistics suggest a bright future for Voice Assistants.
It has been a long time since we (humans) are adapting to the commands of Computers. Don't you think, now is the time for Role Reversal?