Why Do Mobile Applications Boost Your Normal Sales?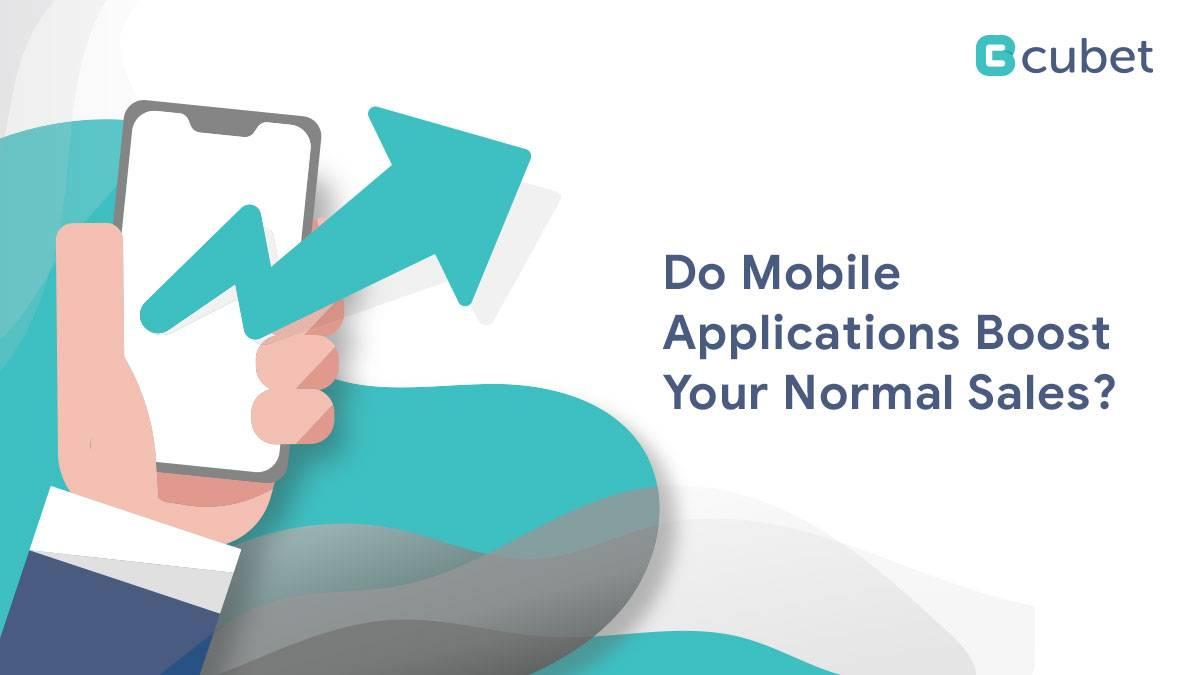 Mobile applications are the need of the hour, as they directly connect to your consumers with a single click. But do you know that mobile apps can boost normal sales?
If you don't have a mobile app for business, it is about time you get one. Without a mobile app – you will lose your potential customers, which can affect your future sales.
You won't want that to happen, right? According to a report by Adweek, more than 30 percent of users check their phones at least fifty times a day.
So not having a mobile app for business will lead to a missed opportunity to get new clients. Mobile applications can help you to sell more and reach more customers with a single click.
In short, it is the best way to boost your sales. A mobile application development company can help you develop a customized business application, depending on your business needs.
Moreover, the development of the app depends on your target audience. You can consider creating a small or big mobile application depending on your budget and reach. It's the most feasible choice in the current scenario, and you should not miss out on this opportunity.
Mobile Applications Can Help to Boost Your Normal Sales, Here's How:
1. Helps to Strengthen Customer Relationships
The way you communicate with your consumers can have an impact on your sales, and a mobile app is the best channel to communicate with your customers.
Mobile app development services help you create a mobile app that can be a link between your company and potential customer.
As there is no barrier in communication, it can increase sales.
Additionally, the push notification can help to build regular interaction so that your customers don't miss any important updates from your product or services.
With this, users will trust your brand more than any other medium.
With the mobile app, you can create a loyalty reward program for your customers.
When you reward frequent buyers, they will trust your company more.
2. Helps in Retargeting
Retargeting is a significant part of business and sales. With the help of retargeting, you will be able to retain and acquire new customers for your business.
By retaining your loyal customers, you can ask them to buy new products.
You can easily perform retargeting by placing an added code on your website and asking the users to install the new app you develop.
However, if the application is already installed, you can show it in the view products category.
Also, you can show it in the viewed products or social network category on your business app.
Some companies also show the products in third-party applications and mobile sites.
Moreover, you can measure the results of retargeting strategies. If you find issues in the reach, you can change your strategy to improve sales.
Retargeting is the main function of mobile app development, as it can boost your business sales.
3. Improves Customer Engagement
One of the most important reasons to get a mobile application is; customer engagement.
Most customers download the mobile application to connect with the company.
Besides, a mobile application can cater to customers' needs at the click of a button.
The best part is; the mobile application increases accessibility and connects customers with their preferred services or products.
Additionally, it helps to increase revenue and business sales.
A business app helps to promote your new service or product through push notifications to customers.
With the help of a mobile application, you will be able to inform your customers about special offers and discount coupons.
Again, loyal customers can be retained with mobile applications, so you must invest in the app.
4. Promotes the Products
Through the mobile application, you will be able to show all the relevant business products to your users.
The products are based on interest, and you can set the push notification function in the application.
Additionally, you can send push notifications for all the products they have already viewed. It may help if they miss any product you have uploaded in the app.
By seeing the push notifications customers are likely to make an immediate purchase, which can boost company sales.
Moreover, it is the best way to promote a product at the right time and the best way to reach the right people.
5. Helps to Boost Revenue
With the mobile app, you can easily connect to your customers all the time. It can create a positive impact and satisfaction in the minds of people.
Plus, you can attract new customers with the app features.
Mobile app business strategy is adept at boosting sales and acquiring new customers for the business.
You can also retain old customers with the right reach of the app.
As a result, it can retain your existing customers and help increase sales.
It saves added costs of acquiring new customers through different marketing strategies.
At the same time, you can increase revenue through sales.
Conclusion
Mobile applications should be a vital part of your business strategy. Technology is evolving each day, and you need to keep up with the pace. Besides, if your competitors already have an app, you need to think of something different and innovative.
Mobile applications boost sales and revenue by connecting to your potential customers. For customers, it's a medium they can connect to.
Through a mobile application sales platform – you can increase sales in no time. However, it is essential to look for all the features and functions before you create one for your business needs.