Why choose PWA for your eCommerce business?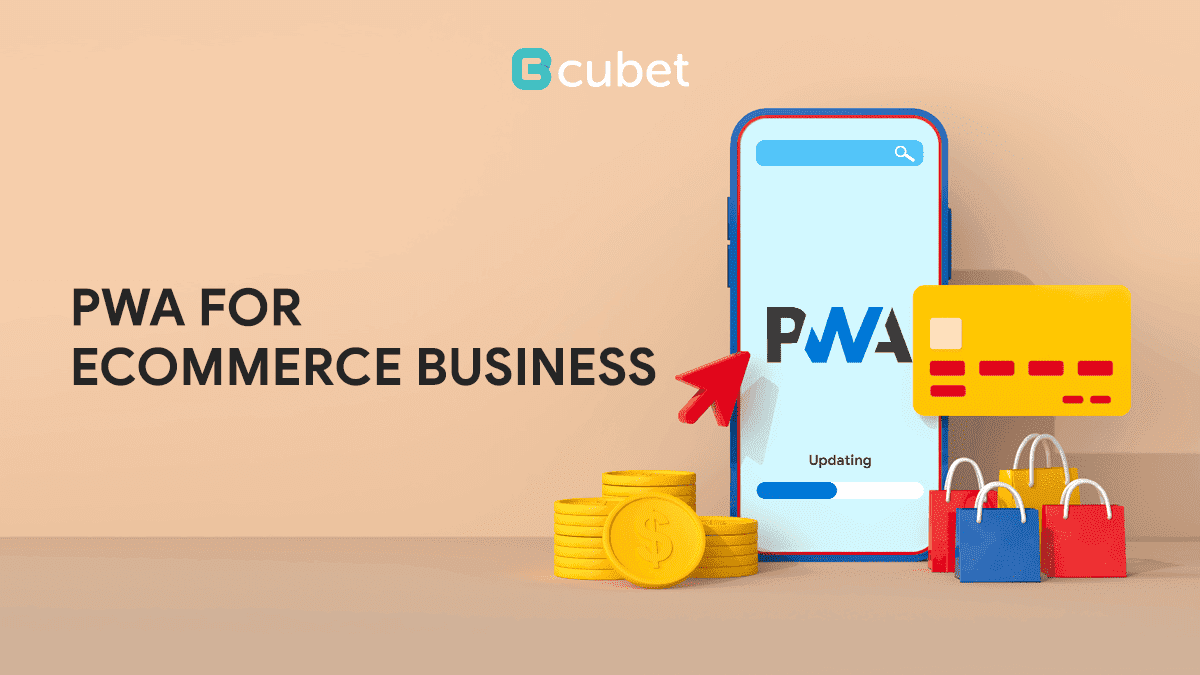 Progressive Web Applications (PWA) are built using JavaScript but provide a native user experience. They are reliable, fast, and secure and can be made at a fraction of the cost of developing a native web app. PWAs are revolutionizing the eCommerce industry and how.
Pinterest has rebuilt the website using the PWA, which led to an increase in the user browsing time by 40% and the core engagements went up by 60%.
BookMyShow's PWA led to a considerable increase of 80% in the conversion rates.
Similarly, Petlove adopted PWA for their website, leading to an increase of more than 200%.
Adopting PWA (Progressive Web App) to customize web app development solutions for your E-commerce applications is a good approach.
Although many tools are available for developing user-friendly e-Commerce portals, PWA performs better and is also cost-effective.
Why choose PWA for E-Commerce Business:
1. Ease of Use
If an app offers easy accessibility and installation, it is likely to be preferred over other options. On the other hand, finding and downloading an app is complex and will lead to 1 out of 5 users opting out.
After all, what a user wants is a fantastic consumer experience. PWA reduces unnecessary steps from searching, installing, and usability.
PWAs also help increase conversion rate, which is an essential metric for e-commerce businesses. According to Google case studies, PWA increases the conversion rate by almost 52 percent.
2. Fast and Easy Development
PWAs are easy to create since Google allows developers to utilize reusable codes and modules.
PWA will do the job if you wish to offer your consumers a native app experience. They are simple, fast, and budget-friendly as compared to native apps.
Since e-commerce requires a broader audience reach to every part of the world. Therefore, you need a dedicated website (for Android and iOS users).
This is where PWA comes into play rather than spending money on several platforms. As a result, you can use PWA as one solution to saving time and money without compromising the user experience.
3. Bridging the Gap between Businesses and Customers
There is no need to download a particular app when using a PWA. This way, it reduces the burden on the part of users that are forced to download a specific app for availing services.
With concern over unnecessary apps consuming smartphones, users have become more aware of what apps to keep and discard.
Moreover, having too many apps affects the performance of smartphones. This is one reason why PWA dominates the app development world.
4. Can Be Indexed and Shared
Another benefit of including PWA is that PWAs can be indexed and shared. In addition, because PWAs are web-based, they can be searched online via Bing and Google.
A progressive web app can be accessed like a native app delivering a similar user experience as in a native app.
5. Performance
PWA does not waste the users' time on loading a web page. One of the critical benefits of PWA is that it supports user experience even in poor network conditions. A native app, on the other hand, fails to deliver, unlike PWA works swiftly, offering the best experience.
6. Automatic updates and no app store costs
Automatic updates work like regular website updates in the PWA. It enables the users or owners to have an updated website application. Additionally, PWA can help you avoid unnecessary costs without impacting the site's visibility.
Launching a PWA doesn't have to depend on the application stores and other conditions. Also, while the native app might not be visible to users, PWA can be dealt with by the search engines to boost its visibility.
When does an eCommerce business need a Progressive Web App?
If your E-commerce website struggles with conversion rates, it may impact your brand's growth. Therefore, it is vital to invest in PWA to improve conversions and provide customers with the best user experience.
If you need to update your E-commerce website, you can switch to PWA as the best solution.
If you are an eCommerce start-up owner, PWA is an ideal solution. Besides, PWA is easy to develop and affordable.
Challenges of PWA in eCommerce business:
PWA's are not as popular as native applications, and it can take time to reach out to end-users.
PWA's primary concern is caching – the balance between a website's functionality and usability.
Since PWA is a half app, the functionality and scope are limited.
PWAs cannot access social media profiles and contacts.
Conclusion
PWAs are emerging to be the most preferred web tool for e-Commerce applications. However, if you have not yet availed of the services of a PWA, then it's time to rethink. You are at risk of losing out on potential buyers all around the world.
Web magnets like Microsoft and Google have adopted PWA to enhance the user experience. As a result, PWA is growing when it comes to E-com websites.
If you wish to set up a PWA enabled site, you can hire a well-known (PWA) Progressive Web App Development Company.