Why Are Super Apps the Need of the Hour in the Digitally Connected World?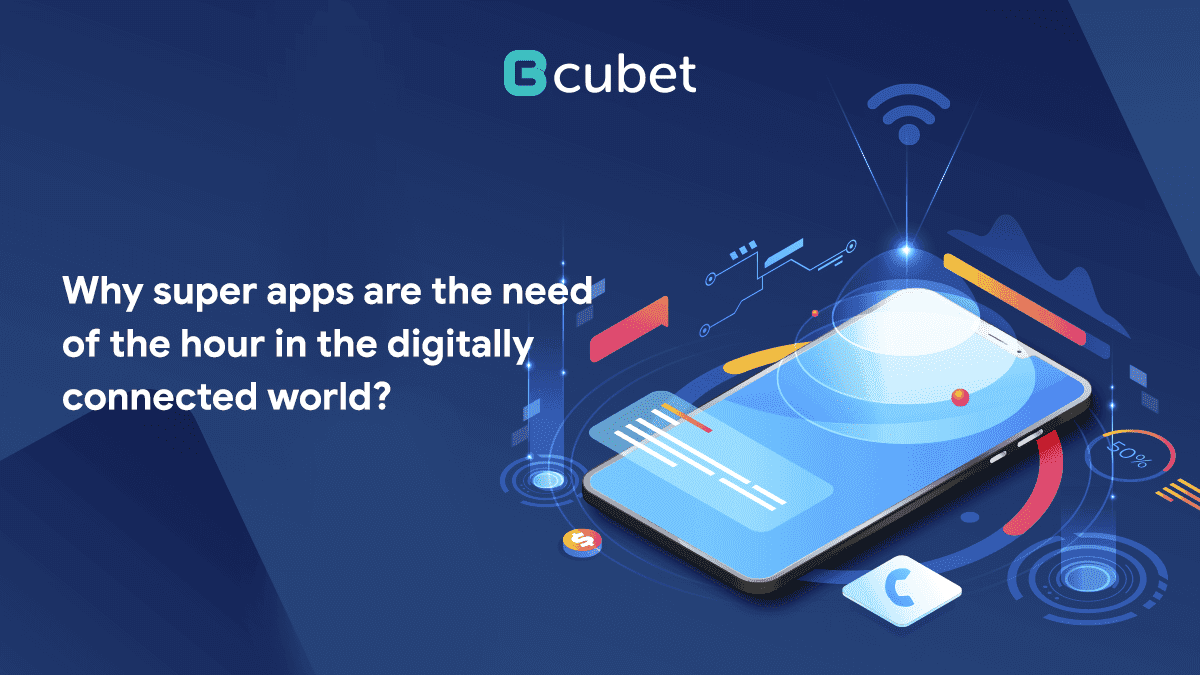 As technology advances, the world is shrinking into a smaller digital space. And post-pandemic, there has been a paradigm shift in the way things work. As a result, there is constant competition between legacy firms and start-ups pedaling their digital transformation drive.
So, getting the users glued to your products or services will elevate the curve. A super app offers the best solution, as its prime focus is on user experience.
Simply put, it promises to reset the user experience paradigm, or you can say a total experience. Super app is a seamless app solution that bundles varied services.
Why do you need to use a Super App?
Super app is a one-stop solution for all your business services. It's a bouquet of services you offer through a single application. It aspires to cover every consumer need, so it focuses more on UX.
In the super app, the consumer can integrate utility payments, insurance, food, fashion, social media, marketplace, and health. A common account system binds all these offerings. Some apps also specialize in single services.
For instance, Tata Nue has introduced different services like fashion, finance, tech, grocery, and healthcare in the app. It also lets you integrate with top brands like Croma, BigBasket, and Starbucks.
The Super app ecosystem is likely to strengthen the monopoly of large companies. However, they are indeed instrumental for the tech economy.
What are Super Apps?
There is no specific definition of super apps as the apps work on the ecosystem of many apps that people use daily. Super apps offer a seamless, integrated, and conceptualized experience. Hence most companies are now switching to super apps.
In short, super apps is a marketplace of all the offerings and services that gather in a place, third parties, or in-house. For example, with the super apps platform, users can transfer money, chat, book tickets, and order groceries simultaneously.
Businesses are now opting for super apps as they offer multiple features under a single umbrella. A trusted mobile app development company can help develop super apps.
Reasons for the success of Super Apps:
1. Mobile experience
The Smartphone market in Asia is much cheaper and broader than other markets. And China is known to be the most dominating market for mobile-first users. But with the Google search engine shutdown in 2010, China was baffled as users had no prior desktop experience.
All these factors impacted the growth and demand for super apps. Also, as mobile devices had limited storage, it prevented the users from downloading multiple apps, and this user behavior then led to the idea of super apps.
2. Huge market
Asian countries have a lot in common – in culture and preferences. The reason impacts homogeneity of markets allowing businesses to operate in different countries and offer uniform services.
And when the super apps were introduced, their demand spread throughout the region. And this contributed to the rise of super apps' popularity in Asian countries and other countries.
3. Unbanked population
According to a report by KPMG, more than seventy percent of the Southeast Asia population is still unbanked. And this region is the one that processes online transactions more than manual ones.
There are many places in Asia, where credit cards and debit cards are not accepted, but all vendors accept payments via super apps like WeChat and Alipay.
4. Government support
As Asian countries found ways to connect people digitally, super apps became a popular option. For instance, WeChat has added features and functionality, and it has a high chance of replacing traditional ID documentation.
Moreover, many other public services offered in WeChat make it popular. Considering all the above reasons, no wonder super apps have picked up pace in Asian regions.
Rise of Super Apps and why its the need of the hour
With the introduction of the Fintech space, things have changed. And users can now transfer and deposit money from anywhere. Additionally, users have multiple apps to make payments from their smartphones.
Advanced techniques and digitalization play a vital role and have changed the way people use smartphones. For example, with super apps, social retail and financial services are seamlessly merged in a single app, which is indeed the need of the hour.
Super Apps that stunned the digital world:-
WeChat was introduced as a messaging app, but today it has gained immersive popularity by offering multiple services to users. It enables users to book a cab, make payments, order food, etc. Moreover, you can perform all the transactions in a single app.
Being a well-known E-com brand, Amazon now offers multiple services like – Amazon Pantry, Amazon Pay, Amazon Prime, and other entertainment services. In short, it unites the world in one app.
Businesses need a Super App
Conventional businesses can leverage the power of super apps as it offers multiple services. Plus, it makes sense in today's digital world, especially for companies with a solid customer base that can expand their services.