Why are AI based Chatbots Underpowered on Websites?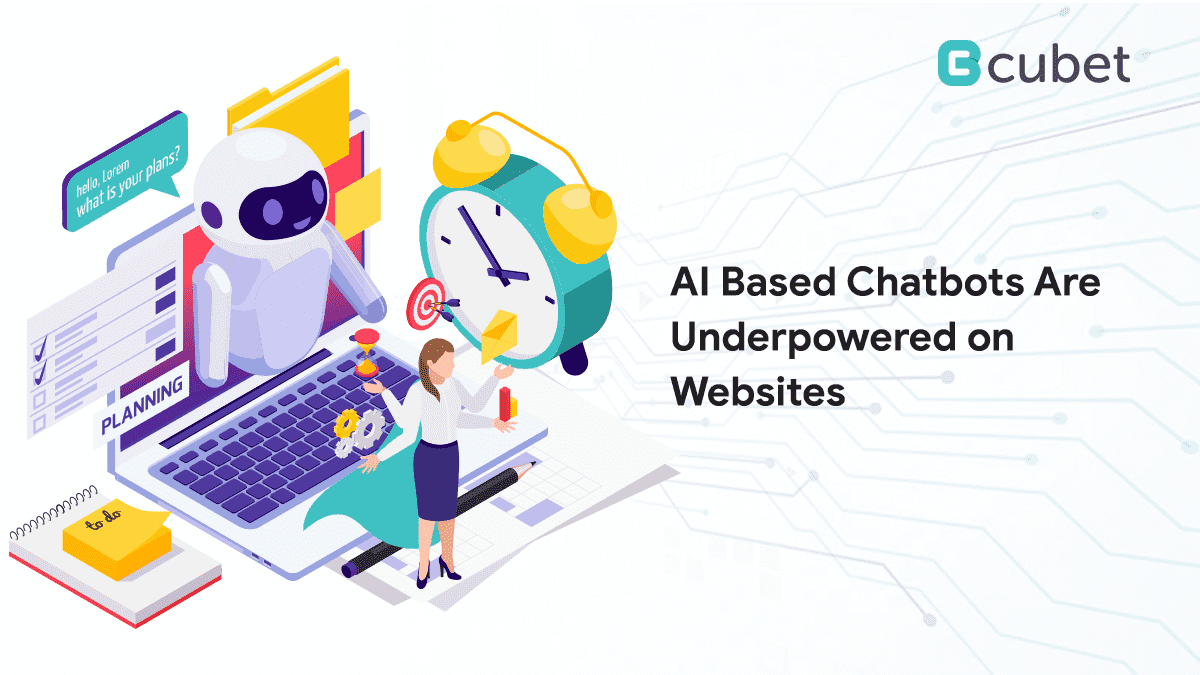 Chatbots are being underpowered on websites, negatively impacting the user experience of the overall website. However, is it only your Chatbot's mistake?
In this blog, we are bringing forward some of the most common chatbot mistakes and ways to fix them. Before jumping onto it, let us first understand what AI chatbots are and their position in the global market.
What is an AI Chatbot?
AI chatbots are software applications programmed to simulate online conversations (via text or text-to-speech). Chatbots can establish human-like conversations to offer customer support 24*7 of 365 days, briefly introduce the organization, solve customer queries, and provide relevant information for inquiries.
According to a Statista report, 78% of organizations worldwide claim to have benefitted by implementing chatbots for simple customer services.
Moreover, 90% of organizations have reported that AI chatbots have improved the speed of their problem-solving capabilities.
From the consumer's perspective, 80% of consumers review their experience with AI chatbots as positive. Also, 64% of customers feel that instant response to their queries and 24*7 customer support facilities by AI chatbots are their most useful functionalities.
The Advantages of Integrating AI chatbots
Cost Saving: AI chatbots are surely to scale your online self-service. It can smoothly conduct simple conversations and demand human intervention only in case of complex issues.
Timesaving: Not every time the manager or technician of your organization needs to lead face-to-face conversations with your consumers. AI chatbots efficiently communicate with your audience for simple issues and customer support. This can save a lot of time and your human resource can focus on more important tasks.
More than 80% of consumers signify the importance of instant responses while contacting the brand.
Accelerate Sales: Over 40% of AI chatbots are integrated into websites for handling sales. Whereas 35% of businesses worldwide claim that AI chatbots have made it easier to crack sales deals.
Your AI chatbot is an important part of the sales funnel as it plays a vital role in converting the audience visiting your website to valuable customer leads.
Enhanced consumer satisfaction: 62% of users prefer interacting with chatbots instead of human agents. A well-integrated chatbot with a pleasant UI can enhance UX by increasing user engagement rate, website traffic, and conversion rate of your website. With excellent customer support pre & post-sales, your chatbot can boost customer satisfaction.
Impact of AI chatbots on User Experience: Chatbot Problems with Solutions
UNCLEAR SCOPE OF CHATBOTS AND UNREALISTIC EXPECTATIONS
Before planning the development of your AI chatbots, consider defining its scope and purpose keeping in mind the essence of your organization. Too much expectation from your bot and setting unrealistic goals can disappoint you.
Chatbots are not versatile. They are deployed on a set of rules. For every question a user shoots, the chatbot fetches resources from the database and comes with an answer. Richer the database, precise the answer. However, fishing relevant answers from a large database can be a challenge, especially when the purpose of your bot is not clearly defined.
What happens then? Your bot will present nonsensical answers to the user, confusing them. As a result, the user will bounce back from your website.
Solution:
Define a clear scope and identify the purpose of your bot. Why do you want to integrate your website with a chatbot? Do you want it to:
• Qualify leads?
• Customer Support? (Pre-sale &/or Post-sale))
• User Engagement?
• Solve user queries?
• Provide relevant information for their inquiries?
• Simply brief about the essence of your organization.
We recommend that you do not use a single bot for deploying all functionalities. The best thing to do is, deploy different bots for different webpages of your website. This will narrow their scope and make it easy to render smooth communication with the users. Narrowing the scope also means that your bot can fetch accurate answers from the database quickly and easily.
LACK OF CUSTOMER PERSPECTIVE AND UNPLEASANT UX
A chatbot with unpleasant UX, complicated functionalities, and miniature tabs, can cause a negative impact on users. It is vital to consider the consumer's perspective in mind while designing the UX of your bot. How your audience will perceive your brand completely depends on their experience with your website. This also includes their communication with your bot.
Solution:
A pleasant UX design with a neat & clean appearance represents an impressive outlook of your brand to the audience. A simplified communication channel also helps users to easily understand the functionalities of the chat box. Design your bot keeping in mind your audience. Focus on both UX design and UX communication (text and text-to-speech).
LACK OF CONNECTIVITY AND LIMITED EXTENSIBILITY
Let us first address the issue of lack of connectivity.
The user has already considered establishing communication with your site. Be it to inquire, ask questions, or demand a solution for their pre/post-purchase problem. What they need is a simple yet relevant solution.
If the script of your chatbot is poorly designed, it will fail to follow the user's direction. The user will immediately bounce back without any second thought. Failing to connect with the user due to a poor script design is sure to fail your chatbot. As 30% of customers drop the queue if their query is not answered instantly.
Solution:
Your chatbots must be conversational and most importantly the conversation must end with a CONCLUSION. Design your script to connect with your users by establishing a two-way communication channel. An interactive chatbot can easily connect with the users and engage them in a conversation.
We have explained that a poor script can fail your chatbot. However, here are some important points to consider while designing the script (a good one) for your chatbots.
First thing to do is, add a brief introduction to your organization.
Introduce your bot to the users. This will make your users aware that they are communicating with a bot and not a human.
Do not shoot users with heavy text messages in a row. Break your texts into bits and send them every 3 seconds. This will give your users time to read and understand your message.
Give your bot a name so that the conversation feels more personalized.
The conversation should be casual yet engaging. However, limit the use of emoticons, humor, or slang.
Also, avoid too much personalization as 48% of users prefer to chat with bots that offer instant relevant responses, rather than bots simulating superior human personalities.
Keeping in mind the essence of your organization, choose which type of communication channel you want to establish; formal or informal and/or robotic or human.
Now, the other problem leading to the failure of chatbots is limited extensibility. While implementing a chatbot, we often fail to integrate it with the organization's essence, marketing strategy or workflow. As a result, your bot acts as if it is from another world. This is an underrated yet critical point to consider, as it can lead to chatbot failure.
Solution:
Integrate your bot with existing technologies, workflows, communication channels, and marketing strategies. This way, your bot will be able to fetch relevant data and give accurate answers in context to the essence of your organization.
INTEGRATING THE WRONG TYPE OF CHATBOT
There are two types of chatbots:
Rule-based chatbots have a flowchart type built and controlled conversational flow.
AI chatbots are more advanced and can solve complex queries easily. These are incorporated with NPL (Natural Processing Language) and have ML (Machine Learning) capabilities to facilitate complex communication channels.
AI chatbots are more advanced than rule-based chatbots. However, this does not indicate that they are superior to rule-based chatbots. Often, businesses fail in choosing the right suite for their website, and hence the chatbot fails.
Solution:
First, identify the purpose for which you need to integrate a chatbot. And secondly, identify the areas where you need to implement a chatbot. The chatbot you choose must suit the essence of your organization.
Rule-based chatbots are easy to build and operate. Also, they are less expensive compared to AI bots. It suits best for answering simple queries. Whereas for handling complex conversations, you must integrate AI bots, as they can efficiently conduct subtle communications.
Integrate the right chatbot into your website to get the desired outcome.
NOT HANDING OVER TO A HUMAN AGENT AT THE RIGHT TIME
Your chatbots are programmed; your customers are not. However smart you program your chatbots, they cannot match the versatility of the human brain.
A user can ask any question. There are possibilities that your bot does not understand the direction where the conversation is leading and gives vague, nonsensical answers. Getting frustrated from the loop of conversation, the user may quit and bounce back. In the end, you will have an angry customer with a negative impression of your brand. This is a chatbot failure.
Solution:
We recommend you integrate a live chat model for deploying your chatbot. This will help your bot to understand the user better and give customized replies.
Also, your bot should understand its limitations, and leverage human intervention at the right time by handing over the conversation to the customer executive.
Many times, even if the bot successfully solves the issue, the user insists on talking with the customer executive. Or some users consider human conversation more than talking to bots.
You cannot completely be dependent on programmed or live chats as more than 23% of consumers prefer face-to-face conversations while facing complex issues like payment disputes or raising complaints.
The best option is to have a 'talk to our agent' tab in the chat box. So, in any case, the user can select the tab and communicate with a human agent to get a solution.
LACK OF MAINTENANCE AND RESISTANCE TO CHANGE
Often companies integrate chatbots on their website and just forget about it. Also, some companies resist change and keep following traditional technologies, as they feel comfortable and safe with their use. This can lead to chatbot failure.
Solution:
A chatbot is a software program, and like all other technologies, it must be updated, upgraded, and maintained well to perform efficiently.
Wrapping Up
As we have seen in this blog, chatbots have many limitations, and there are many factors leading to their failure. However, this does not signify that Chatbots are outdated or will disappear in the coming years. So, if there are limitations, we have their solutions too! And did you know that 74% of internet users still prefer communicating with AI chatbots to get answers to simple queries?
Moreover, talking about the global market, the AI chatbot market was sized at USD 525.7 million in 2021 and is expected to garner USD 3.99 billion by 2030, growing at a proliferating CAGR of 25.7% from 2022 to 2030.
Let us know in the comment section what kind of problems you have faced with chatbots, and what you expect from a chatbot.