Trends that will Shape e-commerce industry in 2015
Ecommerce is one of the most dynamic and vibrant industries in today's business world and ecommerce website developers have more capability due to the many advances in Information Technology like eCommerce software platforms such as Magento Shopping cart and so on.
With more and more retailers going online and as the business is widening in tremendous speed it's important to stay across emerging trends in eCommerce to ensure their business stays ahead of the curve. 2014 has been another big year for eCommerce and we can expect this to continue forward in 2015 with new trends that illustrate what you'll be seeing more of the most modern technologies as eCommerce players launch and redesign their stores and also International eCommerce players are becoming more localized for better customer friendliness. This is an effort to showcase some of the ecommerce trends to pay close attention to over the coming year 2015.
Get rid of the Waiting period
eBay and Amazon are already offering same day shipping in some areas if you order early enough in the day. Expect other online stores to follow the same in 2015, expect that window of delivery to become much more specific and narrow. Right now, there are people who speak of a 30 minute delivery window from the time of purchase. The sheer infrastructure required to turn that dream into a reality is likely only with a major innovation in the product delivery mode, the decrease in delivery period will become less cost prohibitive over time and more of a mainstream idea for even the smallest of businesses.
The main advantage that retail stores have over online stores is the immediacy of the purchase. You get to take your TV home with you from the electronics store at the same moment you buy it. This instant delivery trend could be the final nail in the retail sector coffin as there is a greater chance for the traditional customers to switch into online ecommerce. Amazon CEO had already announced the future plans of introducing drones that will fly packages directly to your doorstep in 30 minutes time.
Shopping Malls In your hand
Mobile users are already able to do most of their shopping from their phone. Online stores and websites are already making a shift toward mobile optimized shopping experience, and that's because mobile users just keep on multiplying. Smartphone's are no longer a luxury
but it is very much like the bank account which everyone has. People use their phones for everything except maybe eating, sleeping and breathing, though there is probably an app for that.
As the mobile experience moves from an add on to a central part of the shopping experience, you can expect more businesses to focus on creating mobile-friendly stores and even to replicate experiences in their physical stores to accommodate mobile shoppers who for some reason must find themselves inside a physical retail location.
Social media and personalized marketing
Social commerce sales of physical goods are expected to grow by 93% per year in the U.S, reaching $14 billion by 2015 that means before purchasing any products, customers go online to see reviews. As a result, ecommerce merchants will have to look for the option to "socialize" more if they want to stand out from their competitors and protect their brands. Citizen reviewers, crazy fans, and complainers must be given a comfortable space to endorse products, share favorites, make or ask for recommendations and lodge complaints which are promptly addressed. Now, more than ever, engagement is the key, and the customer is the king and their clicks is what matters.
In addition to implementing effective mobile and multi channel retailing strategies, smart retailers will use social networks to customize product and service offerings. As people turn to their pages on Facebook, Twitter, and other social media pages for recommendations, reviews and complains, social selling must be part of any ecommerce company strategy in 2015, which could be the most worth strategy.
At that time, many eCommerce websites may allow customers to personalize their shopping window. That means we can put the product recommendation, navigation or other sidebars in anywhere. And the layout can be stored by their user account. Furthermore, maybe the customers will be given the privilege to delete some of the ads which they don't want to follow as well.
Let Your Customers "Try On" Your Products
Recreate the experience of a real dressing room
A great way to stand and excel out in the ecommerce world is to do something truly innovative. Many sites allow you to custom design a dress or a shoe before you buy, but what if your customers could actually virtually try those products on? New applications are coming to market that allow your visitors to connect their camera and drag and drop products over their own image, same as we try in a Real shop. "Virtual Mirror," could be a part of any ecommerce shopping website.
In order to facilitate the customer's decision, it will become important to guide the consumer through a visit to an online shop in the same way as is done in a physical store. The information's and services that are currently available in physical stores need to be recreated by ecommerce companies. We will see more interactive solutions where consumers can ask questions directly to store staff even online.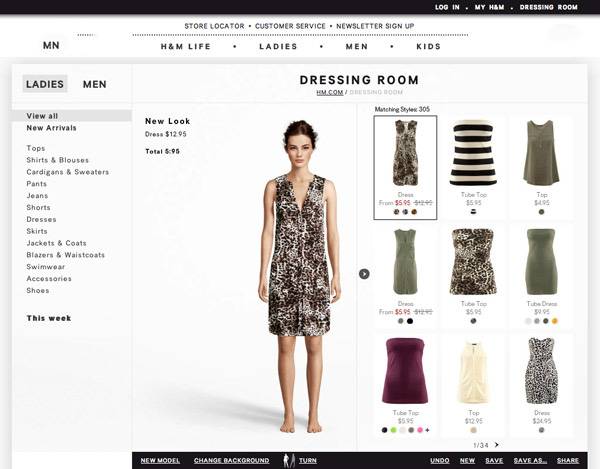 A virtual Dressing Room
Smart shopping and Instant choice
Internet speeds are ever increasing. The base level internet speed for many broadband companies before 10 yrs was something you cannot imagine now. 15 years ago, people still had to tie up their home phone to check their email. Things have changed quite quickly, broadband companies are competing each other to give the best bandwidth for the customers.
eCommerce companies will have to work hard to ensure they are providing as much content as possible without sacrificing the time it takes to load the webpage or complete a purchase. Online retailers will need to go even further still in reducing the amount of time spent searching for products, which is largely dependent on the user's search queries, by building new and improved algorithms to anticipate the most likely results in spite of the quality of the search words.
Wise usage of Big Data and Social CRM
There's no doubt that the internet is the world's largest source of database, and most businesses have more access to and are collecting information about shopper behavior than they ever imagined possible. This means a lot to e-commerce and digital marketing trends. More focus will go towards finding ways to collect consumer information to personalize the shopping experience. I think we are also going to see an increase in the use of big data to create a consistent consumer experience, big brands are going to find ways to efficiently monitor eCommerce players to insist minimum advertised pricing policies and usage of product assets, such as videos and images.
Social CRM is an area with huge potential and 2015 is going to be a year of innovations. We have many brands using CRM effectively, It's no secret that reviews and "what trending" have a big influence when it comes to someone making a decision and clicking the "buy" or "remove" button in their shopping cart. There will be more effective methods to consider that will bring real time social data online by displaying shopping trends on your website.
Adaptation to Wearable device technology (Google Glass, Iwatch etc)
Wearable computing devices is going to be the biggest technological leap in the year 2015 which could even change the entire concept of Smartphone usage with passive Internet access. This domain is still very much premature but things could change in an eye blink.
What this means for ecommerce is a total makeover in the conventional concepts of product showcasing and greater access to consumers, easy like Smartphone's, but harder to misplace or drop in the street. Wearable devices will put the Internet as a 6th natural sense in human body and this could even lead to buying products from e commerce with only an impulse in our brain.
Know More About This Topic from our Techies