Top Technologies You Can Use to Develop Your Ecommerce Website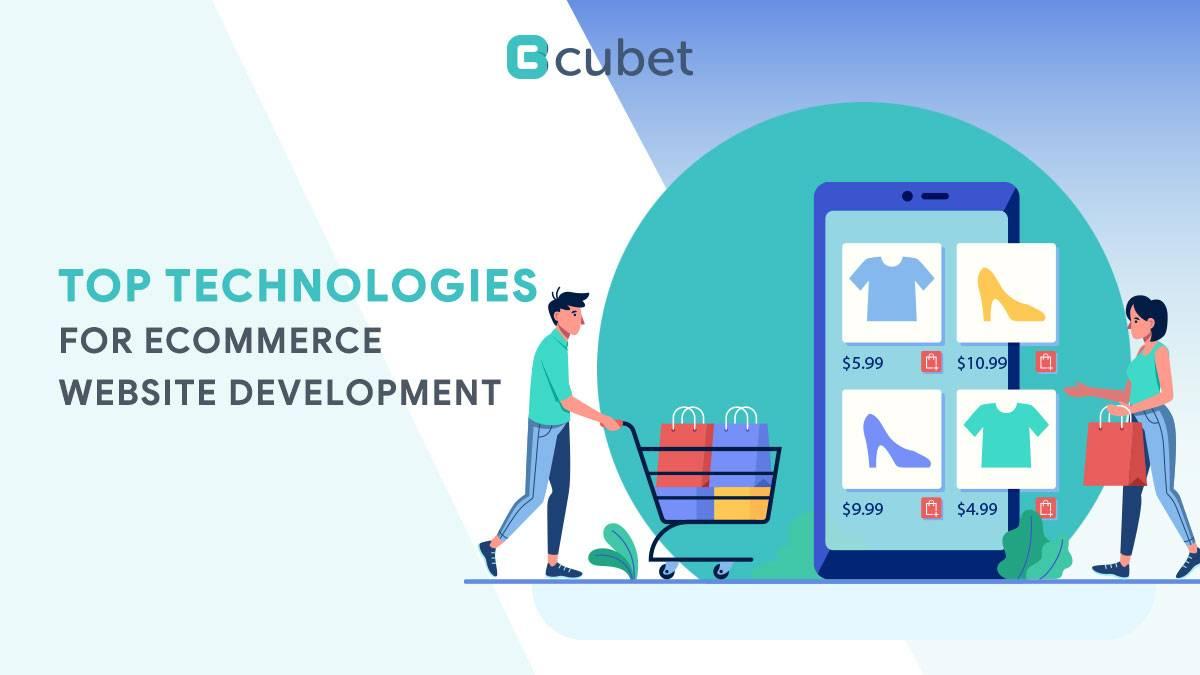 The success of your eCommerce website depends on the technology you choose for development. Plus, the development process of eCommerce websites is complex and may require frameworks and tools.
The global E-com market reached more than $4 Trillion in 2021 and is expected to grow in 2022. According to Statista, the share of E-commerce sales can grow to 21.8% in 2024.
There are many active eCommerce websites in the web space, so your competition is tough. However, the right choice of technology can help you stand out from the rest.
Depending on your resources and budget, you can outsource your eCommerce website development project. An eCommerce website development company can help you with the process. Whatever solution you choose is essential to have an excellent working methodology. 
A well-developed eCommerce site is a link between buyer and seller. But the realization of an eCommerce project goes through different phases like – choice of CMS, tools, SEO optimization, etc. So, let's dive deep and look at the top technologies you can use for your eCommerce website development.
Best Technologies for eCommerce Website Development:
1. WordPress
WordPress is the most popular CMS framework preferred by users. Its widely used in online technology stores as it offers flexibility. It is simple to set up and adapt to various needs of the users.
Besides, the CMS system allows you to create new pages and products without adjustments. It lets you integrate with other plugins and tools to customize your website. It is the best choice for eCommerce websites and startup stores.
WordPress is easy to set up, and you don't require technical know-how or coding for the platform. As its an open source platform, it has been improved by a large number of developers. Regular updates ensure that there is no security loophole on the site. The only drawback of WordPress is; that it is not scalable as other frameworks.
Also, with added plugins, there are speed issues on the site. It is completely SEO friendly, which can benefit your eCommerce site.
2. Shopify
Shopify platform is the best choice for small businesses or small eCommerce websites. The installation process is simple, and you can set up your store quickly. Without any developer skills, you'll be able to complete the setup. In addition, it offers a full server subscription integration with other tools to make it SEO optimized. Plus, it is highly cost-effective for low startups.
If you are planning a new online store – you can blindly trust Shopify and its subscription-based plans. Simply put, it's an all-inclusive platform that provides complete ease of use.
With Shopify, you can make your eCommerce sites appealing and attractive. In addition, the high-end security features of the platform ensure that your site remains safe from hackers and spammers.
Shopify offers business-specific plans, so you don't have to worry about the budget. The only drawback is; that there can be performance-related issues with more references. Also, it is not as customized as other dedicated online platforms.
3. Magento
Magento is the number one choice for eCommerce website development. In addition, a new web development company may choose Magento because of its goodwill. 
Management of online stores developed the platform. As a result, it can easily manage a large storefront with more than 500+ products. In addition, it has a user-friendly CMS once you configure it as per your need.
Magento has a complex setup as it comes with many features and functions. A web development company can help you with further development processes. Magento is ideal if the online sales function is the key function of the eCommerce website. And with a large number of products, it offers a seamless experience to visitors. 
It offers a stable performance even if there is traffic on the site or the references are high. The best part is; that you can customize a website to the smallest detail with the platform features. It is an autonomous platform and can be a non-cost-effective solution for an eCommerce store.
4. WooCommerce
WooCommerce lets you create a robust online store with out-of-the-box features. It offers a multi-store platform with a fully responsive theme. You don't have to waste time on making your website mobile friendly.
It offers a page builder option with an admin panel and unlimited color options. You can set up your E-store in no time with the open source platform. The best part is; that you can integrate with WordPress to set up a store in no time. It just takes minutes to set up the two. Plus, the integration is highly customizable and SEO friendly. You'll get complete control over your site with the integration.
Woocommere offers secure and flexible payment terms, and you can manage the orders on the go. In addition, the dashboard interface allows the store managers to update product information and fulfill orders.
Additionally, you can enhance your store with tools and plugins available for the platform. The paid extension adds features and functionality to your storefront.
5. Drupal
With Drupal, you can create eCommerce storefronts of all sizes. Moreover, it offers max flexibility in views and rules to customize your site. In addition, the integration feature of the platform provides amazing UX.
The setup process is simple, and you don't require individual development. As the platform is open-sourced, it is improved by a large number of developers. The best part about Drupal is; that it offers weekly security updates that give your E-com site the best security coverage. Hack attacks have become a common practice in the web space, so it is vital to secure your site.
It offers simple integration with Google analytics and SEO tools that'll help to give your site the right visibility. Additionally, the connection to third-party systems will make the development task easier. The framework is free, including the new modules. The only drawback is; that it is not a good solution for small online stores.
Conclusion
You need to push your limits while selecting the right eCommerce technology. Look for 24/7 availability as that is an essential factor. Also, consider the platform's long-term investment, resources, features, and data insight. Creating an eCommerce website has become easier, thanks to all the above technologies.