Strategies for Increasing App Retention and Engagement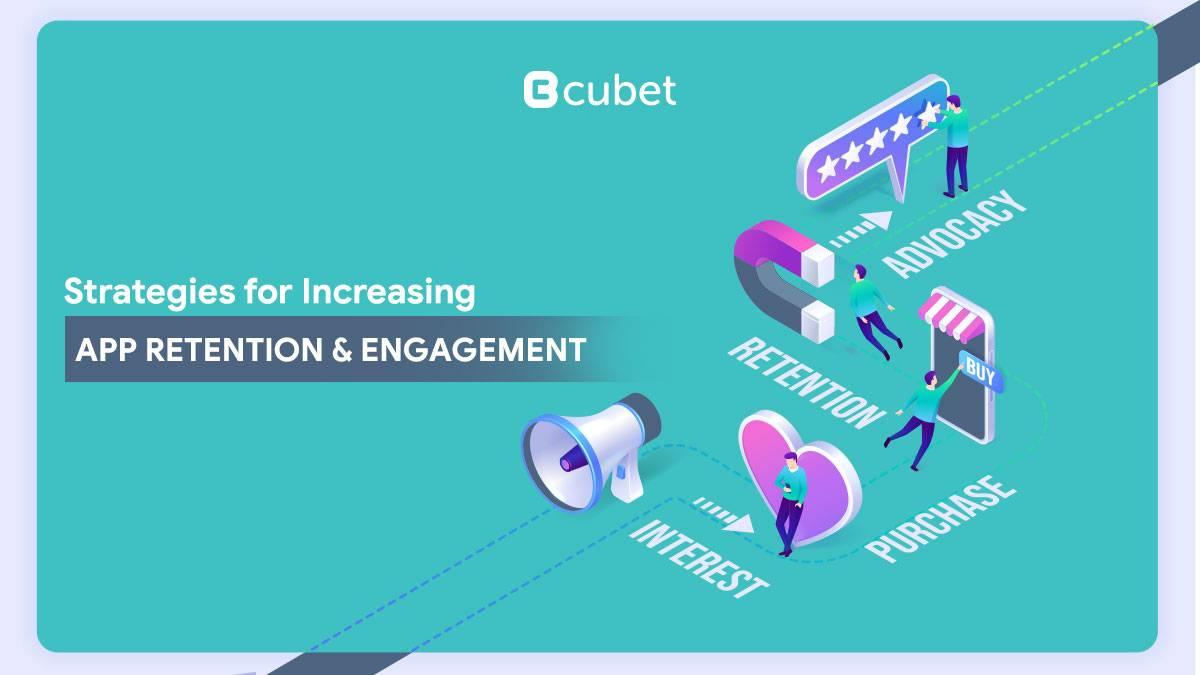 Creating and launching an app is not tricky – what's tricky is retaining the customers on the app. After all, why develop an app if no users are using it?
When the users stick around your app for a long time, it's called app retention. If you rely on the users to use your app organically, it may affect the retention and engagement rates.
Besides, if the cost of acquiring a mobile app is high, you must increase your marketing budget for retention and higher ROI. According to a report by Bain & Co, a five percent increase in customer retention can increase your profit by seventy percent.
What is Retention Rate?
An app retention rate helps to calculate the percentage of your users engaged with your app over time. However, how you define app retention is based on how you want the users to interact with your application.
For instance, if your app helps people with grocery shopping, an engaged user would use it weekly or daily. And if you create a learning app, an active user may use your app for at least five to ten minutes each day.
What is a Good Retention Rate?
Any percentage above six percent that indicates a 30-day retention rate is deemed a reasonable app retention rate. Generally, app retention rates are not always low, and a lot depends on the look and feel of the app you create. An excellent mobile app development company can help you get the right app retention rate.
Broadly speaking, having a ten percent retention rate at the month's end that's a good average. However, the chances of hitting the percentage may be impacted by the app you create.
The retention rate is a metric to understand how well your app is doing in terms of acing the trends, growth and revenue potential. Having a good download rate is good but being able to retain those app users is even better.
Strategies to increase app retention:
1. Use Push Notifications
Push notifications play a vital part in an app. When used correctly, it is an excellent tool for app retention. In addition, notifications help to deliver relevant information to the users even if they aren't active on the mobile app.
Moreover, push notifications act as a bridge for effective user engagement. Notifications can be informational, transactional, and promotional.
To improve app retention, you will need to:
Pick the right time to send notifications to users.
Customize the notifications as that will make them feel valued.
Don't overdo the notifications, as that may have a negative impact, keep the right balance.
Ideally, notifications can increase trust and goodwill.
2. Track your data
You won't be able to improve your retention rates without data. Also, data gives you a baseline that helps evaluate the rate better. It lets you know what's working and what's not. You will need the best possible data to base your decisions if you want to improve your app retention rate.
You can start collecting the primary data on your app, like – active users on the app, churn rate, and feature adoption.
Once you collect the data, drill into it by looking at different segments and periods to understand the challenges faced by your app.
Additionally, you can track how your UX experiments improve retention over time.
3. Personalize Experience
You can increase mobile retention with a personalized user experience. With customized experience, you can differentiate your mobile app from your competitors and keep the users engaged.
Ideally, it helps build user loyalty to your app. You can create personalized experiences using static and dynamic factors.
Static factors don't change, but dynamic personalization focuses more on behavioral aspects. Moreover, you can follow natural ways to personalize the experience, like – sending personalized emails to users.
Also, you can use tools to help you personalize user experience based on segments. The best part is; there is no coding in the process. Mobile app development services can help you with personalization.
4. Use In-app Messages
More than eighty percent of people use mobile phones for browsing and apps, which means more users are engaged in mobile apps now than ever before.
Apart from creating a seamless user experience and building a meaningful app, it also focuses on sending meaningful in-app messages.
Moreover, the in-app messages allow the users to get engaged with mobile. Therefore, it can create a richer mobile app experience. In addition, in-app messages can add more value when they inform users about new updates or guide them with app features. In short, if you want to increase mobile retention, you must practice in-app messaging.
5. Improve the Onboarding Process
Onboarding is a critical part of the app. A first-time user always expects a seamless experience with the app. Mobile onboarding experience can be classified into three different categories.
Function-oriented onboarding – you can use it when the app has many features which users should know about.
Benefit-oriented onboarding is best to showcase what mobile apps can do for users in straightforward language and with fewer slides.
Progressive onboarding – if your mobile app has a complex feature, this is the best onboarding you can use.
If you give your users the best experience, you can be confident they will keep coming back.
6. Use Gamification
According to a report, average mobile games retain more than thirty percent of their customers. With the gamification feature, you can turn your simple app into a gaming feature to attract users. Plus, game-like features are fun and rewarding, so most users get attracted to those features.
For instance, in a reading or learning app, you can measure the level achieved per day.
In a health app, you can define using calories burned per day. Ideally, this works as motivation to stay hooked to the app.
7. Offer Perks to Engaged Users
You can create loyal followers by offering perks. For example, most consumers believe in recommendations and reviews more than traditional ad practices. Also, your incentive program depends on the type of app you create. Therefore, you can offer time-sensitive discounts and rewards to your users to retain them.
Conclusion
If you religiously follow the above strategies, you can retain many customers on your app. The right effort can make all the difference in your approach.
Track data to start and optimize your onboarding process and personalize your service response. Additionally, gamification tricks and push notifications can help in optimization and retention. Create a successful mobile app with effective marketing and retention ways.