Now you can choose a Reactjs partner by following these 5 tips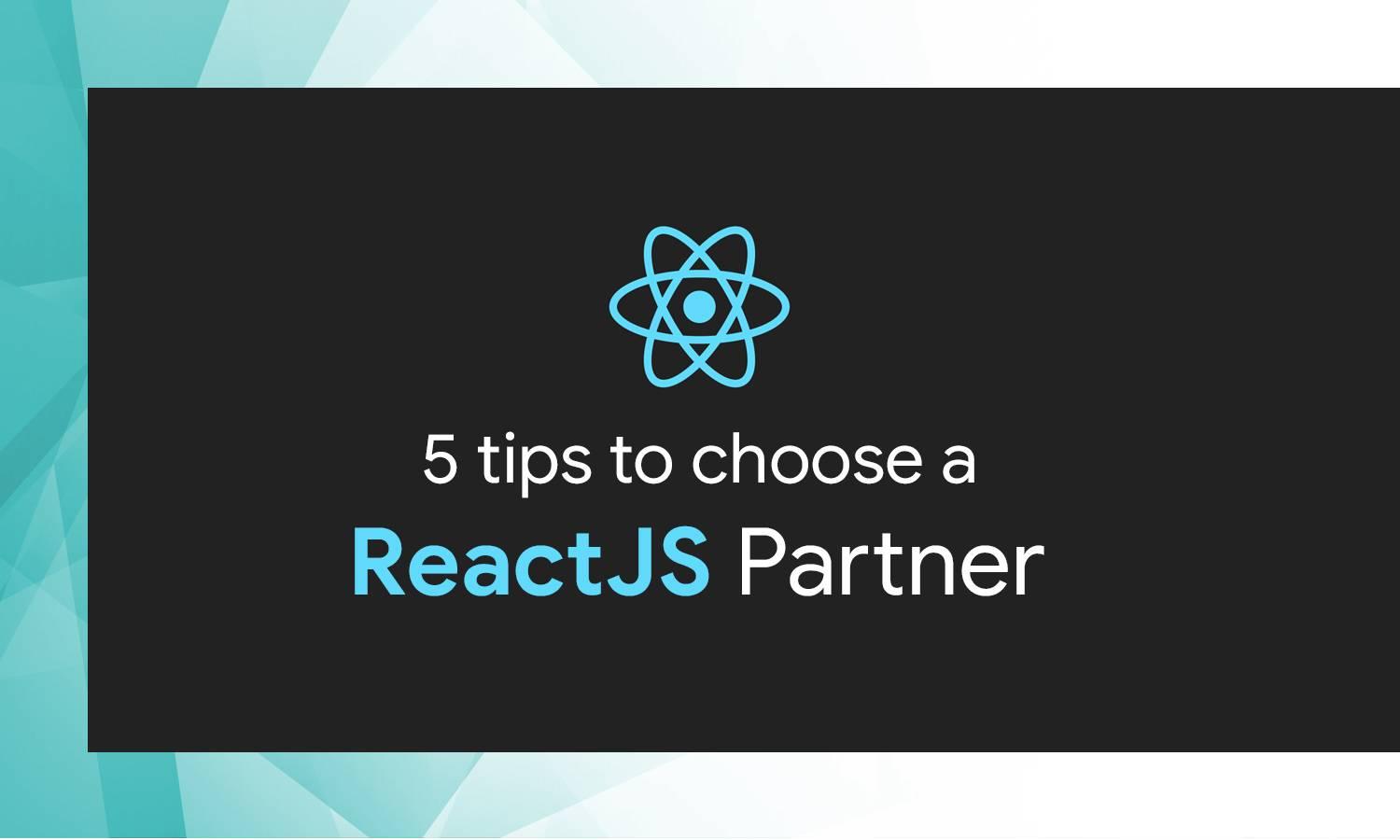 With the ever-changing assemblage of front-end development, we get introduced to the newest tools on a daily basis. With a gamut of libraries and frameworks at our exposure, business owners find it a cumbersome task to choose the right technology mastered by the right development partner.
ReactJs is an open-source JavaScript library engineered and introduced by Facebook. Primarily, it is designed to build rich and engaging web applications with great speed and high efficiency accompanied by minimal coding.
Recently, Reactjs has picked up with gaining more popularity as it gives liberty to work on individual components and enables them to perform with great feasibility. Due to its sheer simplicity and higher flexibility, it is looked upon the future of web development. 
Benefits of Reactjs over other frameworks
Some key benefits of choosing ReactJS over other front-end development frameworks can be;

Boosts the development process speed.
Easy maintenance and flexibility
Cost & Time Optimization
Improvises output and easy to learn
Avails virtual SOM Feature
Builds rich user interfaces
SEO-Friendly
Provides Stable Codes
Tips for choosing the right Reactjs partner
To hire a suitable ReactJs development partner can be a tough process. Based on our experience, here are a few prerequisites that you can check out to help you lead to hiring ReactJS experts.
Basic Understanding of Front-end technologies
A front-end development company aims to provide a rich user experience that is cultivated with the application of HTML, Javascript, and CSS.
The company prefers to choose various technologies that can amplify the browser and website interaction. Also, efforts are made to test the software workflow, website functionality, and bug fixing.
The development company is expected to possess this basic understanding to render the desired results.
Programming Skills of the Team
The developer must possess proficiency in understanding the nuances of the programming techniques.
Besides, the developer toolset must be efficiently utilized as it contains two different kinds of tools namely the React Developer tool and Redux developer tool that can be installed as Chrome extensions.
The ReactJs company should possess the ability to perform several such functions that can be executed simultaneously for gaining productivity and efficiency. Lack of knowledge may lead to incompetent coding practices.
Ability to yield Runtime Performance
On realistic grounds, ReactJs utilizes several smart techniques to optimize DOM operations costs that are done to update the user interface.
The ReactJs company must have command on the knowledge of various ways to speed up the React applications, which can lead to a fast user interface with no fuss.
Ability to find ways to solve issues or fixing errors are the true parameters that help in selecting your developers.
Knowledge About The Framework (ReactJS & Javascript)
Ideally, the chosen ReactJs developer needs a profound understanding of the pure JavaScript framework as well as the ReactJs framework.
ReactJs is an initiative towards higher engagement, more conversions, and more click-through rates.
The efforts of the development team must result in fast applications with better UX and improvise the website server's total rendered pages.
Secure Coding Practices & Effective Error Handling
The onset of digital transformation has intensified the security and safety awareness among the companies. Unprotected and unsecured data brings heavy and irreparable losses to the business.
The chosen developer must implement a comprehensive data protection system and practice secured coding practices that ensure data safety.
Also, the development company needs expertise in syntax application and troubleshooting process. An experienced company in ReactJS acquires practical skills and on-ground experiences. Such developers can be chosen for gaining better results.
Conclusion
Inevitably, best practices must be approached to receive the desired performance from professionally created business applications. At Cubet, we have a team of efficient and highly experienced ReactJs developers who are here to assist you in designing and developing your custom web and mobile applications.
Our proven results by way of increasing conversion, cost optimization models, and growth acceleration demonstrate our knowledge strengths.