How to Export Data from Google Analytics to Excel?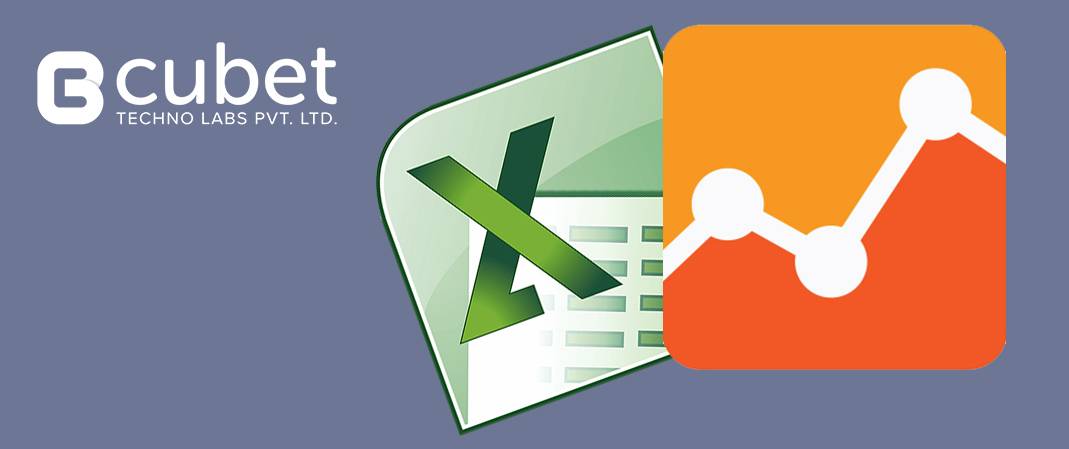 Yes, I agree with you, there are several tools/plug-ins like Excellent Analytics, SuperMetrics etc which will help you to extract data from Google analytics into excel. You also have a renowned strategy of Exporting Google Analytics Data to Excel via the API. However, while most of these tools can be paid ones, the strategy that utilizes API can be a bit cumbersome, especially if coding is not your cup of tea.
So, I came across the information while skimming through some SEO related blogs and got too curious to try it out and you know what? It was totally worth it. Let's get started.
Steps:
Open Google Drive and use the option to create a Google Spreadsheet (https://docs.google.com/spreadsheets/u/0/).
The next step is to integrate all important Google Analytics add on, you can integrate this, as depicted in the image below: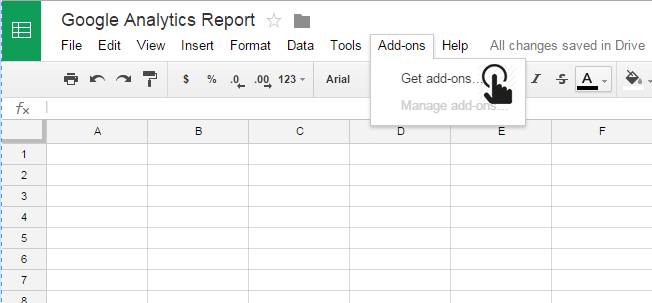 3. Search for Google Analytics search add the plugin as illustrated in the image below:

4. Once you have successfully integrated the Google analytics add-on with Google docs, you can create a new report by following the steps depicted in the below given screenshot.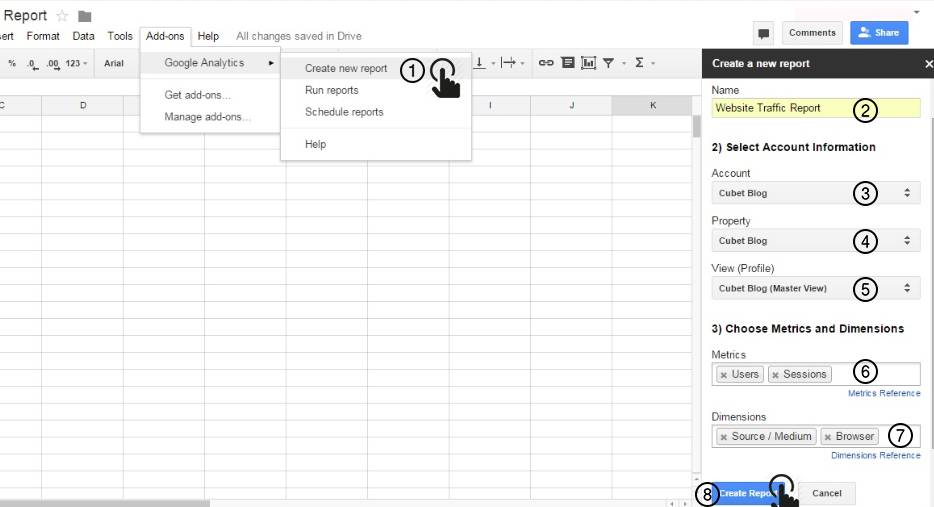 5. Prior to creating the report, you have the option of customizing the metrics and dimensions tagged along with respective values that you want your report to highlight.
6. Click "Create New Report" and you will see a new tab with the name "Report Configuration" being created. Once this is done, you need to use the add-ons menu on the top and choose ->Google Analytics-> Create New Report and this action pulls data from Google analytics to excel. Now you can see the newly created report.
7. Upon clicking "Create New Report", a new tab with the name 'Report Configuration', will be created and this document provides you provision to set rules or make tweaks to your final report, like setting the start and end date, applying advanced filters etc.
8. Once the report configuration tab is created, you need to use the 'Add-ons' menu option again and follow the path Add-ons->Google Analytics->Run reports to get the required report.
9. Now, we have a bonus option of presenting this document as an HTML.
The first step is to get a sharable link of your newly created report, this is the sharable link of the report that I just created: https://docs.google.com/spreadsheets/d/1UEdNqGrulgltFRTp6zdn2ft-MRK4u9PEOcdMy1zik49QMU/edit#gid=553458109
The next step is to replace the 'edit#' text with 'gviz/tq?tqx=out:html&' to get the image as a basic HTML page as illustrated below: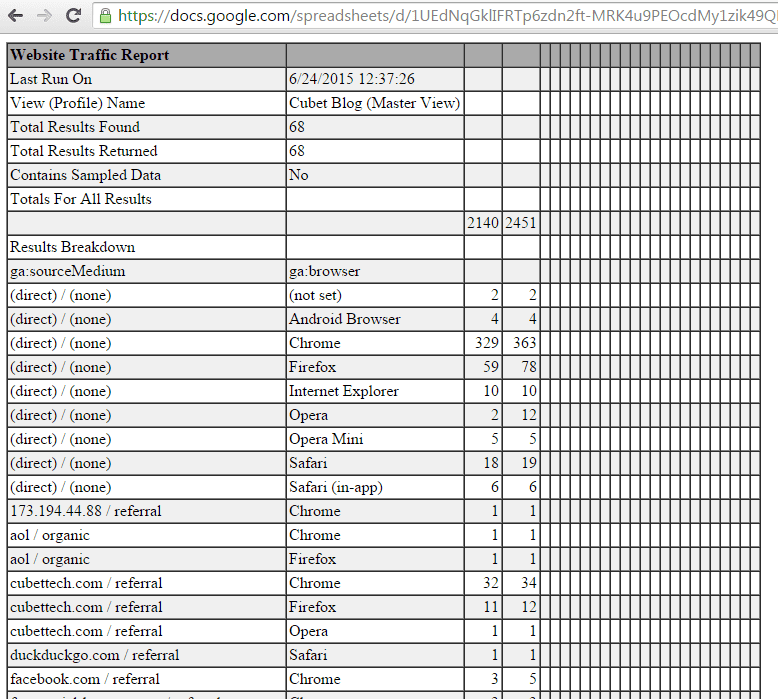 10. Now, we can consider importing the data in this HTML table to an excel sheet, for the cause, you need to open an Microsoft Excel Document and follow the steps listed below (illustrated via the image):
Click on the 'From Web'.
You will now see a new popup window 'New Web Query', copy paste the URL of the basic HTML table that you created online using Google Docs in the URL search box of the new popup window.
Click Import.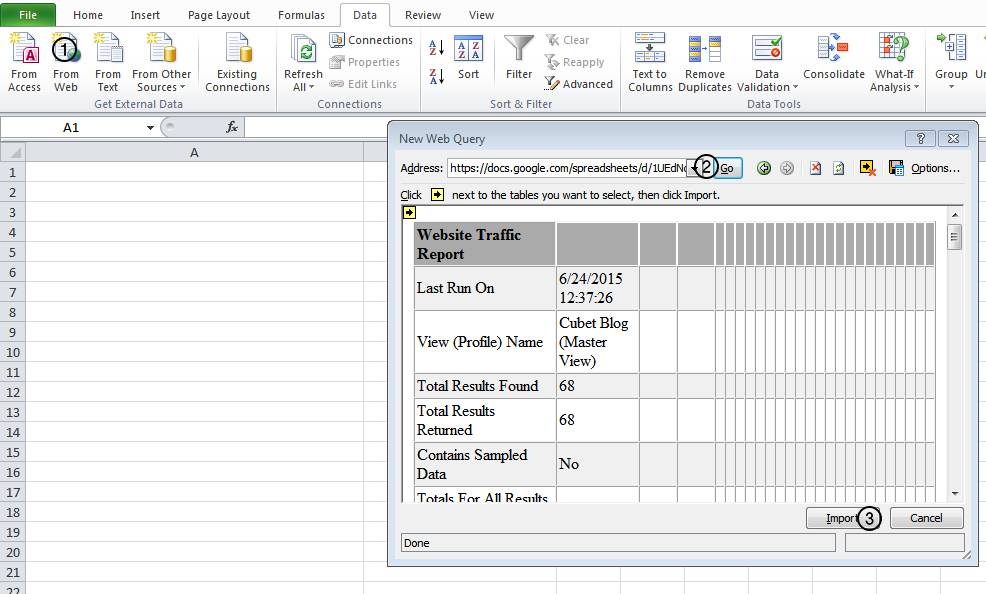 11. The resultant Google Analytics Report extracted to Excel is illustrated below: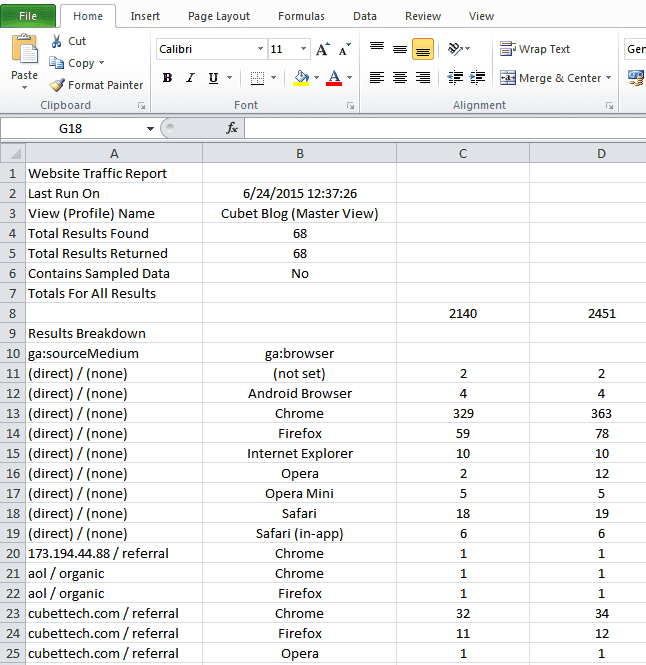 Google Analytics is a free web performance tracking tool that can give you tons of data on visits, bounce, exit, sessions, pageviews etc. Data is always a vital aspect for any business, especially dimensions and metrices offered by Google Analytics. But when this data comes in bulk, it can be a tad confusing/difficult to digest. It is not necessary that decision makers in your organization have time to keep track of the bulk data presented by a web performance tool like Google Analytics, so it would be really great if you could present them with a document sampled on the most important elements that can contribute for achieving targets respective to your organization type.
Credits: analyt.co.uk