How to Choose the Best iOS App Development Company for Your Next Project?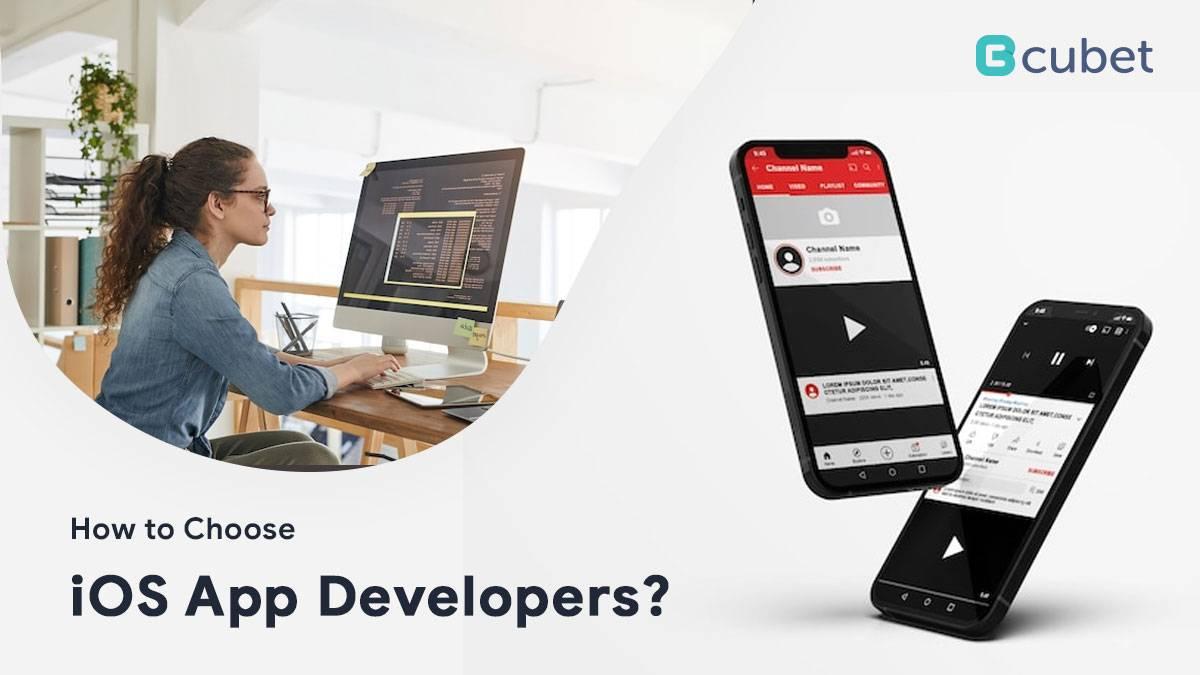 iOS and Android are the topmost Operating Systems (OS) ruling the digital market. However, iOS dominates with its filtered audience and enhanced security protocols. Backing it up with some stats:
Apple offers 93% of its apps for FREE! Yet it has garnered a whooping USD 85.1 billion in revenue in the year 2021. That is double as compared to the Google Play store which generated gross revenue of USD 48 billion in the same year.
The apple app store has more than 1 million gaming apps and 3.79 million non-gaming apps actively available on its App store.
With over a billion iPhone users, the Apple App store makes high profits through its apps.
App building is not an easy task. Whether your company is a startup, an SME, or an enterprise-grade organization. For your app to stand out in the highly competitive market, you need an experienced, reliable, and well-equipped iOS app development team.
Getting the right technology partner can empower your brand and help you build an efficient customer base. They can reinvent your digital experience by offering intuitive & smart solutions.
In this blog, we are here with some excellent points and recommendations to consider while choosing an app development partner for building your iOS app.
How to choose the right iOS development partner for your business?
1. Excellent and Brilliant Technical Knowledge:
An entire team of technical experts is required to turn your idea into an app. App architects, designers, developers, testers, project managers and scrum masters; together build your app from scratch.
However, a brilliant and excellent team of developers can change the outlook of your app. By having a better understanding of your requirements, they can add some amazing ideas to your app.
Besides, to choose the perfect pool of talent you must check their technical knowledge first. Are they having expertise in iOS programming languages like Swift, Objective C, Cocoa, or XCode? Rate their capability in working with iOS development tools, technologies and frameworks.
Always remember, it completely depends on your choice whether the talent you are pooling turns out to be an asset or liability to your company. To skim out original talent always arrange tech interviews and background verification tests.
The best way is to hire a reputed and experienced App development company that offers the best bunch of techies at your disposal. By doing this you can set back & relax to enjoy their development, management and support services.
2. Specialized Teams for iOS Development:
App development in iOS is more expensive as compared to app development in Android. Also, it requires a specialized team for development.
You can build a team by recruiting Freelancers, hiring an in-house development team, or outsourcing an experienced and credible development company. To help you choose, we have simplified it further by giving a comparison along with the pros and cons for each option in the below table.
| | | |
| --- | --- | --- |
| Freelancers | Outsourcing | In-house development team |
| Pros | Pros | Pros |
| Wide range of choice | Cost-effective | An expert team working dedicatedly on your app. |
| Quality code at a lower price, in less time | An established & experienced team of tech experts to start working right away | Safe and secure. No compromise with confidentiality. |
| No long-term commitments | From app designing, development, deployment, maintenance, and support services. Everything is sorted. | Personalized app development experience. Quality results within the decided timeline. |
| Cons | Cons | Cons |
| Fear of absconding | Limited options to choose from | Expensive |
| Overexaggerate their skill set | | Recruitment takes time. |
| Lack of communication | | Region constraints limit the choice of resource availability. |
| Finding different resources for individual tasks. | | Maintaining resources once the app is released in the market, becomes difficult. |
By selecting any of the above options, you can also opt for the highly trending hybrid model.
3. Strong Reputation in the Marketplace
How to verify the reputation of a company?
This completely depends on whether you are hiring freelancers, an in-house team, or outsourcing an app development company. You have to follow some basics before hiring a team. Always:
Have thorough background verification checks
Keenly study their portfolio and field of expertise
Verify their experience in app development.
Verify their location, authority, and authenticity.
Check their ratings and reviews on Google, Gartner, Glassdoor, and other such sites.
Check their clientele, case studies, and testimonials.
And most importantly, ask yourself: Do you want what they are offering?
4. Agile Development Process
Agile development process is an iterative software development method that aims at analyzing user requirements and circumstances to adapt projects. This process is an antidote to inflexibility as it helps in responding dynamically to design challenges and changes as they emerge.
In the Agile development process, Scrum teams make sure that the quality is constantly improving in sprints with short-term deliverables. The success rate of the Agile process is higher owing to factors like shorter development cycles, wider market window, early consumer feedback, and non-stop improvement.
Agile development process values:
Resources and their interaction over development processes and tools
The working software over documentation
Collaboration with customers over contract negotiations.
Responding to challenges & changes as they emerge, over following a regularized plan.
So, the Agile teams work collaboratively, and iteratively to develop the right deliverables in shorter sprints to match tight delivery schedules. The agile development process gives high productivity because tech experts have to focus on short-term smaller goals in chunks.
5. Get the App Development Quotes in Advance:
iOS apps are a bit expensive compared to Android apps. Finalizing the overall development cost is important at the initial stage.
There are many app development calculators available online. Filling up your requirements gives you an estimated cost for app development. These are reliable and can be considered for reference.
You can throw out a bid via various media channels. This can draw a lot of tenders from reputed brands. You can screen, filter, and choose the best of all.
Before finalizing the deal and signing the contract, verify all the details regarding app building expenses, what excludes, what includes, and what are the surcharges. Do not forget to include the costs for marketing, maintenance, and support services in your budget.
We can provide the most accurate cost estimation to develop an iOS app. Refer to our blog to get an in-depth idea regarding the factors influencing the cost of Mobile App development in 2022.
6 Use the Right set of Development Tools:
Swift and Objective C. These two programming languages are important for iOS app development. You can also build an app for iOS with other programming languages; however, it becomes difficult to render. Swift and Objective C render well on the iOS platform and support the native ecosystem.
The other tool you need is XCode. It is a code editor, and debugging tool, as well as it helps developers in getting a preview of the app. So, with XCode, you can check the code for bugs, edit it, and preview the app at all stages of the development process. The concern is, it only works on MAC Computers.
While selecting a team for app development, you must make sure that they are well equipped with the right set of all tools and technologies required to build an iOS app. Most importantly, they are having some highly trained and well-experienced resources who are experts in handling these tools & technologies.
7. Consider other Parameters too, apart from costs:
The first rule of investment is, it should give good returns. Cost is an important factor to consider when choosing the right development partner. And we understand this.
What matters along with the cost is QUALITY! It might be possible that some companies to crack the deal may show you an appealing trailer in the beginning. And the real picture is entirely different from what was shown.
The other parameters like Whether the company delivers industry-specific apps. If yes, how did their apps perform in the market? What is their working culture, team dynamics, or what kind of business support are they offering?
Your development partner must know how apps from your industry look and feel like. Only then they will be able to deliver a better-performing app as per your needs. You can have an idea about this by overviewing their case studies and website review. If possible, you can have a short conversation with their clients to know their working style and the quality of deliverables.
8. Keep Up With the Confidentiality:
Confidentiality is the best work ethic to maintain when you enter into a business agreement.
First: Never underestimate the power of the NDA (Non-Disclosure Agreement) in maintaining confidentiality between two parties.
Second: Never enter into an agreement with any party who shows even 1% of hesitation in signing the NDA.
An NDA protects your idea. This becomes very important in the highly competitive market.
With NDA you can secure your project's documentation. Get everything on paper before signing the contract. This documentation helps in keeping transparency and clarity between two parties entering into an agreement on mutual terms. It can also be helpful if there is a second phase of redevelopment or modifications.
9. Understand the Importance of GDPR Compliance:
General Data Protection Regulation (GDPR) ensures that all the processes and procedures involving data collection, processing, or transfer are GDPR compliant.
GDPR ensures data protection and holds app development companies accountable in case of data breaches or security issues. GDPR helps in building a consumer-friendly ecosystem, around the terms & conditions of privacy. With this, you are taking all significant measures for protecting the user data.
By signing a GDPR you can leverage complete transparency and entirely trust your partner company throughout the development journey.
Wrapping Up
How your iOS app performs in the market completely depends on the team you are choosing for development. The right choice can give you a great return on investment. And to make the RIGHT decision, pay attention to all the above-discussed parameters.
We believe that our iOS developers are our Premium Commodities. We have chosen the best out of the rest. From the stage of incubation to design, from development to deployment, and from maintenance to support; our specialized team of developers are at your disposal. We are GDPR compliant and we are open to signing an NDA. You can have a chat with our happy customers, go through our long list of case studies, review us online, or run a BGV check on us.
We work to deliver industry-specific apps
We work with an agile development process
We work with the right set of iOS development tools, technologies & frameworks.
We work to fit into your company's culture
We work according to your time zone and team dynamics
We work with hybrid models too!
Let us together build an amazing iOS app. Let us Connect NOW!