How to choose a right NodeJS partner?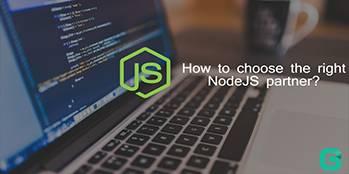 You can find millions of organizations around the world, providing all kinds of software solutions; these organizations also claim themselves as a one-stop solution provider for whatever development requirement you have. With all the aggressive marketing activities taking place online, it is really hard to choose the right NodeJS Development company. NodeJS being one of the modern-day web back-end development technology, it is eminent that you end up choosing an expert company which has a strong NodeJS portfolio and expert developers who have thorough knowledge in back-end management, database management and API integration.
When it comes to choosing the best NodeJS organization, the one who can actually present you with real life solutions – It becomes one of the most critical jobs.
Here are the first and foremost things you have to take into consideration when hunting for a right NodeJS partner :
1) Choose the organization who just don't claim to be the best, but who has a proven history and have already built faster, scalable and real-time network applications, using NodeJS.
2) Review the client list for NodeJS projects and if necessary, don't hesitate to reach out to them for a feedback.
3) Make sure the developers have in-depth knowledge and extensive experience and are also updated with the latest additions to the technology.
3) Developers should also have the skillful expertise in ExpressJS, SailsJS, MeteorJS and other NodeJS Frameworks.
4) Should have skillful expertise in cloud infrastructure.
5) Cost effective services: The estimation process has to be transparent and ensure that there is a balance between the estimation and the requirements.
6) High coding standards: Try to get an understanding of the coding practices that is followed by the NodeJS development company.
7) The company must have a clear understanding of the project management tools, processes and should also ensure that the respective NodeJS developers are familiar with the same for flawless development.
To sum-up, it is not recommended choosing a NodeJS development company by only considering how good the website looks or how good the pre-project services are. Go for an in-depth research to ensure that all the points mentioned above are checked. There are thousands of great NodeJS specialist companies, and it isn't hard to find the right one.
Good Luck !