How Mobile Applications Fuel the Growth of Businesses?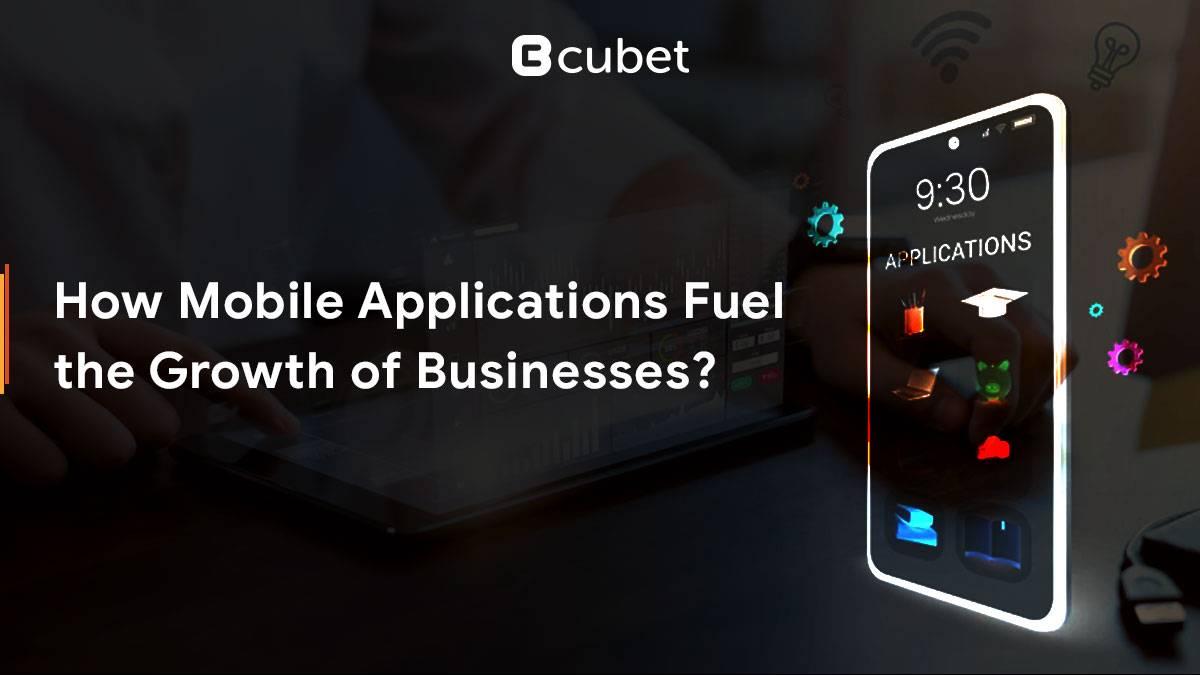 Mobile applications have opened a plethora of opportunities for small businesses. Mobile apps play a role in – customer relationship management, marketing, documenting business expenses, and facilitating payments.
More so, the digital revolution has impacted the business as the use of smartphones has increased with time. Today, mobile applications account for 80% of mobile media consumption, and that's huge. In fact, every business is hiring a mobile app development company to develop a mobile app to reach its customer base.
Thanks to the Smartphone revolution and apps, customers expect everything to be done – with a single click. However, brick-and-mortar stores and online companies are also adapting to the trend to reach people and engage with new customers.
Besides, building a fully functional and feature-laden app is affordable now compared to earlier times. And, this happened as more companies are developing mobile apps for businesses to reach many people.
With a dedicated mobile app for business, you can reach your customers in no time. Additionally, it will help to increase your business sales and give you an edge over your competitors. Let's dive deep and see how mobile applications fuel the growth of Businesses.
How Mobile Applications Fuel the Growth of Businesses?
1. Improve brand recognition
Whether a small business or a big organization; a mobile application has become a mandatory need today. Plus, a mobile application is the best way to improve brand recognition as the reach is strong.
A mobile app built by professional app developers is an extension of the company. Additionally, a feature-rich app can act as a brand image. Through a well-designed application – you can promote your app efficiently while bringing great success to online sales. In the long run, it can boost your sales and increase profit. Besides, it is a good way to reach new customers.
2. Improve client engagement
A mobile app is the best way to connect with your clients. It is a deeper way to build client engagement and know their likes and dislikes. You can authentically build client engagement and keep them engaged in real-time through chats, notifications, reminders, events, and news.
Moreover, customers can use the same application when they need a solution for their problem or talk to executives regarding a concern. Customer feedback gives you a chance to improve your products and services. You can establish a two-way connection with a mobile application. Additionally, mobile apps can strengthen customer loyalty and retain clients.
3. Offers higher ROI
A mobile app drives a higher return on investment than a website. According to an estimate, a website can draw up to 39% return on investment, while a mobile application can generate more than 60% of ROI.
Not only the ROI but a mobile app own new avenues for revenue generation. Apps that focus on revenue generation like – hotel bookings, eCommerce, and e-ticket reservations have a much higher ROI.
Besides, if you don't get a return on investment or garner enough sales – your company will face losses. Creating a mobile application can pave the way for new growth prospects and reach the right people.
4. Offers easy payment
In this digital world, all payments are made online. And one of the best features of a mobile app is facilitating payments on the app. The mobile apps enable payments through internet banking, credit cards, debit cards, digital wallets, and many other modes.
Customers have a choice in payment and prefer to pay through these apps. In short, mobile apps offer seamless payment solutions for companies. For companies, the payment is made in minutes, leaving no credit.
More so, the ease of making the payments boosts customer revenue and motivates the customers to make more purchases.
5. Gathers insight on users
Data insights on customers can help you know about their preferences. And thanks to the new apps and sensors, mobile devices help gather specific user data based on location and demographics.
E-com application gathers data based on buying habits of the customers and looks to improve the services. Real-time data and insights help marketers create better SEO plans for websites.
User data plays a crucial role in business, as it helps understand what customers would want to buy. Mobile applications also help in better workplace collaborations and help connect partners, customers, and employees of the organization.
6. Act as a promotional tool
If you don't promote your business – how will you reach your potential customers? Promotion is an essential aspect of a business plan, and it's vital to develop a strategic promotional strategy for your business. Mobile apps can help you develop a marketing plan and can act as a promotional tool for business.
Additionally, every signup can help you collect important customer data that serve your customers in a personalized way. Based on the choices, gender, and real-time location – mobile apps accumulate information that offers customized services to customers.
In short, it helps businesses recognize the customer journey. Plus, a business can ensure a successful transaction by sending out different notifications, timely deals, and discounts. Promotional tools help you connect with potential customers and increase sales.
Conclusion
Creating a mobile app is not a choice, but it has become a business need. Plus, it represents a popular digital space that offers higher customer engagement. For people, using a mobile app is easier than using a website. By logging in, they can check out the information and reach out to the company.
Moreover, a large portion of digital time is spent on mobiles, making it even more essential. Mobile apps offer great opportunities for new businesses to tap into new customers and increase their niche market.
However, as the opportunities increase with time, the apps must work on user experience to provide seamless services to the customers.
A well-created mobile application can set a business on a growth trajectory. It can increase efficiency and raise productivity in the long run.