How Does a Website Development Company Select a Theme for a Website? – Professional Approach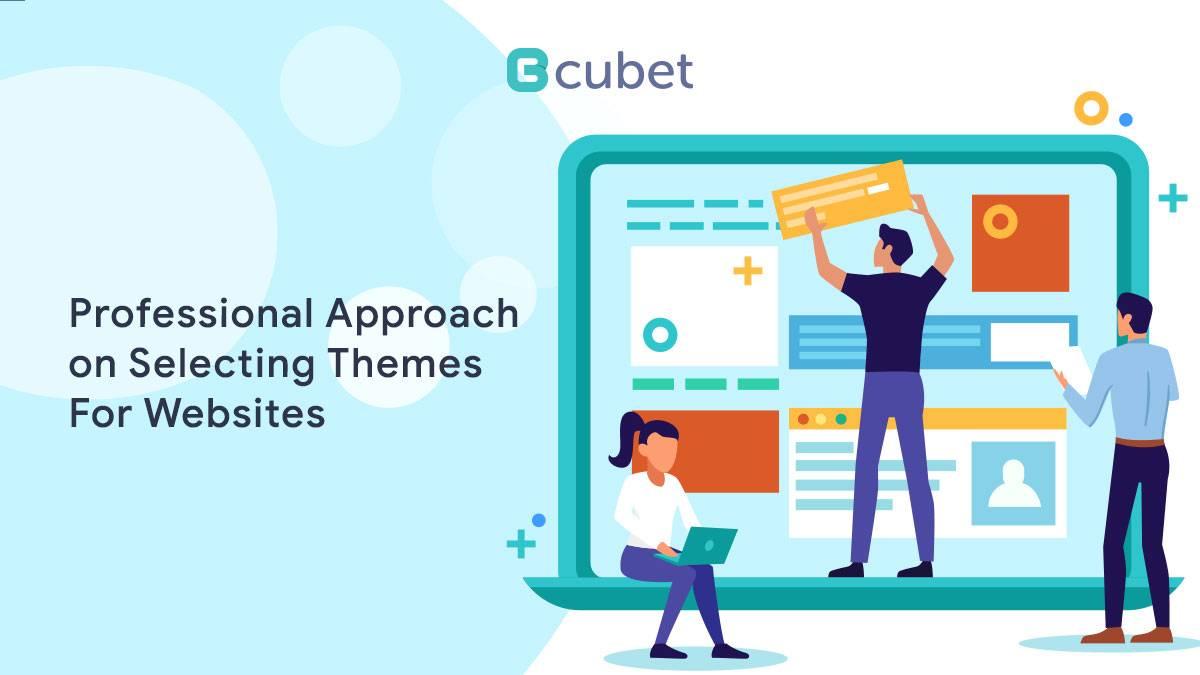 It just takes about 40 to 50 milliseconds for a visitor to form an opinion about your website. So, if you don't choose a professional theme for your website, it won't create the impact you're looking to make on your site visitors.
A web development company considers all the factors before choosing a specific theme. Besides, a website theme helps in creating a trustworthy and professional site. Times have changed, and web development services follow trends and updates that make a difference.
A professional theme comes with many features, including SEO optimization and user experience. A website theme matters for two main reasons – website speed and website security.
Poorly coded themes add tons of features but also cause slow loading speed, affecting the site visibility. A web development company should look into the speed factor as Google considers site speed, as a significant ranking signal. Plus, if a website takes more than two seconds to load, the users will abandon the site.
Website security plays an essential part in theme selection. Poor security can lead to many issues and vulnerabilities that can hurt the site traffic. A theme should take care of website security in the best possible way.
Besides, themes that are not updated regularly to fix vulnerabilities are often soft targets for hackers. There are some factors a web development company needs to consider for picking a website theme, so let's take a look.
How does a website development company select a website theme?
1. Developer Support Availability
For a web development company, this is the first thing to consider. It is rear that after installing the theme, it won't be updated. It is vital to choose a theme that changes with new tech advances. Also, this could be due to security issues or feature changes.
No matter which theme or platform a development company chooses, updates will be required to keep the site running smoothly. Most development companies provide free updates on themes you choose for a site.
You need to pay attention to the information and – when the updates will be released. The developer support community ensures that there are no issues with the installed theme and everything works seamlessly. Additionally, themes come with an update log and a list of changes regarding the site.
2. K.I.S.S
Keep it simple, Stupid is an acronym for K.I.S.S. When it comes to modern themes and designs, a web development company should follow this rule. Earlier, most website owners wanted a false animation design, fancy features, and loud images. But this trend has significantly changed with time.
Now flat and simple designs with minimalistic features are popular with companies. Besides, websites that are difficult to navigate will leave a negative impact on users or visitors of the site. Simple design concepts and effective features are what you must consider in a theme.
Each section of the site should be simple, and the user must understand the content of the site. Moreover, loud designs don't resonate with people anymore. Keep it stylishly simple.
3. Availability of Plugins and Extensions
Customization of the website plays a significant part in determining the look and feel. Plus, a website with a stock version doesn't look professional or attractive.
A web development company must look for a theme that allows adding special features to enhance the website's look.
For instance, WordPress has more than 50,000 plugins available, which can change the website. WooCommerce comes with specific extensions that help to enhance the website. There are plenty of themes available with plugins, but choosing the one that matches your need is vital.
Additionally, it is essential to look for plugins that make the integration process simple. A web development company makes a list of plugins and features before selecting a theme for a customer's site.
4. Mobile Readiness
A responsive website does not guarantee an excellent mobile experience. Mobile readiness is important as most people use the internet for browsing sites. A web development company must look for an adaptive theme and convert leads to customers.
Features and plugins used in mobile-friendly websites can differ. A website theme's main focus should be on the user experience of the site in the mobile version.
Simply put, a user should be able to locate the call to action feature and other sections seamlessly on the mobile version of the site. Plus, many themes come with working demos, so testing becomes easier before final purchase.
5. Cross-border Compatibility
It is essential to test your website theme on all the popular browsers. And with so many devices and browsers available today, testing ensures that the theme will provide the same user experience for all the platforms.
A web development company can use tools and plugins available for testing. Online free versions can give an insight into the issues regarding the compatibility of devices. However, paid versions can give a better insight into testing and compatibility. The free open source tool is a great option to spot an issue related to compatibility.
To Conclude
The website development company selects a website theme based on:
Design
Compatibility
Loading time
Features
Updated development
Responsive design
A professional-looking website can attract many visitors. A web development company ensures that all the factors are considered before they work on a specific theme and website.
After all, website design is an essential part of your business, so it can't be ignored. Customization options also make a difference in the selection of themes.