Highly rated startups of 2017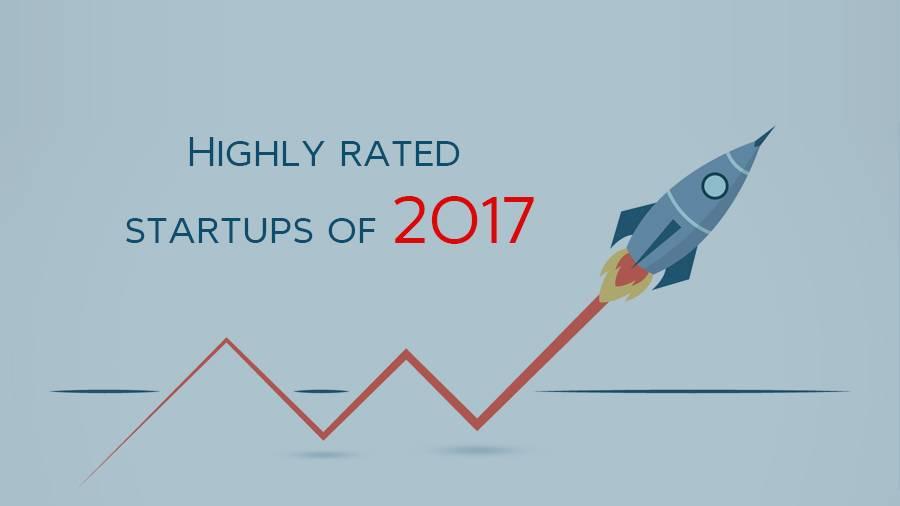 Innovations never cease to happen. Every year we see over hundreds and thousands of new start-ups and products making their way into the market. In the year 2017, we saw 57 such start-ups that made it to the Unicorns list (a list of all the new $1 Billion start-ups) and there were a few others too that caught our attention!
1. Coinbase
Founded by: Brian Armstrong, Fred Ehsram
Industry: Finance
With the booming crypto-currency market, Coinbase has made it to the list of 57 companies that became Unicorns in 2017. It is the first start-up from the cryptocurrency world to enter the world of Unicorns, which is one of the largest recognitions for start-ups in the world. According to crypto asset data site Cryptocompare, it has the highest trading volume among other U.S based exchanges for the Bitcoin – US Dollar pair.
2. Toutiao
Founded by: Zhang Yiming
Industry: News & Media
Toutiao is a Beijing-based news aggregation platform that's been in the headlines recently. The unicorn start-up already has a 120 million userbase and is aggressively acquiring companies like video app and music.ly to conquer the media world. It uses Artificial Intelligence to customise the user's newsfeed and shows the most curated content from partnered websites (over 4,000 websites!).
3. Careem
Founded by: Mudassir Sheikha, Magnus Olsson, Abdulla Elyas
Industry: Transport
Careem is the Dubai-based start-up providing car booking services all over the middle east. As per recent reports, it has entered the unicorns list of top start-ups in 2017 with a revenue of $1.2 Billion. If the progress continues, by 2020 we won't be surprised to see Careem on the list along with Uber and Ola.
4. CancerAid
Founded by: Dr Nikhil Pooviah and Dr Raghav Murali-Ganes
Industry: Healthcare
CancerAid is an app helping cancer patients to track their medical records and organize treatment schedules with accurate information over their illness and treatment plan. It also helps the patients to keep track of their medication routine. It was accepted by the HCF catalyst accelerator program Sydney and has already received a funding over $1.2 M.
5. Essential
Founded by: Andy Rubin, Matt Hershenson
Industry: Technology (Mobile & Home devices)
The Essential Phone, as called by its creator Andy Rubin, was launched in May challenging Android and iOS phones. The creator of this new Essential phone is none other than the creator of Android himself, Andy Rubin. According to Bloomberg, this phone start-up has raised about $330 million as of now. Essential is bound to conquer the smartphone's arena soon!
6. Brandless
Founded by: Tina Sharkey, Ido Leffler
Industry: Consumer Packaged Goods
The U.S based e-Commerce company, Brandless, offers a wide range of consumer-packaged goods including all everyday essentials for a price as low as $3 each. A major highlight is that you won't find any of those products bearing the 'brand' tag in their e-store. Every product is 'brandless', keeping with the intent to sell the product rather than creating hype around the brand. As per records, Brandless has a funding of $50 million.
7. Limebike
Founded by: Brad Bao, Toby Sun
Industry: Transport
Limebike is a bicycle-sharing company that has already hit 1 million riders in the US and expanded its service to Europe acknowledging the high demands. The Limebike app lets you find and ride bikes by charging you on an hourly basis (up to $1 for 30 minutes). It has already partnered with various workplace start-ups like WeWork offering bicycle sharing services as an employment incentive.
8. Zendesk
Founded by: Mikkel Svane, Alexander Aghassipour, Morten Primdahl
Industry: Software
Zendesk is a leading cloud-based software solution start-up based out of the U.S. It offers customer service solutions over the cloud and has made it to the IPO. Zendesk scores the 13th rank in the world's start-up ranking list with a customer-base of 30, 000 worldwide.
9. NomadicVR
Founded by: Kalon Gutierrez, Doug Griffin
Industry: Entertainment
The Virtual Reality (VR) industry is conquering new heights with its innovative and entertaining products. In 2017, NomadicVR has a power-pack of VR arcade including headset and PC backups that allow you to roam around in a world of virtual reality. The start-up has a funding of $6 million by Horizon Ventures and the products reviews have been amazing.
10. AliSports
Founded by: Alibaba group
Industry: Entertainment (Sports)
Founded by the Alibaba group, AliSports is an e-sports platform in China that has got into unicorns list of 2017. It has a valuation of $1.0 B and is promising enough to attract a large number of customers in the sports industry.
Do you have an idea that can be in this list next year? Are you ready to take it to the next level? Then, let's do it together!
Other Blogs: