Enterprise Mobility – Top 5 things to be prepared for in 2018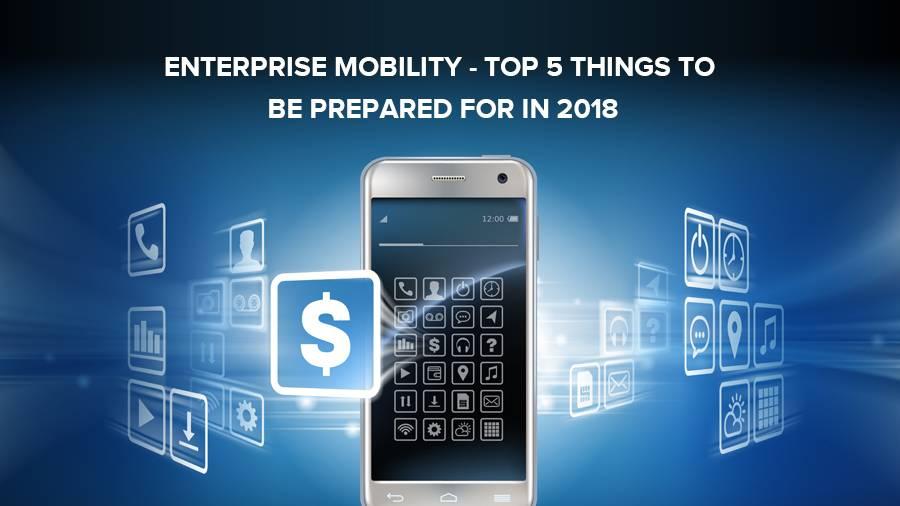 The number of employees depending on smartphones within the work sphere is set to touch 2.5 million by 2018. The stakes are high this time. Deploying handheld devices like smartphones and tablets to increase the productivity of employees is not a new gig. The need of the hour is to understand what's coming in 2018 and stay prepared for it.
Trend 1 – Enterprise Mobility Management (EMM)
Enterprise Mobility Management is the set of people, services and technologies used to manage employees' mobile computing devices to secure corporate data. Over the next five years, the market is expected to continue stable growth, reaching $2.2B by 2022 according to Strategy Analytics' latest reports. As the use of smartphones and mobile devices in organizations have increased, enterprises which are not using efficient EMM tools will find it difficult to monitor and secure confidential corporate data on 'n' number of hand-held devices.
Trend 2 – Bring Your Own Device
Market research analysts at Technavio predict that the global BYOD and enterprise mobility market will grow steadily at a CAGR of more than 24% by 2021. The rapid adoption of BYOD in organizations acts as the primary catalyst to productivity in the current scenario. The evolving workplace landscape with employees working from different geographic locations and time zones are widely making use of BYOD to accomplish tasks and access data over the cloud.
Enterprise Mobility Exchange research report shows that organizations are making further investments in mobile applications to enhance their relationship with customers and to increase employee productivity. Although employees use tablets and other personal devices for work, the right mobile apps can bring productivity gains to the workforce.
Trend 4 – Focus on Unified Endpoint Management (UEM)
87% of respondents in the Enterprise Mobility Exchange survey indicated that they expected efficiency gains from the ability to manage both fixed (i.e., PC, servers, etc.) computer platforms and mobile deployments from a single console or through an endpoint management platform. With the number of endpoints to be managed, the trend will be implementing UEM solution to automate, regulate and simplify the management of devices.
Trend 5 – Cloud and Artificial Intelligence to be the top tech priorities
Mobile solutions that have become crucial in driving workflows within organizations need to operate flawlessly to avoid costly disruptions to operations. The top technologies that will impact Enterprise Mobility will be Cloud computing and Artificial Intelligence. Enterprises need to use the right technologies to provide necessary visibility and reporting on any connected device to proactively manage and fix potential points of conflict or disruption.
We understand the need of the hour as much as you do. With the right combination of skills, experience, and dedication, we can take care of your enterprise mobility needs. For details, click here
Other Blogs: