Custom Web Development Addressing Associated Security Concerns – Let's Understand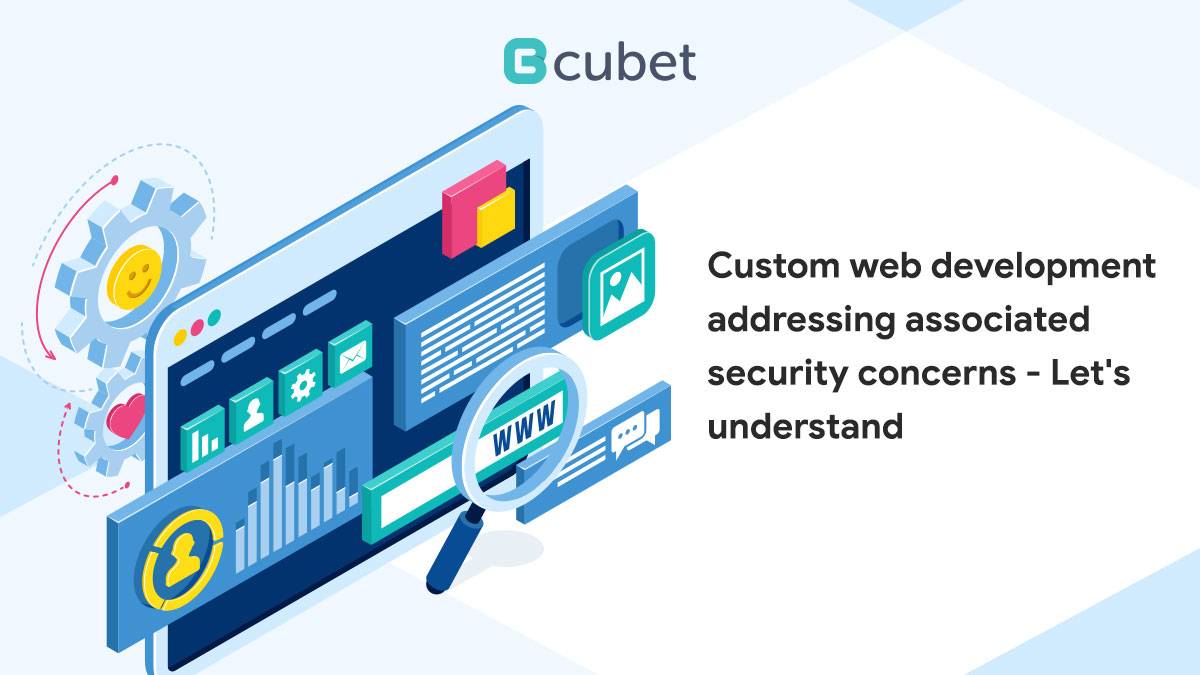 It is the age of digitalization, and everything happens virtually. Brands connect with their customers through apps and social media platforms. And the key aspect of this seamless integration is the data used for the connection.
Data is valuable, so it is essential to secure your data. Lack of security affects your business operations and the users using your services. Website development may have issues, but having customized solutions can help.
How do security concerns arise?
Various aspects of the development and design system can lead to security concerns. For example, open-source software systems like plugins and libraries are relevant in software development. However, using different open source components poses a severe threat to security.
The components pave the way for hackers to exploit the system or alter the function of the page or web applications. Ready-to-use components can increase the risk of vulnerabilities.
Not all development frameworks provide a similar kind of infrastructure. For instance, WordPress is an open-source platform, so you can't expect complete security from the framework. Also, a business needs to access the security they need for their system.
The time taken for the development of web-based applications also affects security. You can ensure high-quality web development by dedicating a considerable amount of time. Besides, testing can often be done to find and resolve errors and bugs in the development process.
Due to deadlines and shorter demands, and the duration of assigned projects, security issues can be related. For example, a recent stat showed that more than 40% of web developers accepted they knew about vulnerabilities and yet released websites or apps owing to the deadlines.
Key security concerns:
Data breach accesses the data unauthorized. Data is valuable, and any breach in the data can cripple the business. Data encryption is made possible with a security protocol that helps secure sensitive information like – bank info, website login, and customer's personal information. In addition, SSL lowers the chance of data breaches and makes your site trustworthy in the eyes of search engines and users.
Through code injection – an attacker detects a vulnerability in the program and injects a malicious code, which changes the whole execution. Besides, it leads to stolen or duplicate credentials and website server crashes.
With a customized solution, the developer writes a code that helps address the vulnerability in the code. In addition, they implement two-step authentication or OTP for added security.
Malware enters your software and exploits the information stored within. Most malware is often associated with email spam. Hackers attack a malicious code as a link in the email or a file, and when the user opens the link, it affects the whole system. With customized web solutions, an email scanning system is developed that filters spam emails.
In E-skimming, the hacker can gain access to private data. It is a considerable security risk where external links on their payment page mislead the customers. Besides, the hackers can gain access to the E-store or phishing, and the customer's payment information is captured in real-time. Through customized web development, security is set and introduced through reminder dialogues.
Bots are automated and help you navigate a page. Besides, they help provide useful search results and mimic human workflow. But with good bots, there are bad bots as well.
Bad bots have the potential to run down your business. However, you can reduce bad bot activity through custom web development by introducing added security features like captcha. Plus, it prevents access to sensitive data by bad bots.
The server supporting your E-store goes untraceable in a DDoS attack. It is initiated by manipulating the IoT devices and taking them offline. Sophisticated security threats to your software will demand the best security measures. As a result, you can trust custom software development to prevent DDoS attacks.
Security misconfiguration
If your web servers are poorly configured, it poses high-security risks. Besides, security misconfigurations are a result of poor security control. Security control can be implemented by regular software updates and changing login details.
Custom web development services prevent this by building and executing the process. Plus, it runs system checks for security controls.
How can you find a custom web development company?
You can find a custom web development company to address your security concerns. Check the portfolio of the company and the work they do. Plus, your business would need an agency that has worked with clients with similar requirements. Additionally, it is vital to check for client reviews that will help gather more information.
You will get to know about the agency's integrity and performance. Don't compromise on the website's quality to save money, as it might cost your company in the long run. Custom web development provides a comprehensive solution to security threats. Make sure you find the right web development company.
Conclusion
Security has become a significant concern for websites and E-stores. Pre-designed components come with vulnerability, so it's important to use custom web development.
Besides, it helps in crucial services like website checks and code documentation. Moreover, your business can get regular updates with customization.