Choosing Between Custom Vs. Off-The-Shelf Development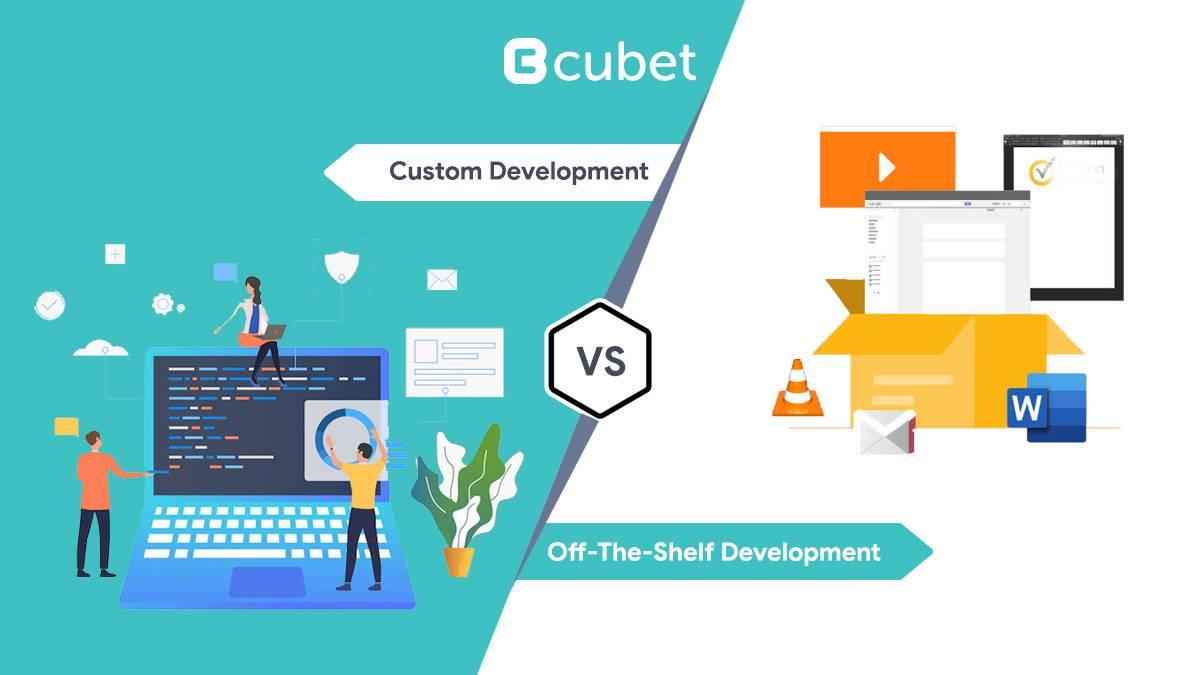 Gone are the days when coding was a complicated task. With time, coding is getting simpler. Developers no longer struggle with hundreds of coding lines to create an app or website.
Moreover, the software is vital in making businesses efficient and helps companies scale better. But, most companies get confused between custom development and off-the-shelf development.
When choosing between both the software, you must consider your business requirements and software development services. So let us discuss some points of difference here.
When should companies choose Custom software development?
High-performing technology drives the business; today, every company needs a technology that offers excellent features. However, custom software goes further than traditional software as it provides complete efficiency and scalability, reducing costs. Also, it offers a great return on investment.
Custom software is designed to support all your business needs, and you can get the independence that comes with self-managing your products. Simply put, you don't have to deal with outside vendors for development. The initial investment night looks big, but companies can save on long-term costs. Plus, with customized software, you can ensure that everything is compatible with your software.
Why should companies choose Off-the-shelf development?
Off-the-shelf solutions encompass the needs of the software created to serve a specific market. It works on a collection of features that perform the required functions depending on the specific market reach.
All the users share the development cost, so the investment is low. Further, companies can lower the cost of development by choosing subscription plans. The deployment process is quick, and the installation hardly takes time.
Even the software as a service option (SaaS) doesn't require a download, and companies can begin using them after the purchase. Additionally, the companies can use added features to experiment with the changes in the digital strategy. For example, off-the-shelf development offers to build links in the same fields, which is relevant to analytics and CRM software. The only thing companies must look into is; low functional coverage.
Custom Vs. Off-The-Shelf Development: Factors to consider
Off the shelf are ready-to-use applications that require little effort in integration. However, they are designed to fulfill a wide range of company needs. Also, the alternatives may have multiple features that your company does not need.
On the other hand, custom software solutions are designed – in sync with your specific business needs. In addition, you will pay only for the features you use, so it offers flexibility.
Most companies choose custom solutions as they match user functionality and your company's specific requirements. Additionally, it is adept at building up-to-date technologies.
Talking about off-the-shelf, it doesn't align with all your specific business needs. Execution-wise, custom software is a better choice.
Off-the-shelf development doesn't offer support if you are using an older version of it, so you might need to pay for updates and support. However, it helps you gain from the case studies.
On the other hand, custom solutions offer free support for their customers. Additionally, some even get lifetime support in their policy.
Most developers believe that off-the-shelf solutions are installed and work immediately. However, installation, integration, and configuration of off-shelf take time. It is not aligned with your business needs; deployment may take time.
In comparison, custom software is built from scratch, so its development can take longer, but its deployment is faster.
Compared to custom solutions, off-the-shelf development is cheaper. But, most companies bear the price of maintenance over time. Additionally, it includes month-to-month subscriptions of the support cost.
With custom solutions, experts configure, test, and execute your configurations, so your company has to invest more. However, it can offer you better ROI and productivity.
Pros of custom software:
An agile environment – constantly meets the changing market needs
It brings you a competitive advantage and offers better services to clients
It comes along with term investment and provides a good ROI
It offers data security and different level of protection
Cons of custom software:
Requires a significant initial investment
Takes a long time for implementation
Pros of off-the-shelf software:
It is a cheaper option and quick to implement
It offers more functionality than you need
It accesses reviews and advice from the users
Cons of off-the-shelf software:
It can be expensive over time
It does not offer complete control
Upgrades can cost extra
There are too many functions
We might have integration issues
It might not fit your word process
Conclusion
There are so many software solutions available in the market that they can overwhelm you. However, the demand for hyper-aligned business has powered the move towards custom software. While off-the-shelf has its value proposition, custom software solutions offer great efficiency.